Praslin is the second largest island in the Seychelles after Mahé with an area of ​​only 38 square kilometers. We stayed in Praslin for 8 nights so we had plenty of time to explore the island and also visit nearby islands such as Curieuse Island and Cousin Island. The best way to explore the island is by car, that you easily book from home before your trip. You can also take the local buses which of course is cheaper but not so flexible. Praslin is a great place for a family vacation.
Unique palm forests in Praslin
The amazing palm forests on Praslin are pretty much unchanged since prehistoric time. Millions of years of isolation have led to the development of many unique species on Praslin that do not exist anywhere else in the world. The Coco de Mer palms that grow here are an example of this. The Coco de Mer only grows naturally on the islands of Praslin and Curieuse. With palm leaves about 7-10 meters long, 4.5 meters wide and with a nut that weighs 15-30 kg makes you feel very small when you walk around this amazing forest.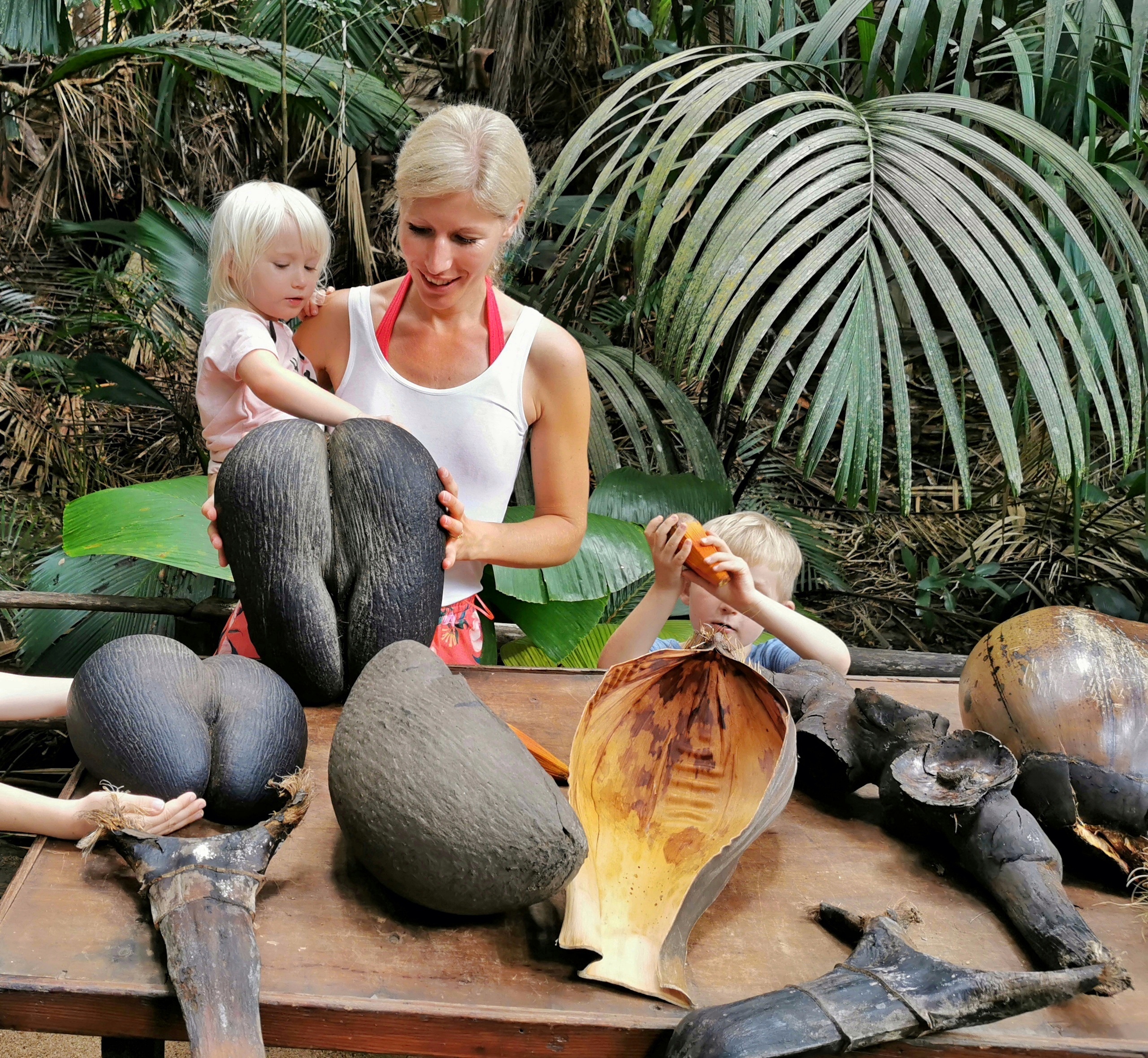 Vallee de Mai Nature Reserve
This Nature Reserve is on UNESCO's World Heritage list for its vast diversity and rich vegetation. In this incredibly rich nature reserve, located in the middle of Praslin, you can, among other things, watch the Coco de Mer palm trees. Tickets are purchased on site at the Visitor Center and there you will also find a small souvenir shop, toilets and a little cafe.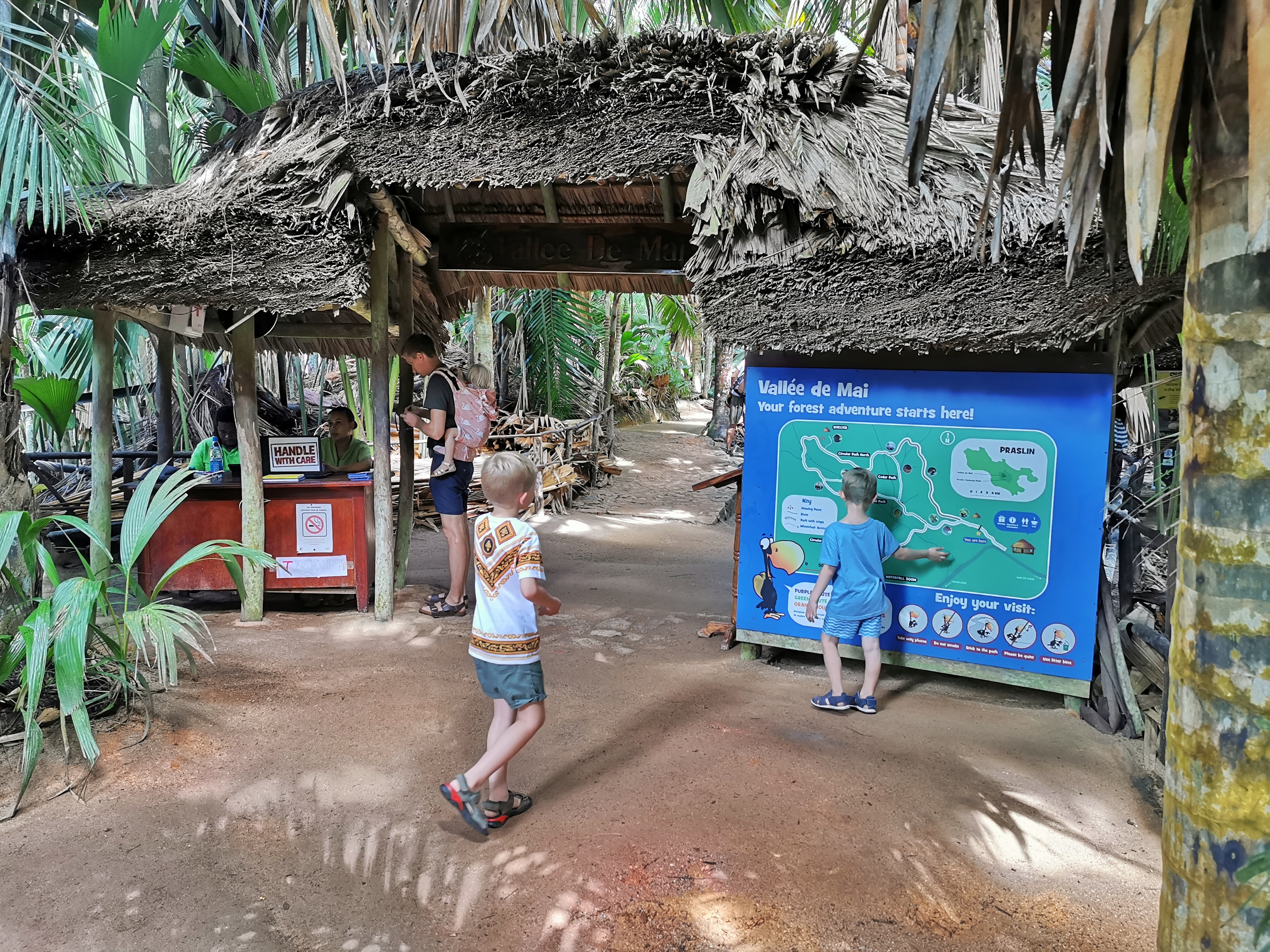 You can choose different hiking trails that are between 1-2 km long, perfect for a family vacation with children. You can pay for your own guide or go for a free guided tour in a group at 9:00 and 14:00, the time may change, see the latest information on Vallée de Mai homepage. However, we walked around in the park for ourselves and thought that was the best way for us. Our children are young which can make it difficult to listen to a guide for 1-2 hours.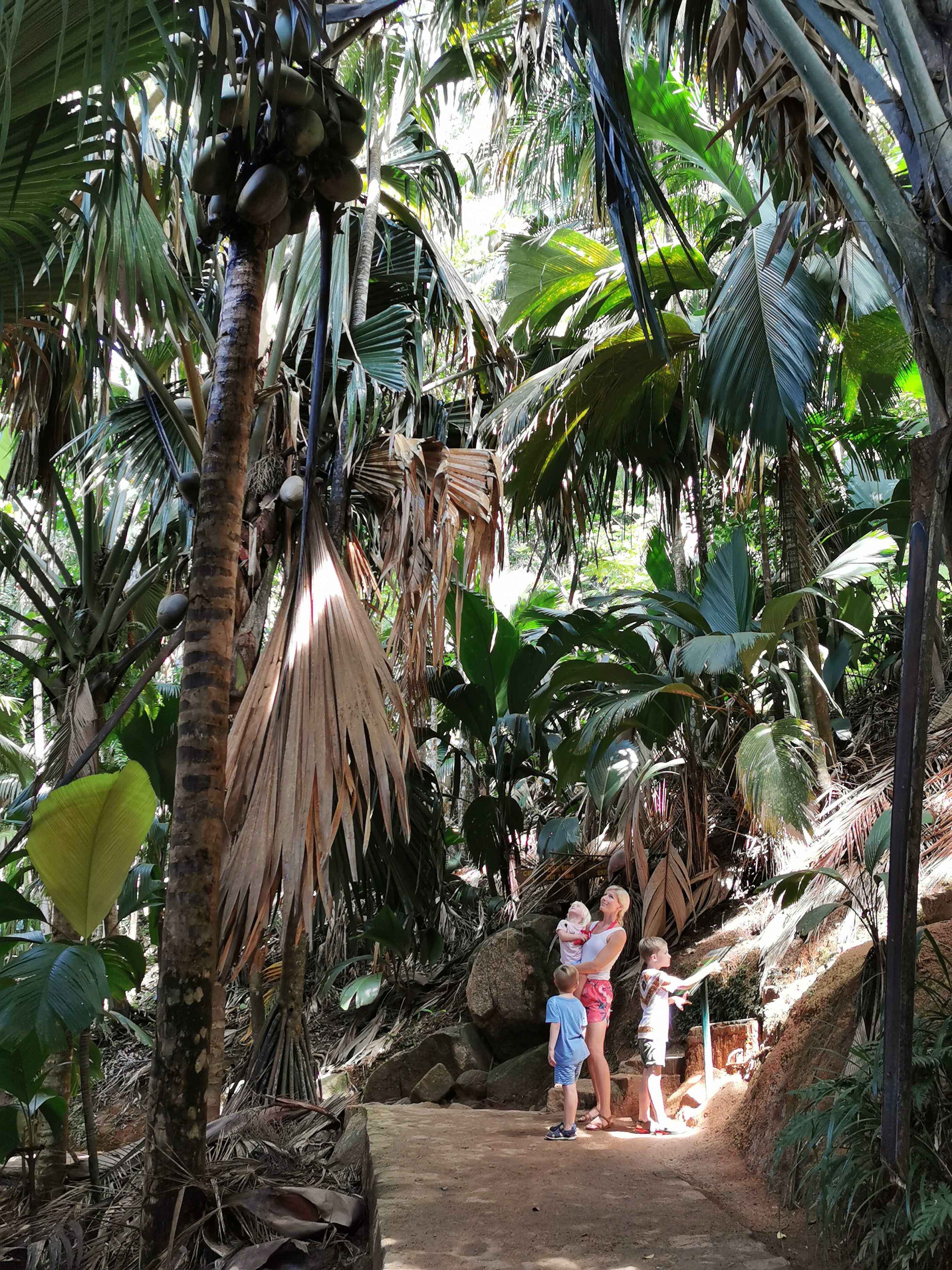 Look for birds like the Seychelles Bulbul, Blue Pigeon, Seychelles Warble and the endangered Black Parrot, of which there are only 520-900 species left. There are also lizards, frogs, and snakes (no poisonous).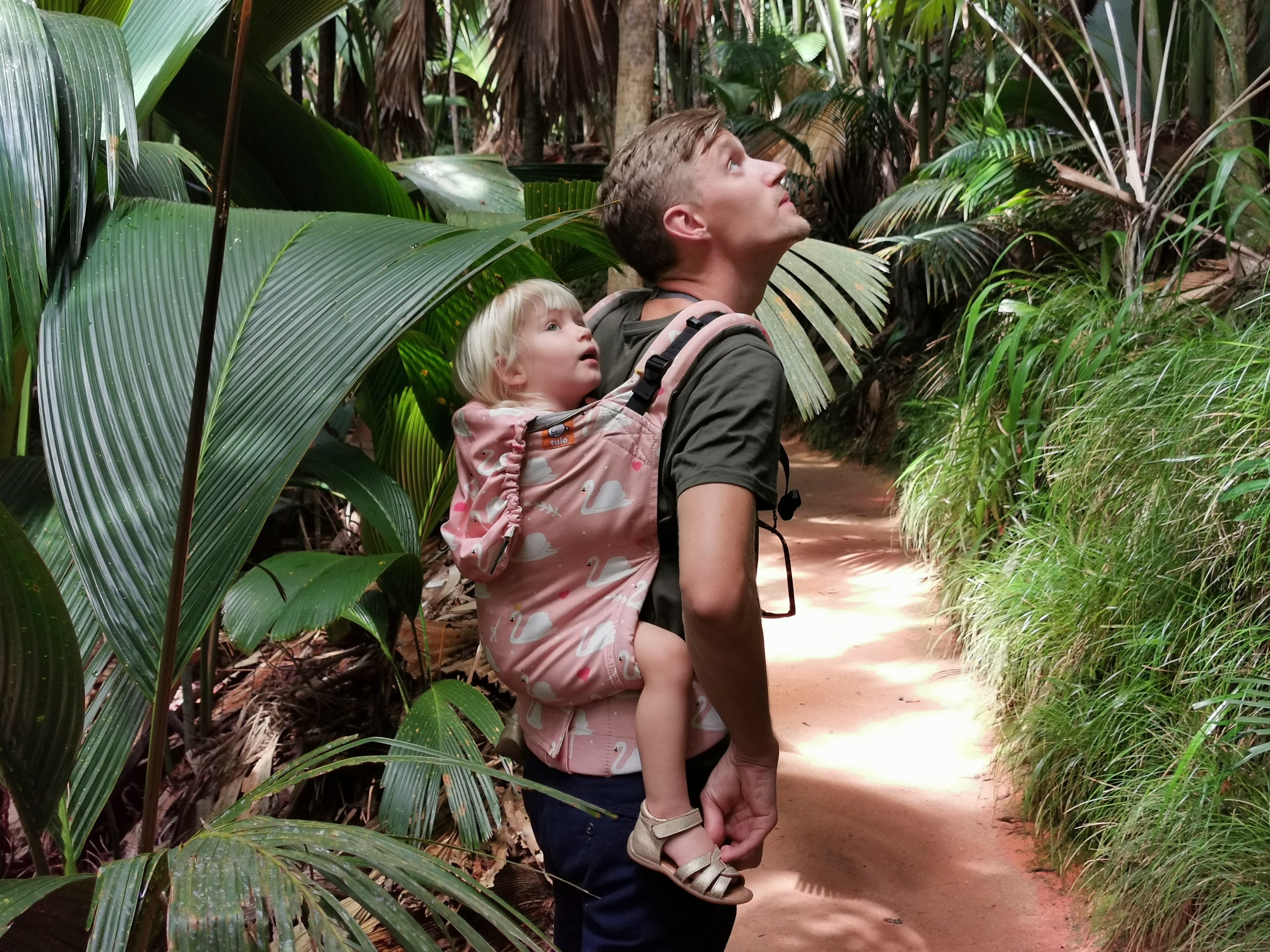 It is exciting to hear the sounds of the forest and the animals and watch the birds and other things.
Fond Ferdinand Nature Reserve – Is it possible with kids?
This park was first opened to the public in 2013 and is not as well known as the Vallee de Mai Nature Reserve. Fond Ferdinand is rich in endemic plants and animals and even here the Coco de Mer palm trees grow naturally. You are not allowed to hike without a guide here, so we had to take a guided tour together with several others.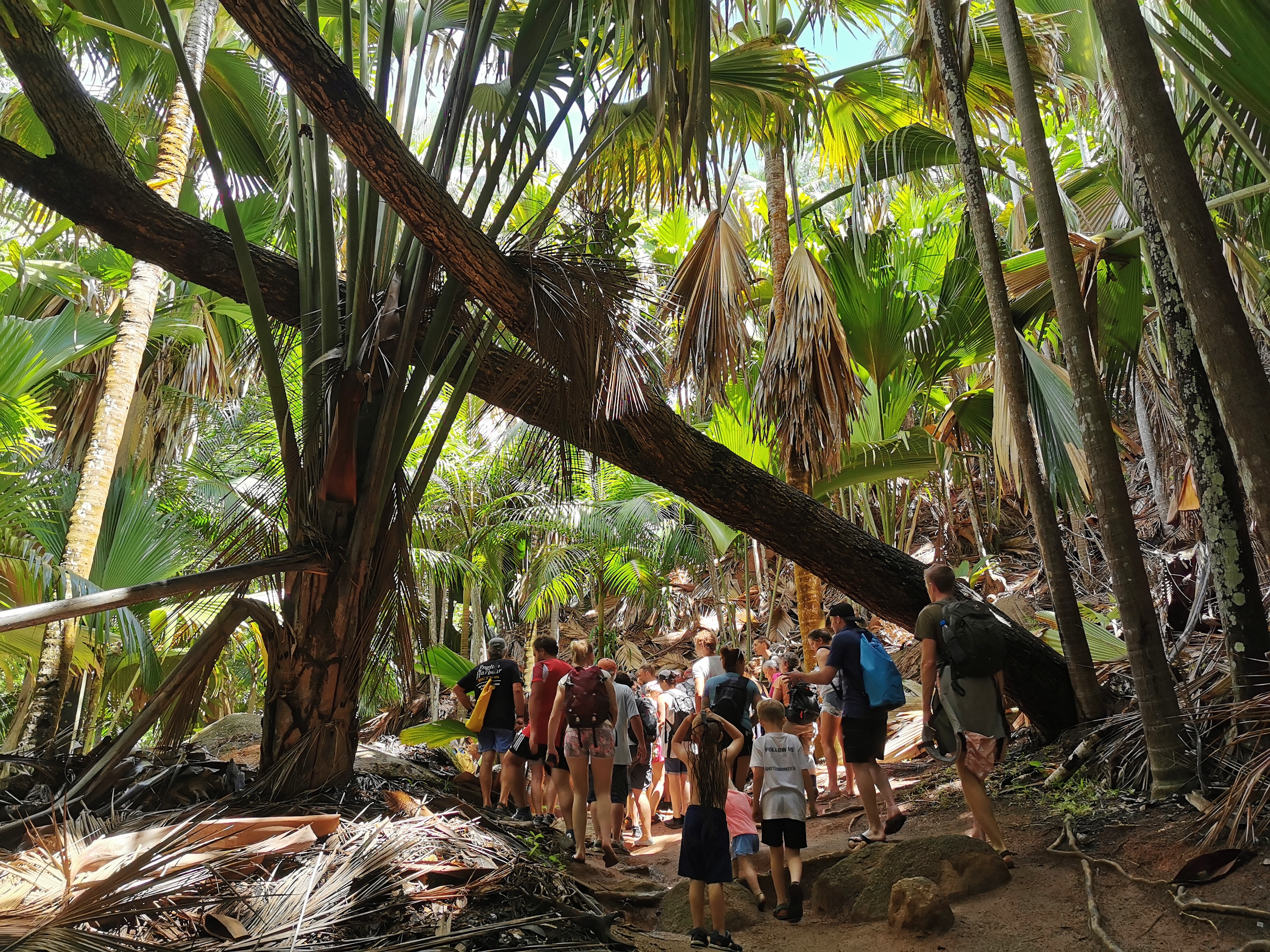 Guided tour through Fond Ferdinand Nature Reserve on Praslin.
The hike takes around 2-3 hours and includes 680 steps up to the park's highest point with a  beautiful view over Praslin and the nearest islands.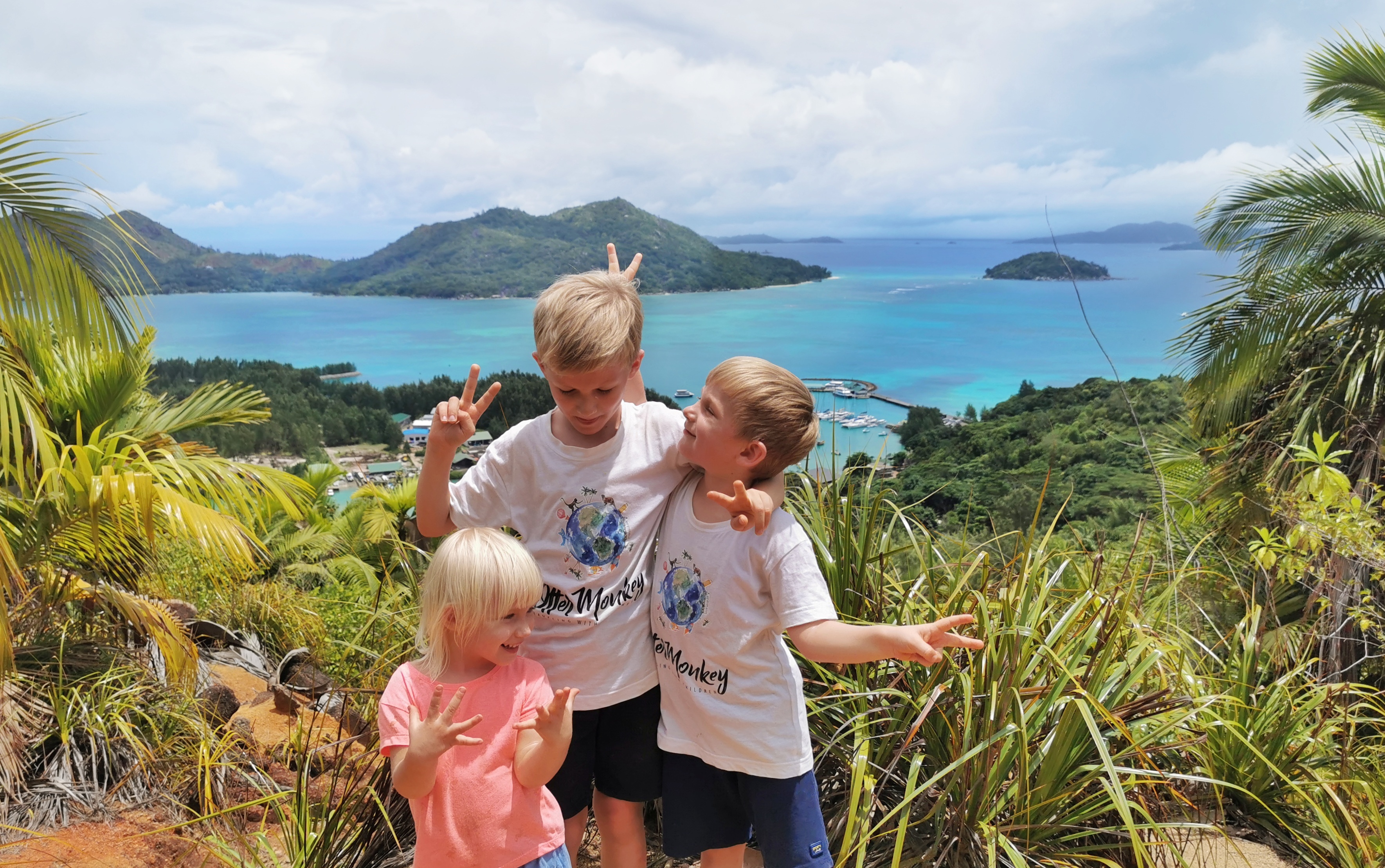 Our children managed the trekking very well, despite the heat and the high humidity. The baby carrier was good to have when Judith got tired legs.
Important bring is plenty of drinking water, fruits, biscuits or salty nuts as snacks. When we arrived at the view point, the sun had reached zenith and the shade was almost non-existent as there were not so much vegetation up here. Several in our guided group had to stay further down due to the heat and all the steps.
The palm forest in Fond Ferdinand feels quite similar to Vallee de Mai except that you walk up to a viewpoint and the hike is more demanding. If you want a relaxing family vacation in Praslin maybe Fond Ferdinand is not the right place for you 🙂
The beaches in Praslin
Praslin is bordered by beautiful beaches and it is a fun occupation to take the car and discover new beaches every day.
Anse Volbert
We stayed at Berjaya hotel at this beach. For a family vacation in Praslin this beach is a great starting point to discover the island. The beach changes a lot depending on high and low tide. At high tide, the beach is narrow and at low tide it is a broad fairly wet beach. Anse Volbert is a very long beautiful beach that is perfect for your morning walk or for the kids to run around and dig in the sand.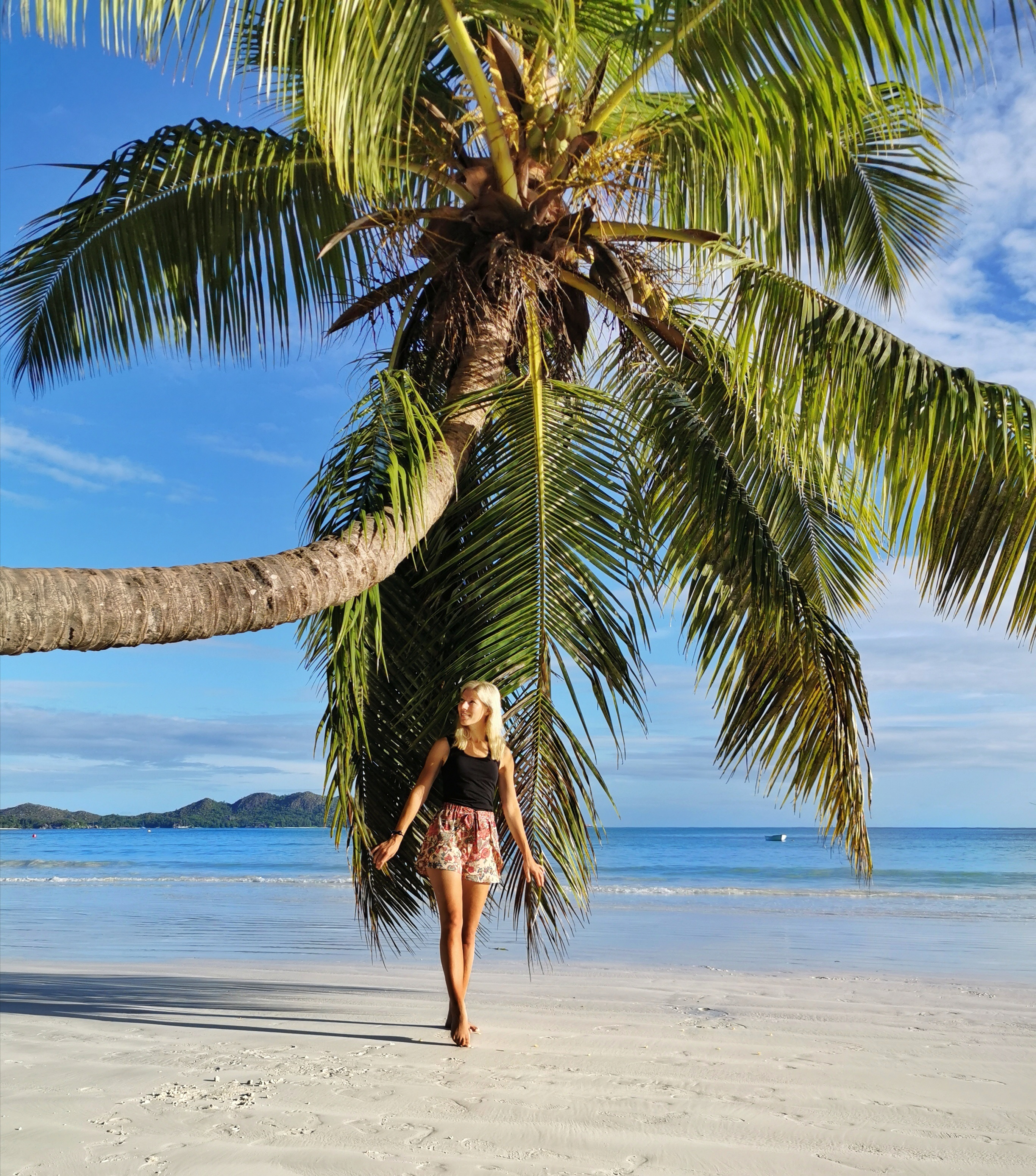 A variety of boat charters starts from Anse Volbert. It is a good idea to book your excursions from home before your trip to make sure you can get one. If you haven't booked anything you can contact charter people on the beach to hear if they have time for an interesting boat excursion to nearby islands.
Anse Lazio
This beach is classified as one of the most beautiful beaches in the world and we can understand why. With turquoise water, white sand and coconut palms that bend stylishly towards the beach, it has a paradise-like look. The beach quickly fills with people, best is to arrive here in the morning to get the beach almost for yourself a few hours before more people arrive.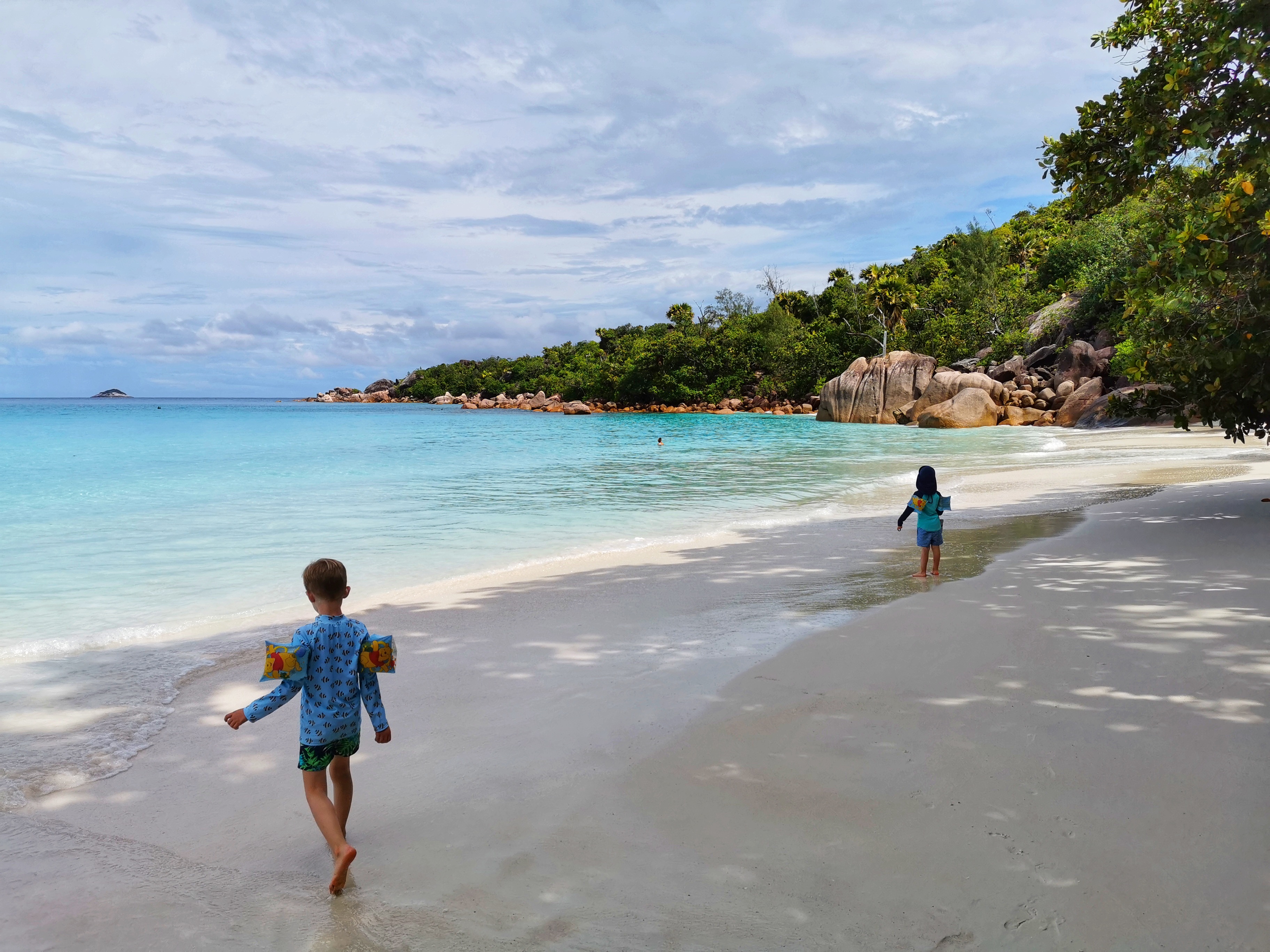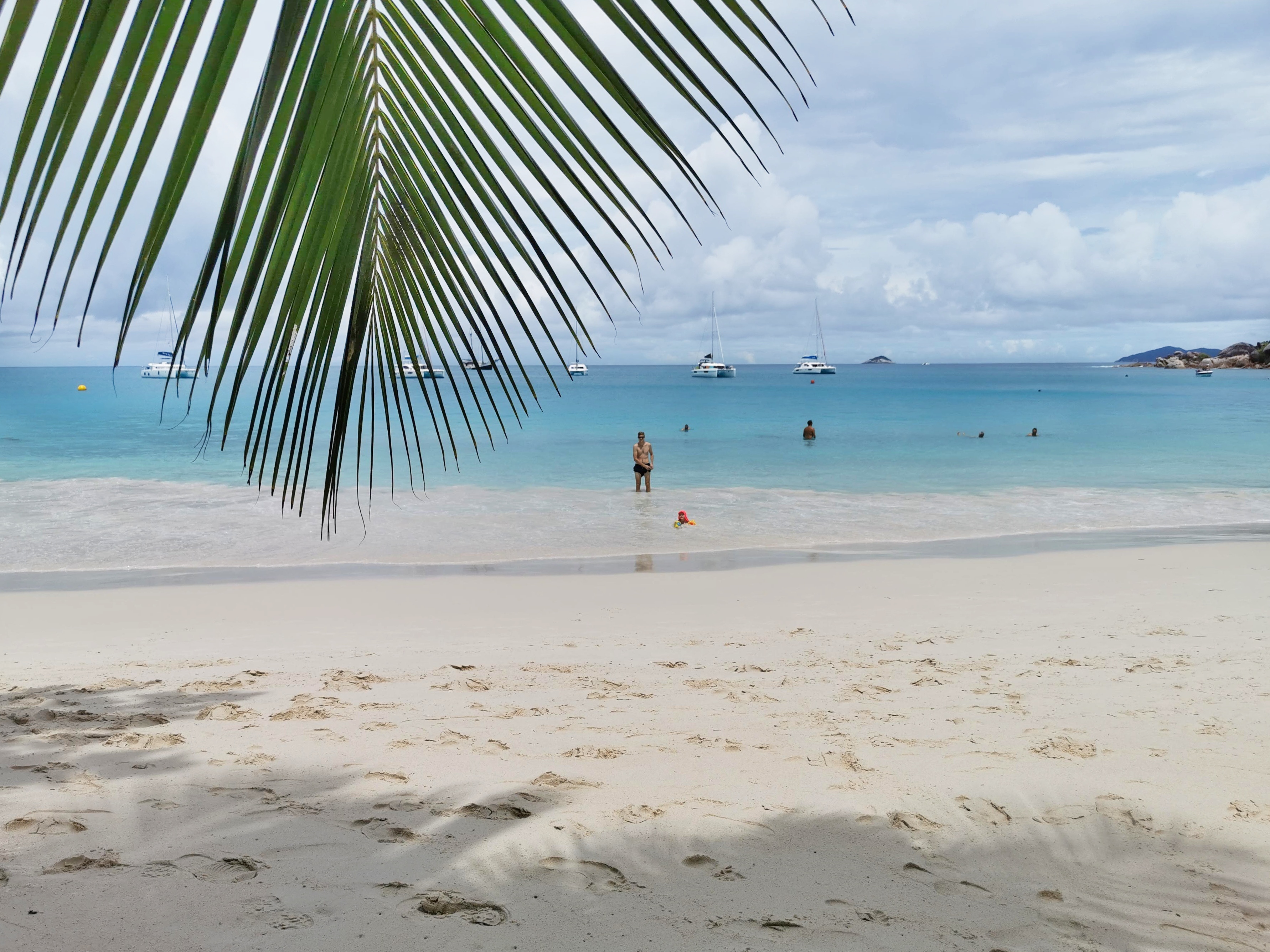 Anse Takamaka
We discovered this beach during a road trip on the island. In the photo you can see the hotel Coco de Mer and Black Parrot suites.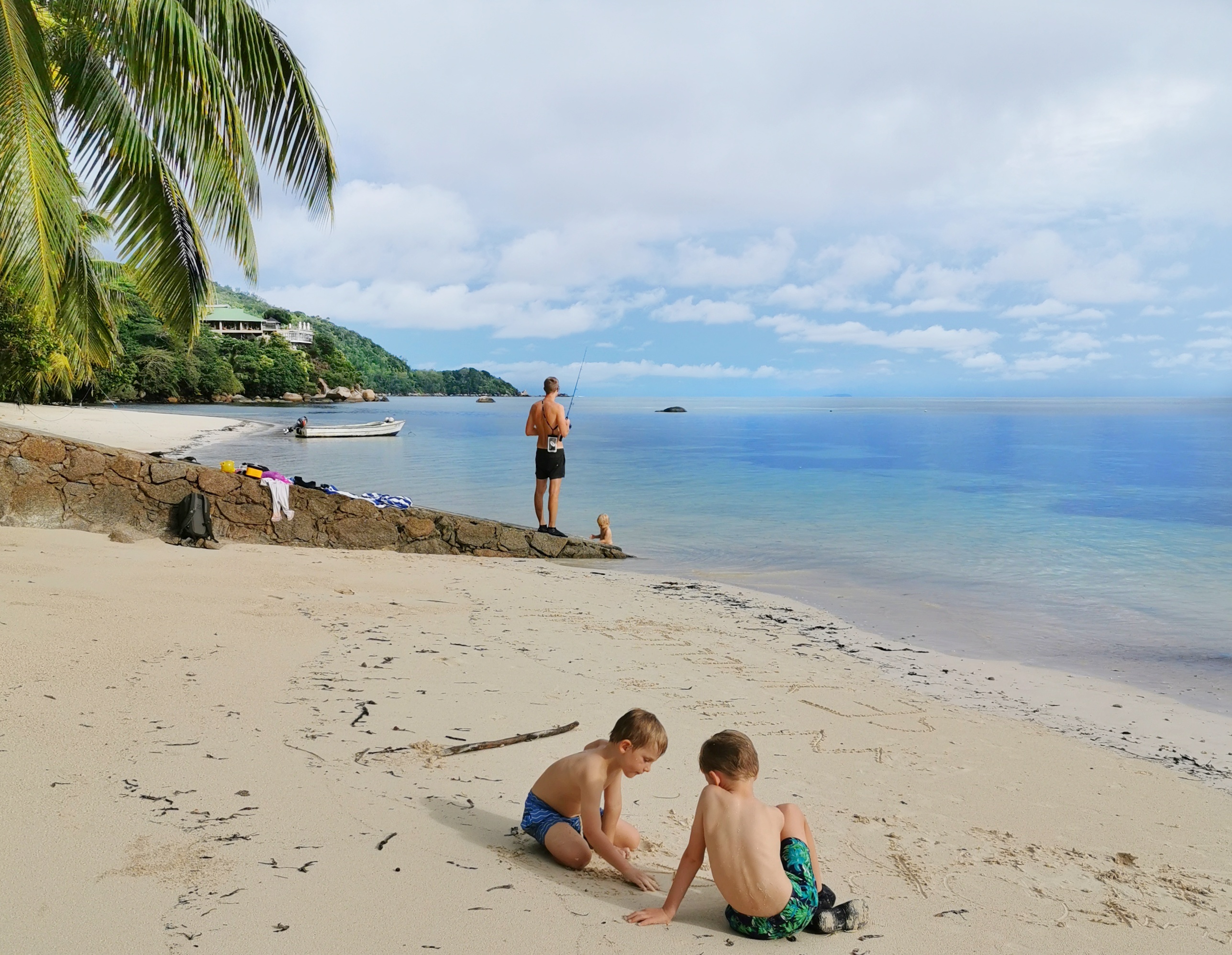 Anse Kerlan – Sunset from the west coast of Praslin
The most beautiful sunset is seen from the west coast of Praslin. Remember, however, that it darkens quickly and if you stay in Anse Volbert as we did, you have to drive back home in the dark on narrow winding roads.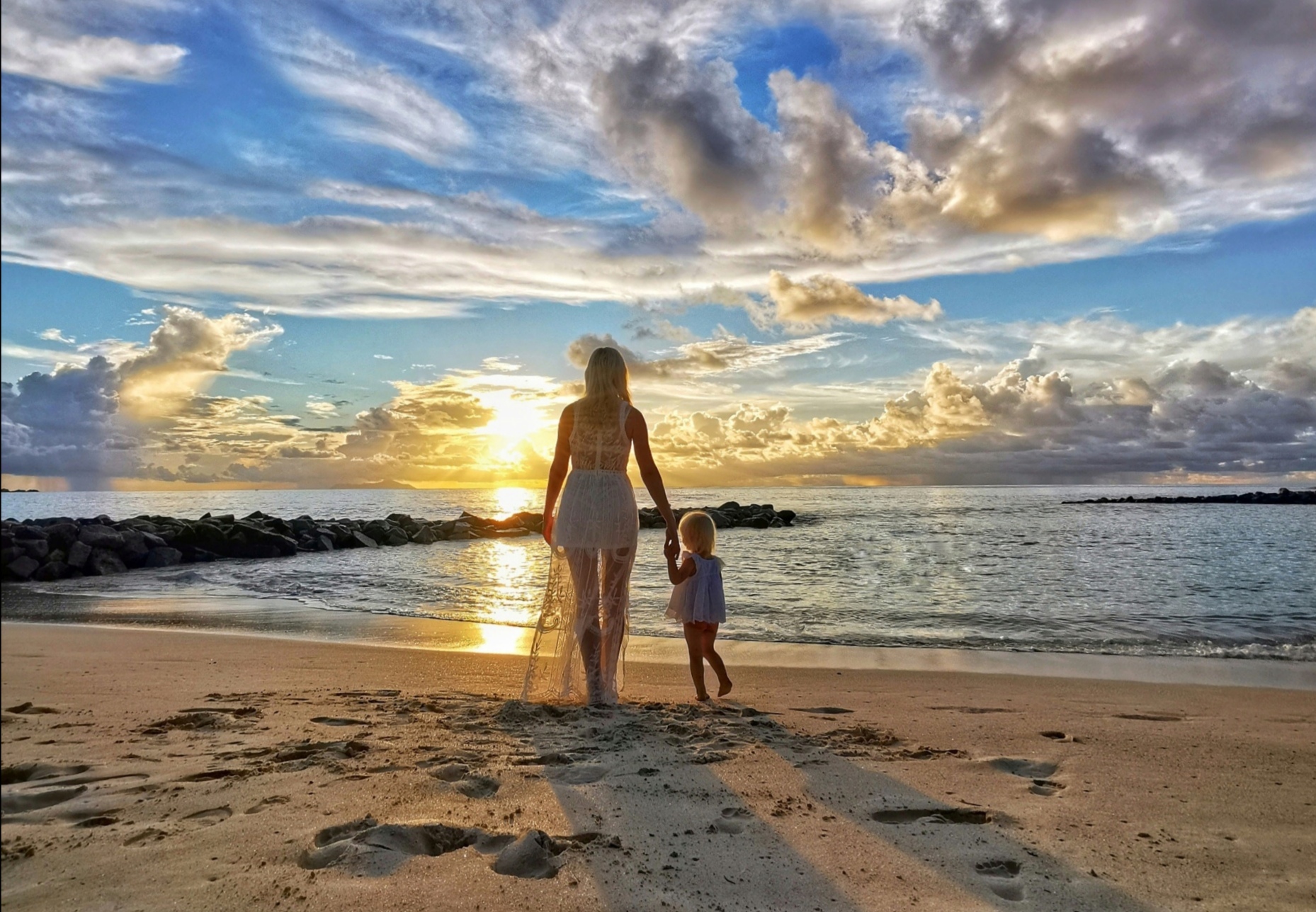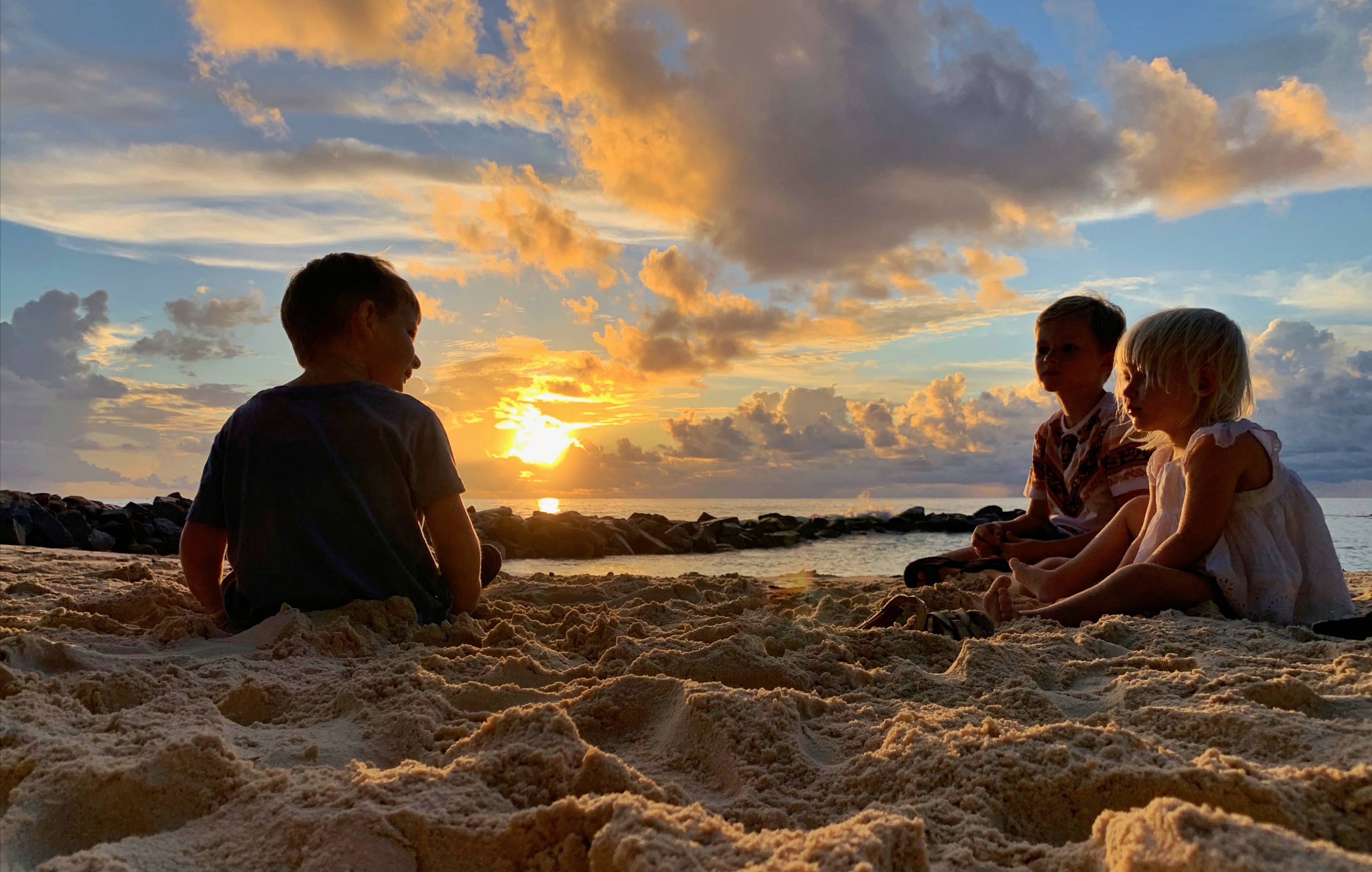 Food places in Praslin
We found our favorite restaurants in Anse Volbert. Eating at a restaurant in Seychelles is expensive. A pizza costs about 20 euro, and pasta carbonara for the same price.
Gelateria da Luca
A popular place in Anse Volbert with great pizzas, pastas, salads and more. As you hear by the name, they also have delicious ice cream.
Pirogue Restaurant & Bar
A great restaurant in Anse Volbert with nice kids menu .
Village Du Pecheur
Beautifully decorated restaurant in Anse Volbert with delicious food. This place is also a small hotel. Their website: Village Du Pecheur Praslin
Take Away food
You can also find Take Away places on the island. Food stalls or caravans sell currys like fish, chicken, vegetarian, sausage etc. for a cheap price. You get the food in a box of frigolite, a portion costs about 8 euro.
Coco Rouge Praslin
A take away place with seating. They serve nice food and local desserts. Located in Baie Sainte Anne 10 minutes drive from Anse Volbert. Follow the main street from the jetty a few minutes by car.
Paradise Taste Take Away
Take away place located in Fond de Lanse south of Grand Anse.
Supermarket
The best supermarket on the island is called Whole Foods Cafe and are located in Grand Anse. It is a fresh and well-stocked grocery store with a cozy café section in the same building.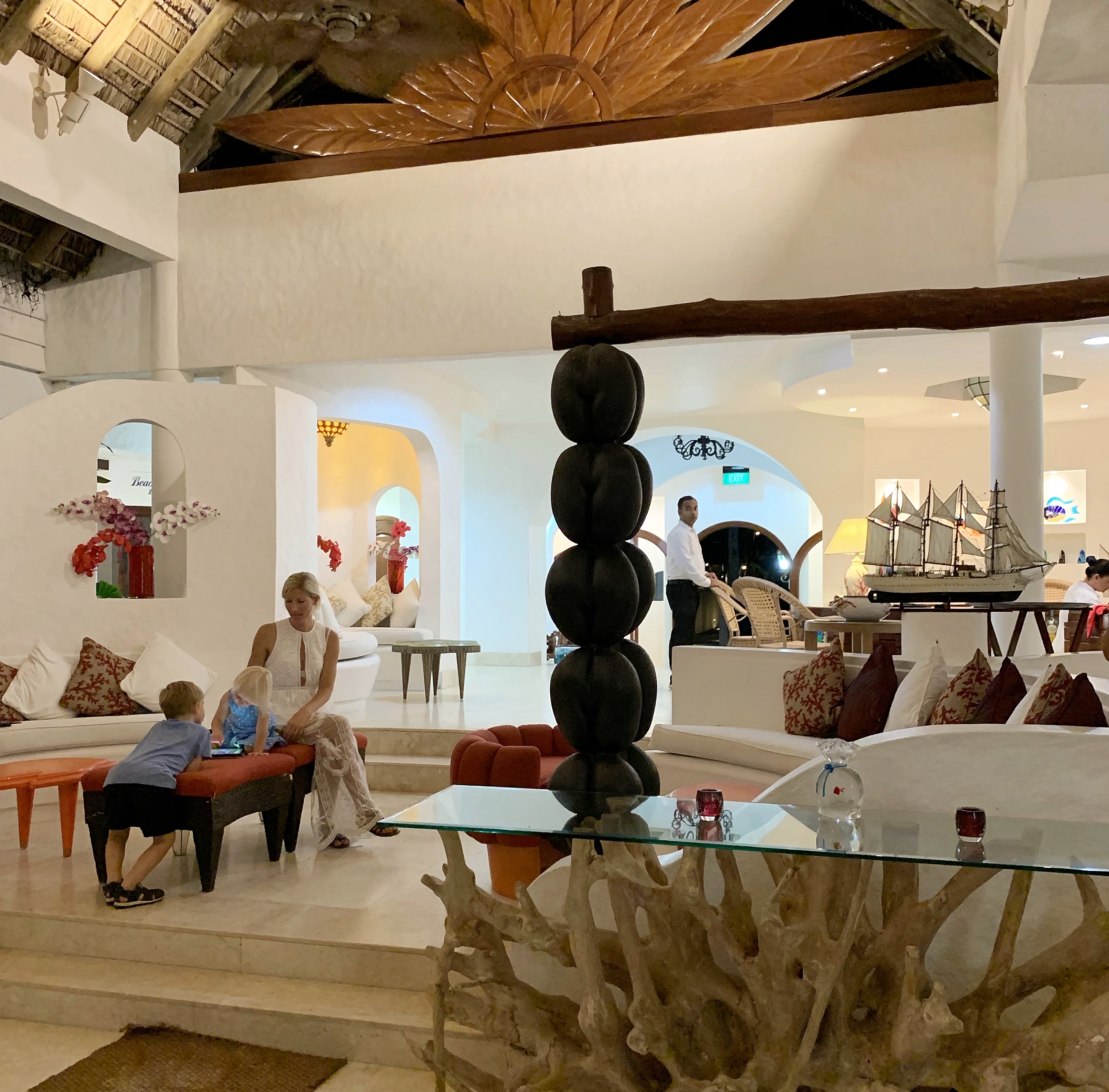 Where to stay in Praslin?
I think northern part of Praslin, Anse Volbert and Cote D'Or Beach, which are next to each other, have a good location and feels nice. There are many different accommodations in different price ranges, from self catering to luxurious small resorts. We stayed at Berjaya Praslin Beach Resort but I can not really recommend this place since it was pretty old. There are so many better and nicer places to stay in Praslin.
Around Grand Anse on the south side of Praslin there are also a number of accommodations that looks nice. The west side of Praslin, if you pass Grand Anse, felt more deserted than the north side and here was difficult to find a restaurant. If you want peace and quiet this is the right place for you, but for a family vacation in Praslin I think you should choose Anse Volbert or Cote D'Or Beach.
Best way to get to Praslin
Praslin can be reached either by boat from Mahé or La Digue or by airplane from the main island of Mahé. We went with Cat Coco's fast catamaran, which we thought was a quick and easy way to travel. If you easily get sea sick, it can be a good idea to take motion sickness tablets in advance or take the flight instead. The boat swings a lot on the sea, so it is almost impossible to walk around on the boat during trip.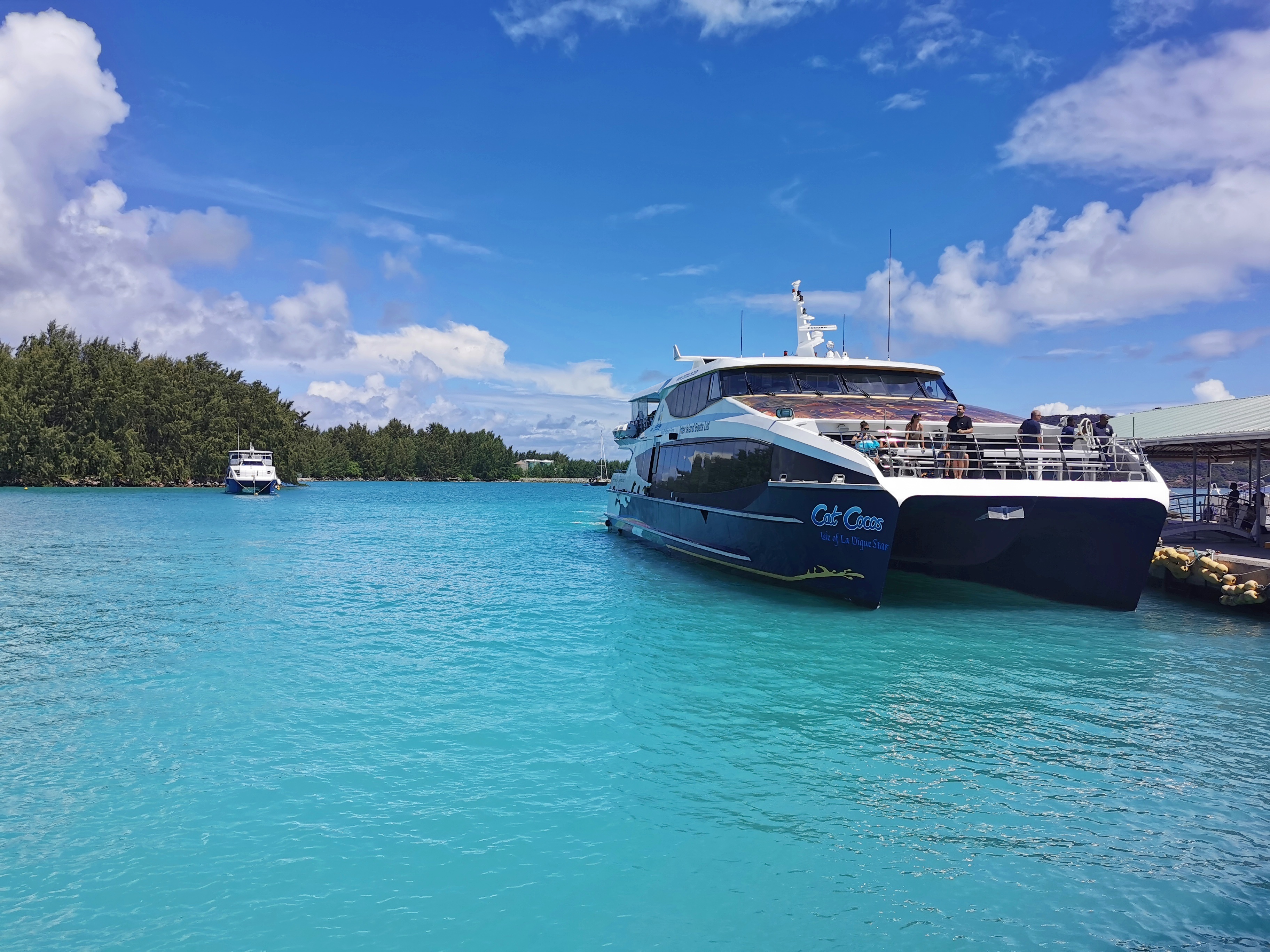 We had our seats on the upper deck called the Lazio Lounge (business class). Here you sit in comfortable armchairs and the staff is very helpful. If you take business class it includes a small lunch box with some snacks such as fruit, sandwiches, juices or drinks. The salon is smaller with fewer seats than on the deck below (economy class). You can also choose to sit outside but it felt a bit risky with small kids and high waves.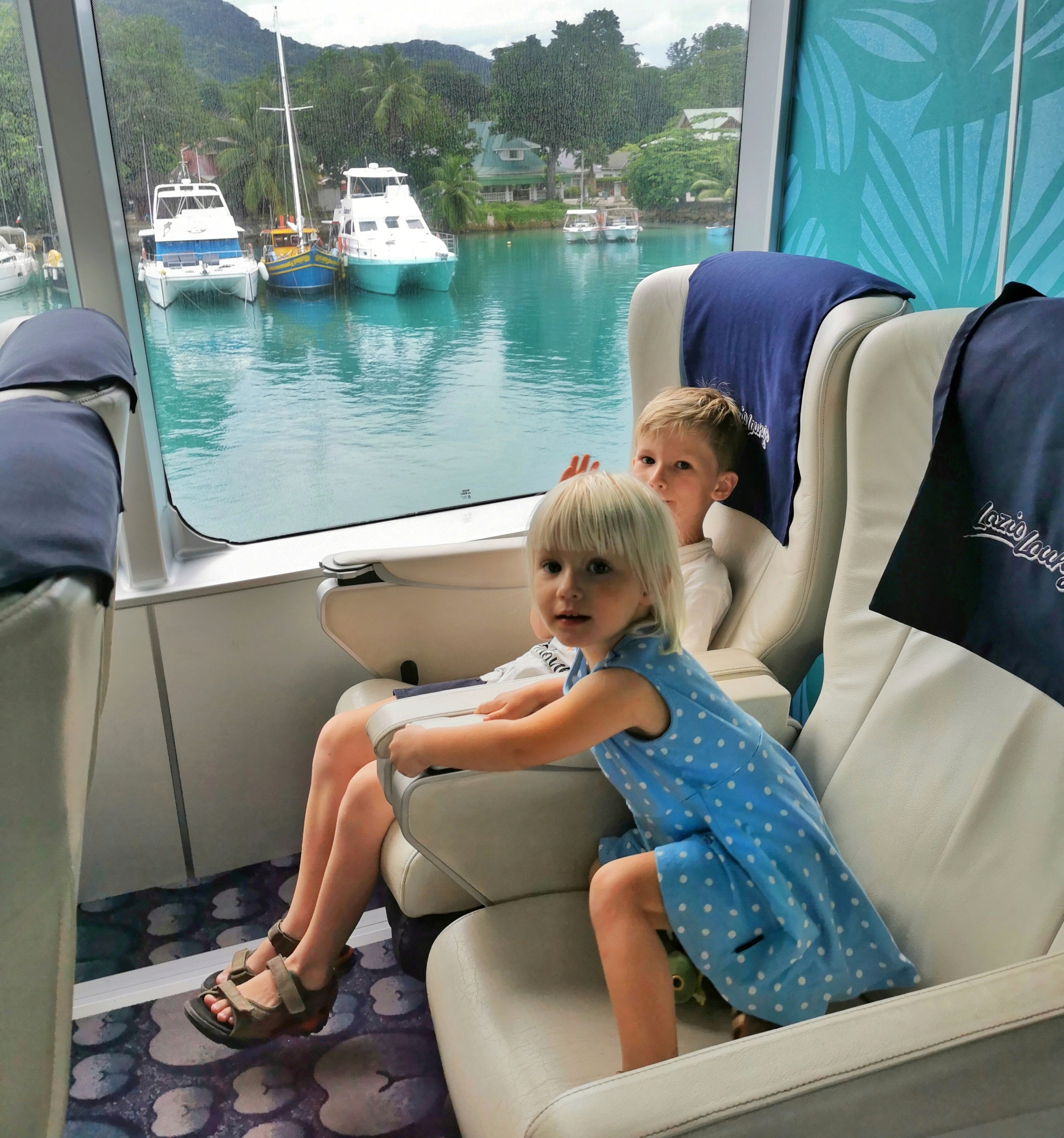 I am happy to answer your questions about the Seychelles so you can get a great family vacation in Praslin. Comment below or email me 😀
If you want to know more about Seychelles you can read my other article:
La Digue with Kids