During our road trip through Sweden we wanted to drive through the province of Dalarna as there is something special about this fabulously beautiful landscape and the charming little red cottages. To get as much Swedish feeling as possible during the few days we visited Dalarna, we chose to stay at Green Hotel in the small village of Tällberg.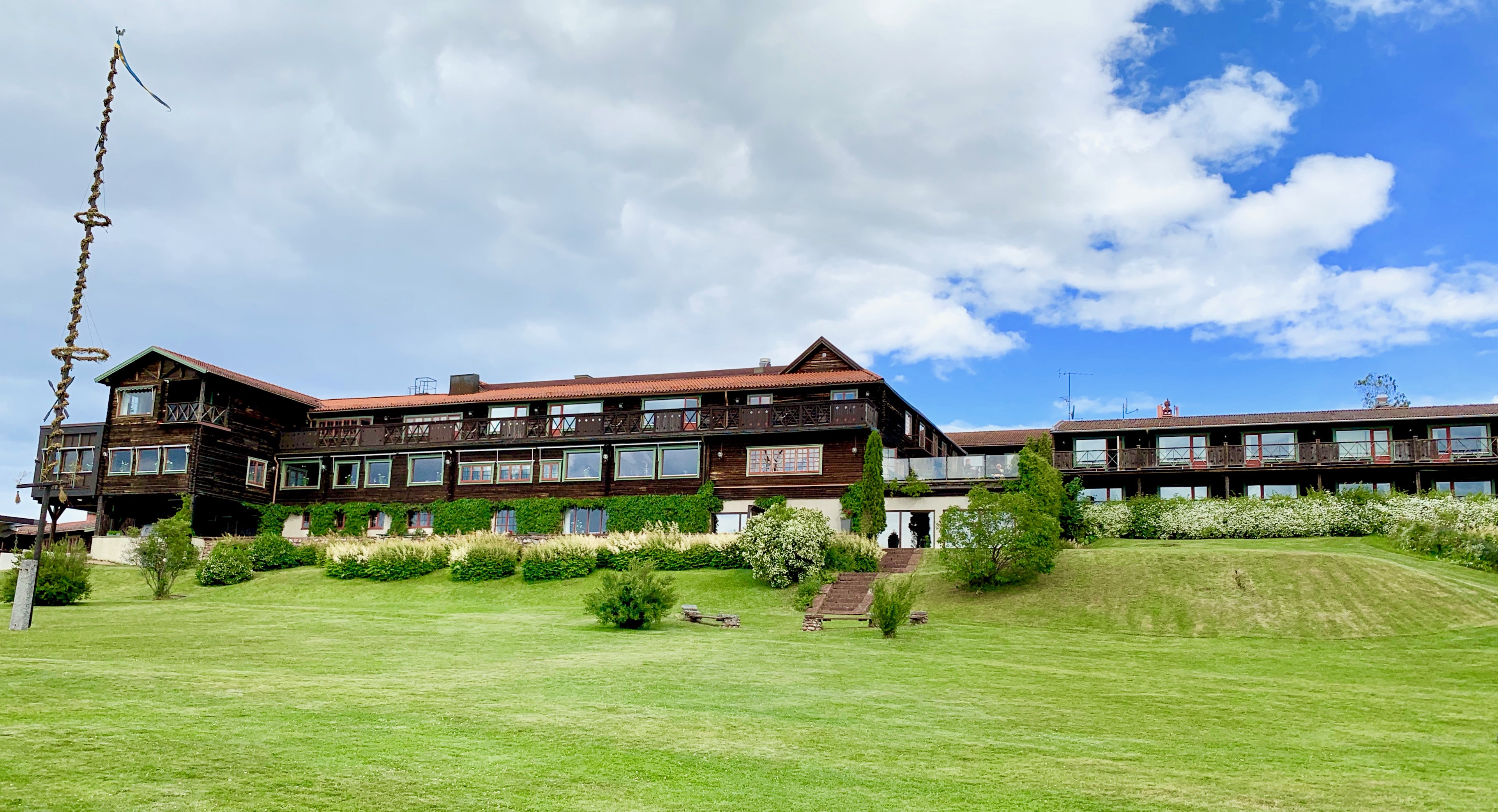 Genuine Swedish feeling
Already on arrival we felt that the hotel was something out of the ordinary. Green Hotel is located on a slope down to Lake Siljan with a panoramic view over the lake. This large timbered house was built in 1917 and then expanded and has now grown to Tällberg's largest hotel and conference facility. Despite the big words, the hotel is cosy and intimate and we got this genuine Swedish feeling that we were looking for.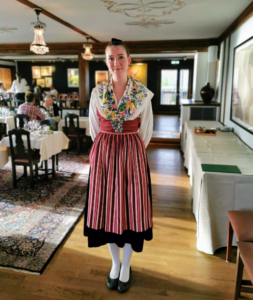 The friendly staff wear the national costume which enhances the unique experience.
Activities at Green hotel
Green Hotel has a lot to offer for everyone. They have both outdoor gym and indoor gym. Since we like to play tennis, we were so glad to see that the hotel has its own tennis courts where we and our children could play. It is also nice to just take a walk in the beautiful surroundings, let the children play in the small playground or take a swim in the outdoor pool. The weather was unfortunately a bit cold for an outdoor swim, to the children's disappointment. However, the disappointment was short-lived when the children found out that there was also an indoor pool.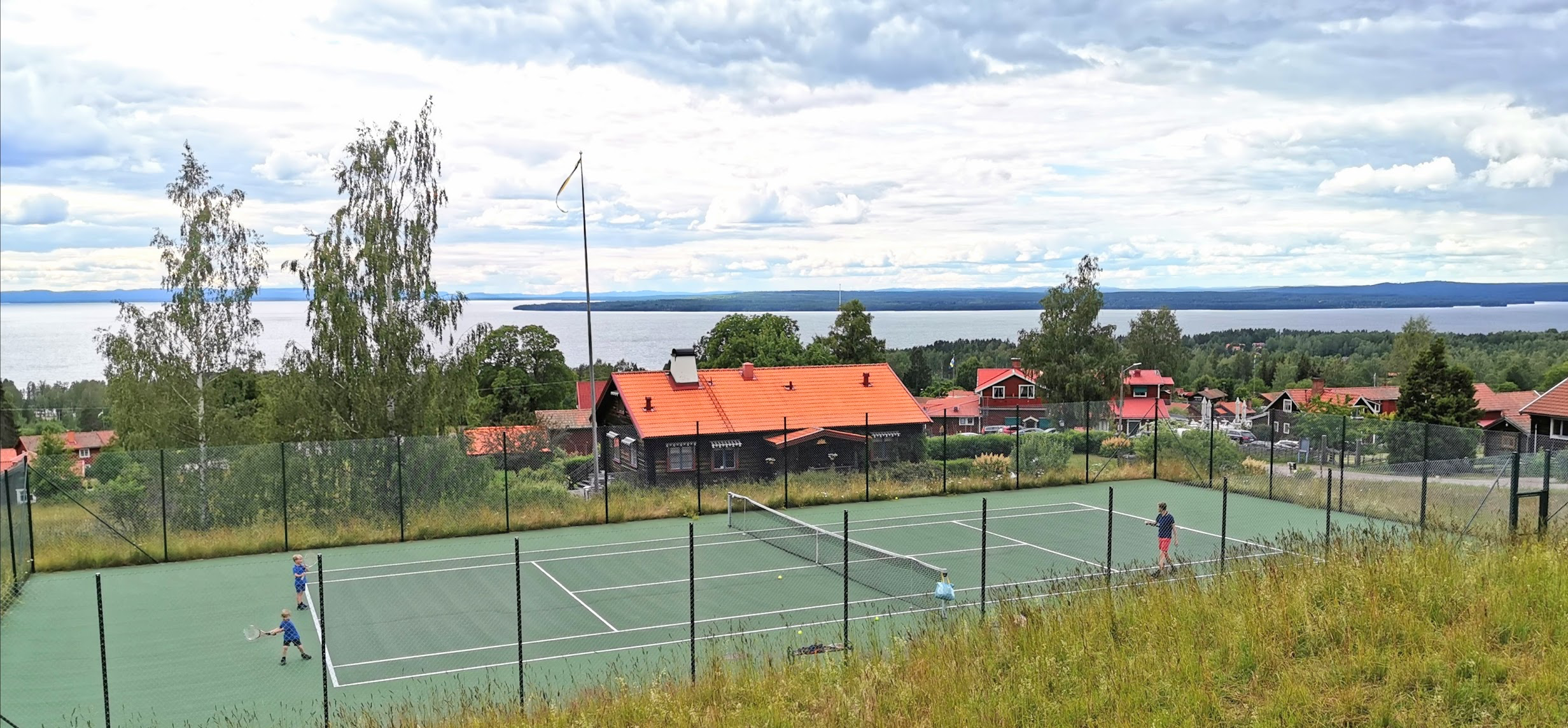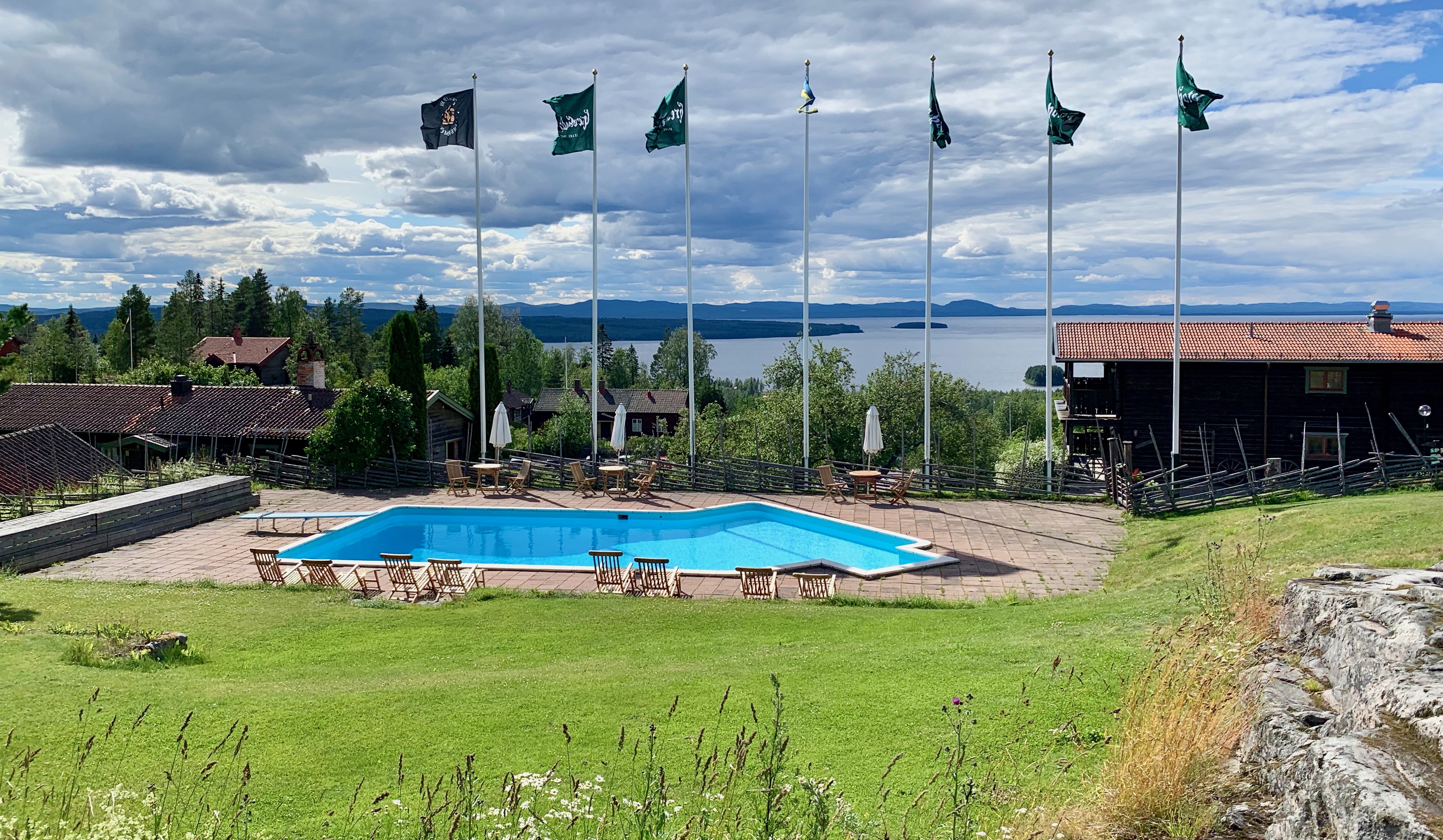 Green Hotel has a lovely indoor pool, sauna and relaxation area where we spent many hours. Here we enjoyed the pool, the beautiful wall decorations and the amazing view of Lake Siljan. On this floor you will also find board games, children books and darts.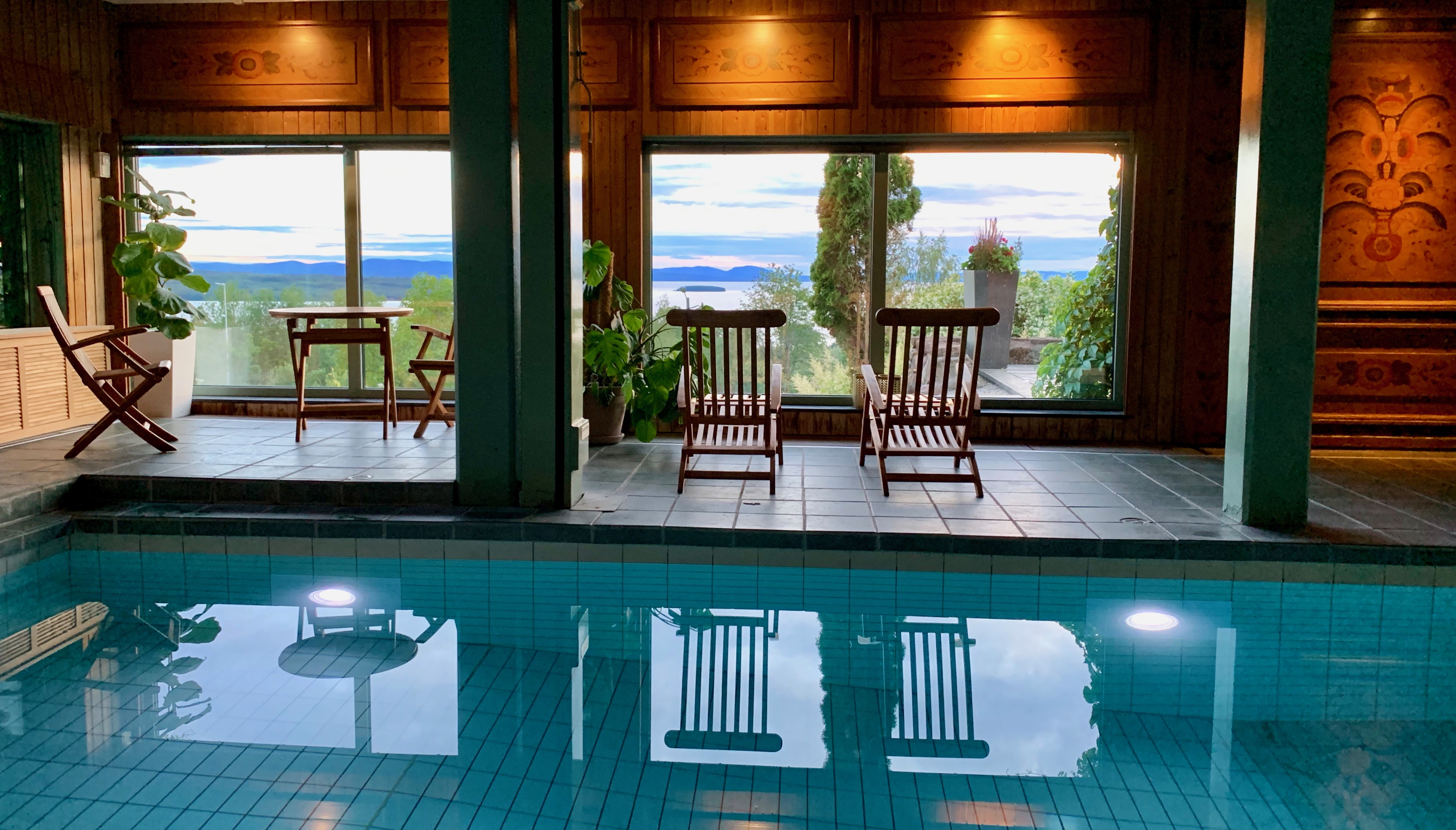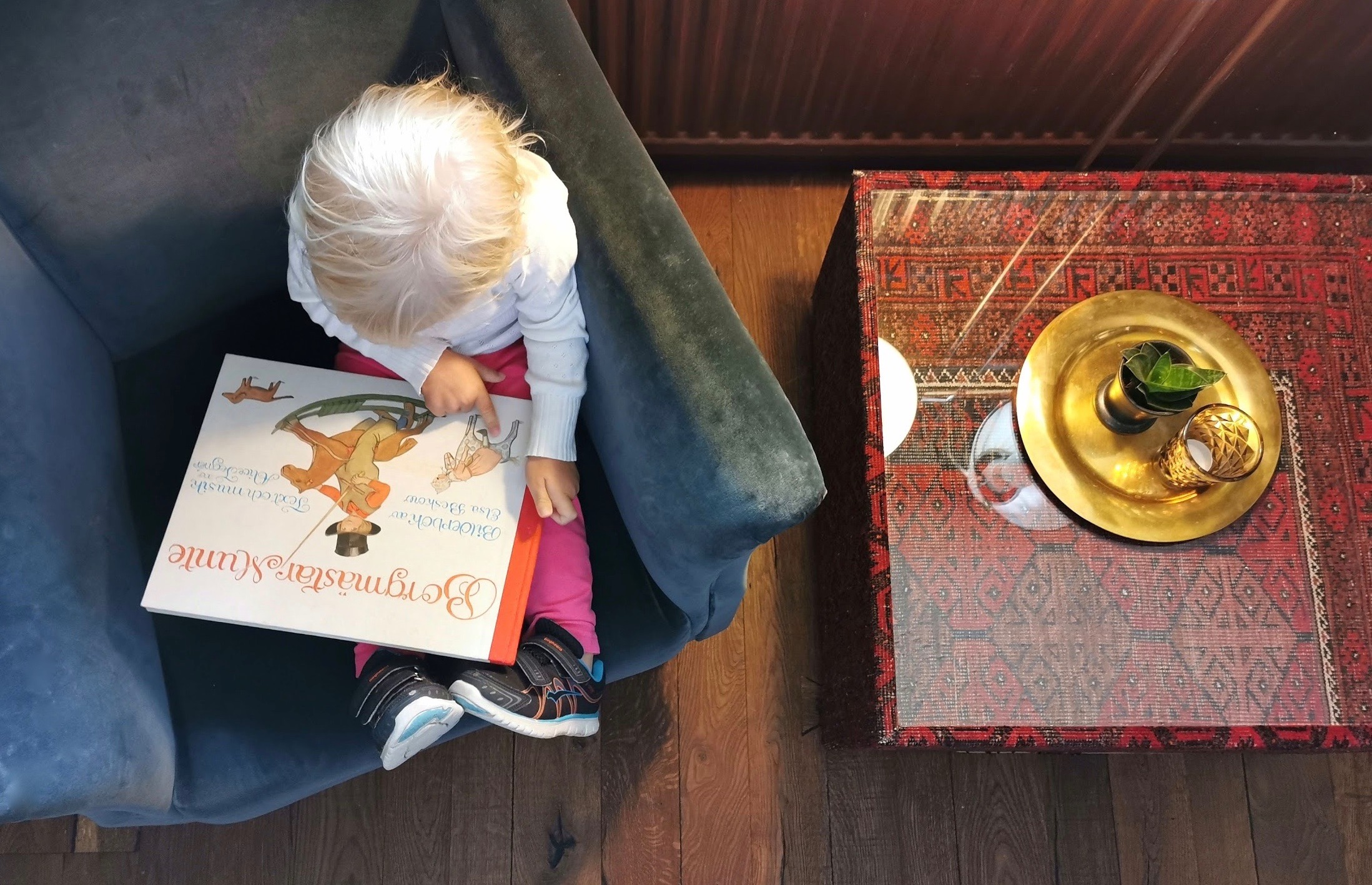 The restaurant at Green Hotel
The restaurant at the hotel is exquisite and together with the magnificent view, the experience becomes truly unique. Me and John had lamb fillet with fried potatoes together with a delicious gravy, and dark chocolate cake with whipped cream for dessert. Our children also got 3-course menu  but more child-friendly, which was very popular. We were very pleased with the food, the wine and the service.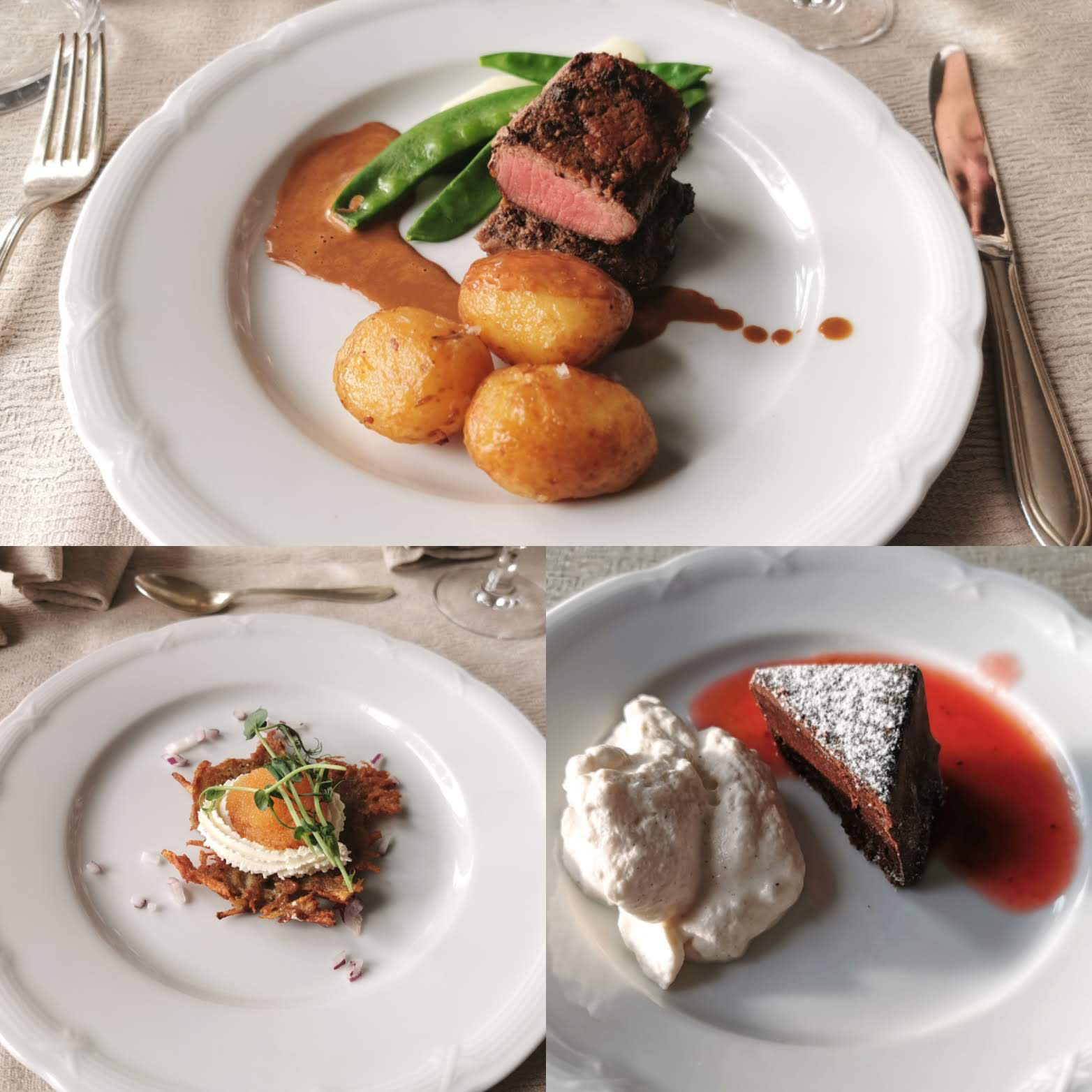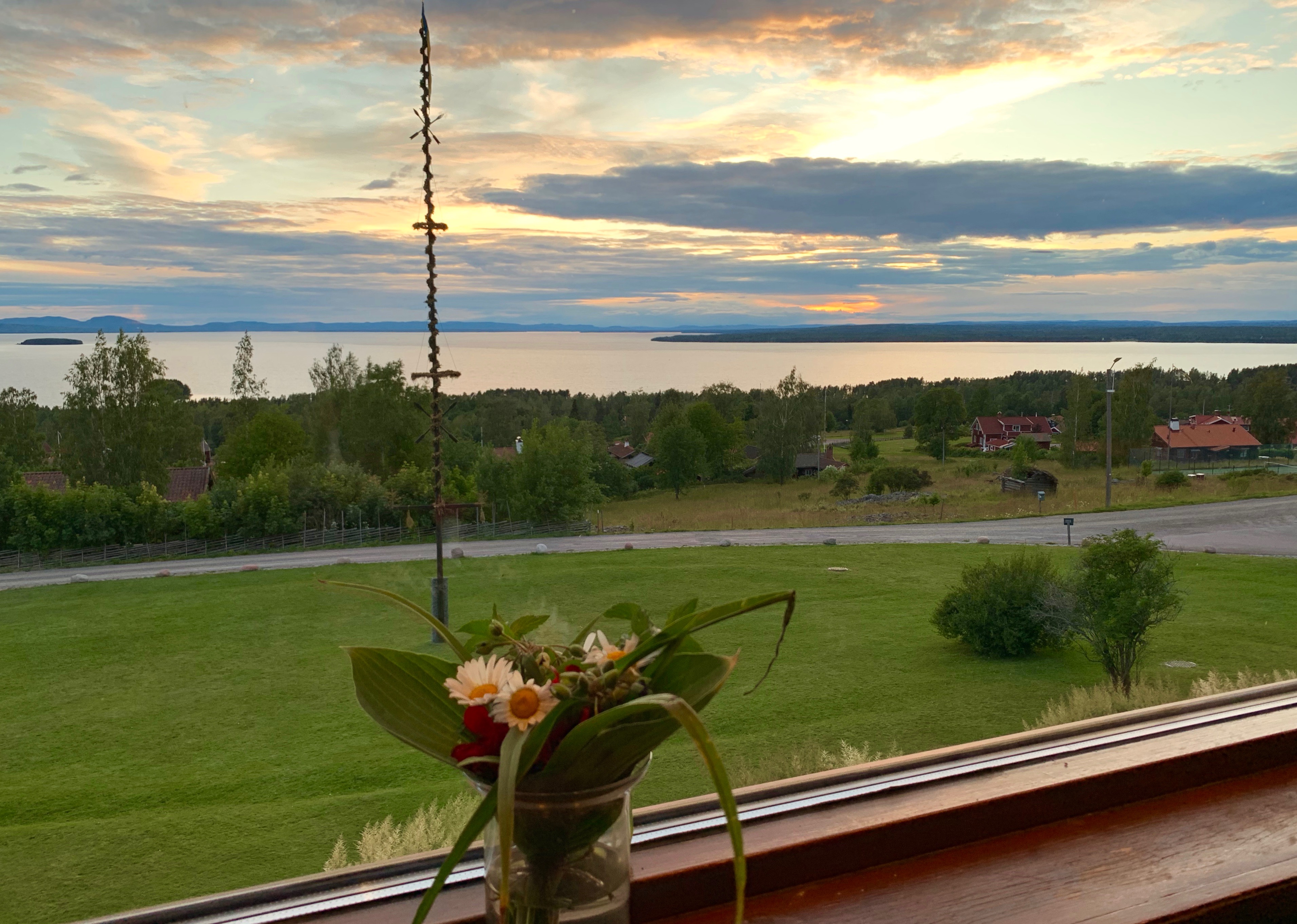 The breakfast was great. Here we found different types of bread that they bake themselves, fine toppings, different musli varieties, tasty juices and much more. The children's favourite was of course the waffles that you bake yourself.
Rooms at Green Hotel
The Green Hotel offers many different types of rooms, many with view over Lake Siljan. We enjoyed our fantastic room with Jacuzzi, steam room and the adorable view. The fireplace was a very appreciated detail and are of course very nice to have lit during the cold season and gave us delight for the eye now during the summer period. We had plenty of space in our room with a king size bed for me and John, a nice sofa bed for the boys and a baby cot to Judith.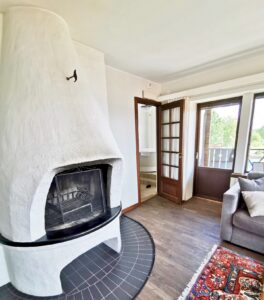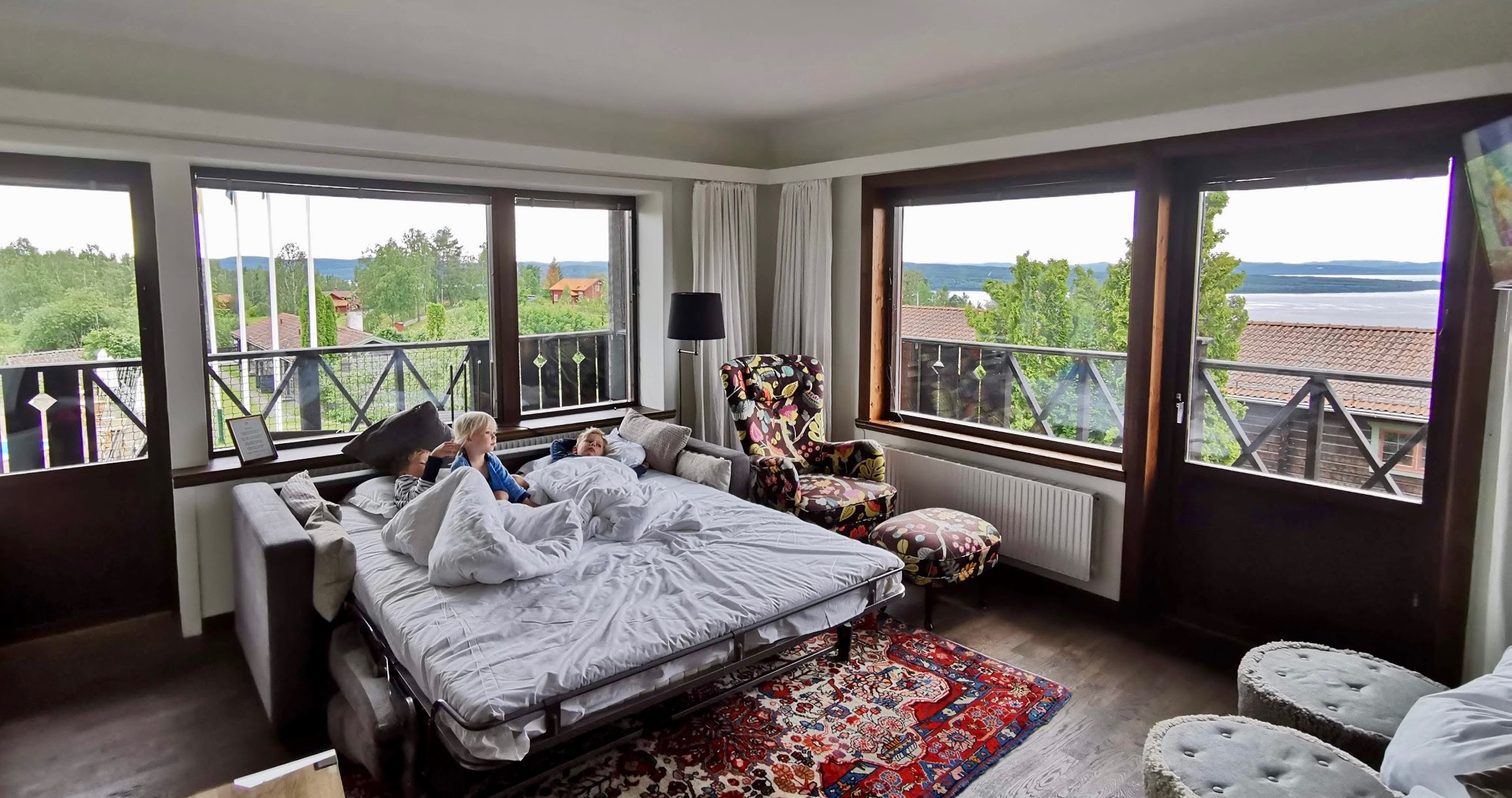 We are so glad that we chose to stay at Green Hotel which really offered cozy Swedish feeling, fantastic food and drinks and many fun activities for adults and children. Next time we would like to celebrate the big Swedish occasion Midsummer at Green Hotel which is one of their specialties.
Photos from the hotel and its surroundings: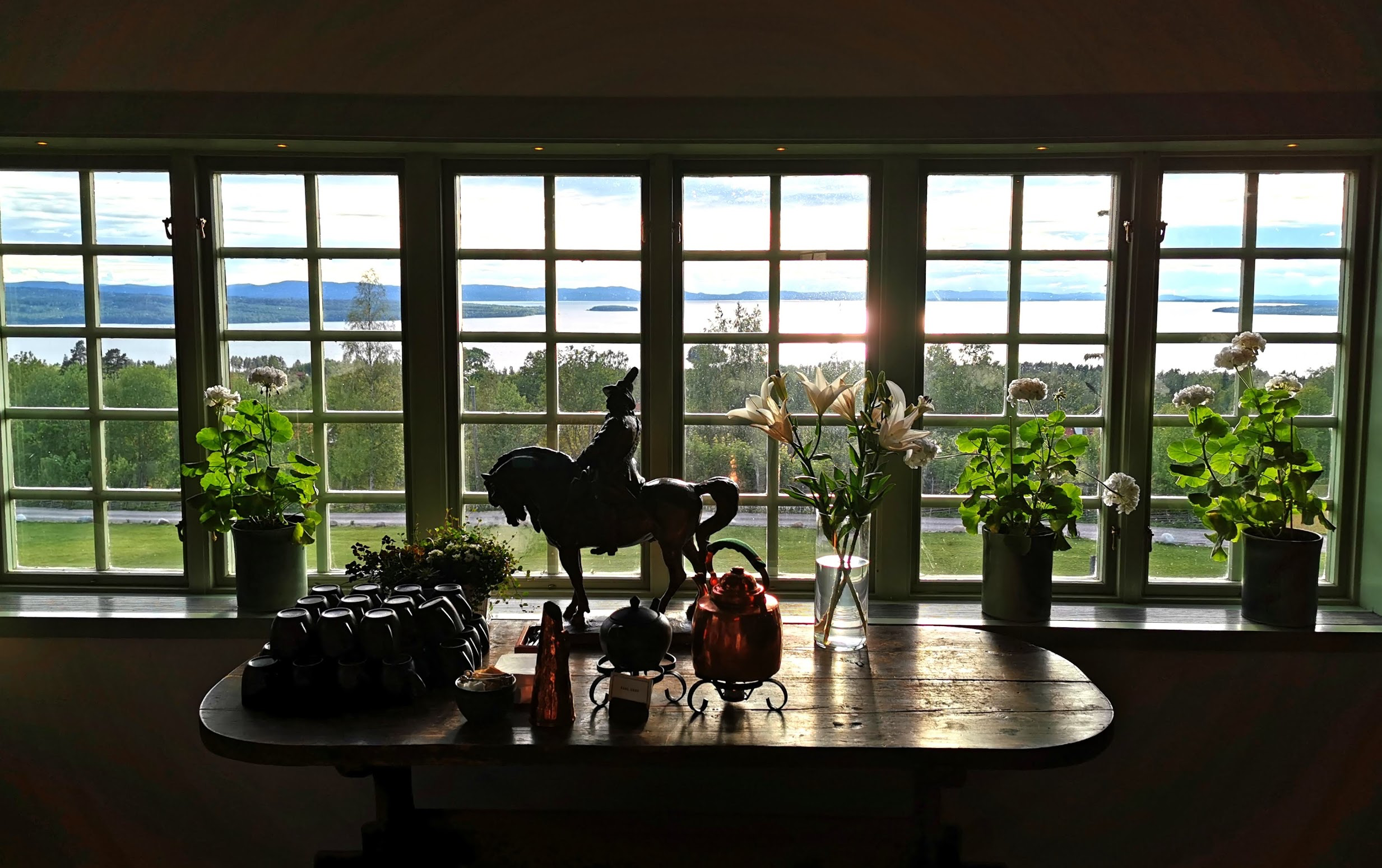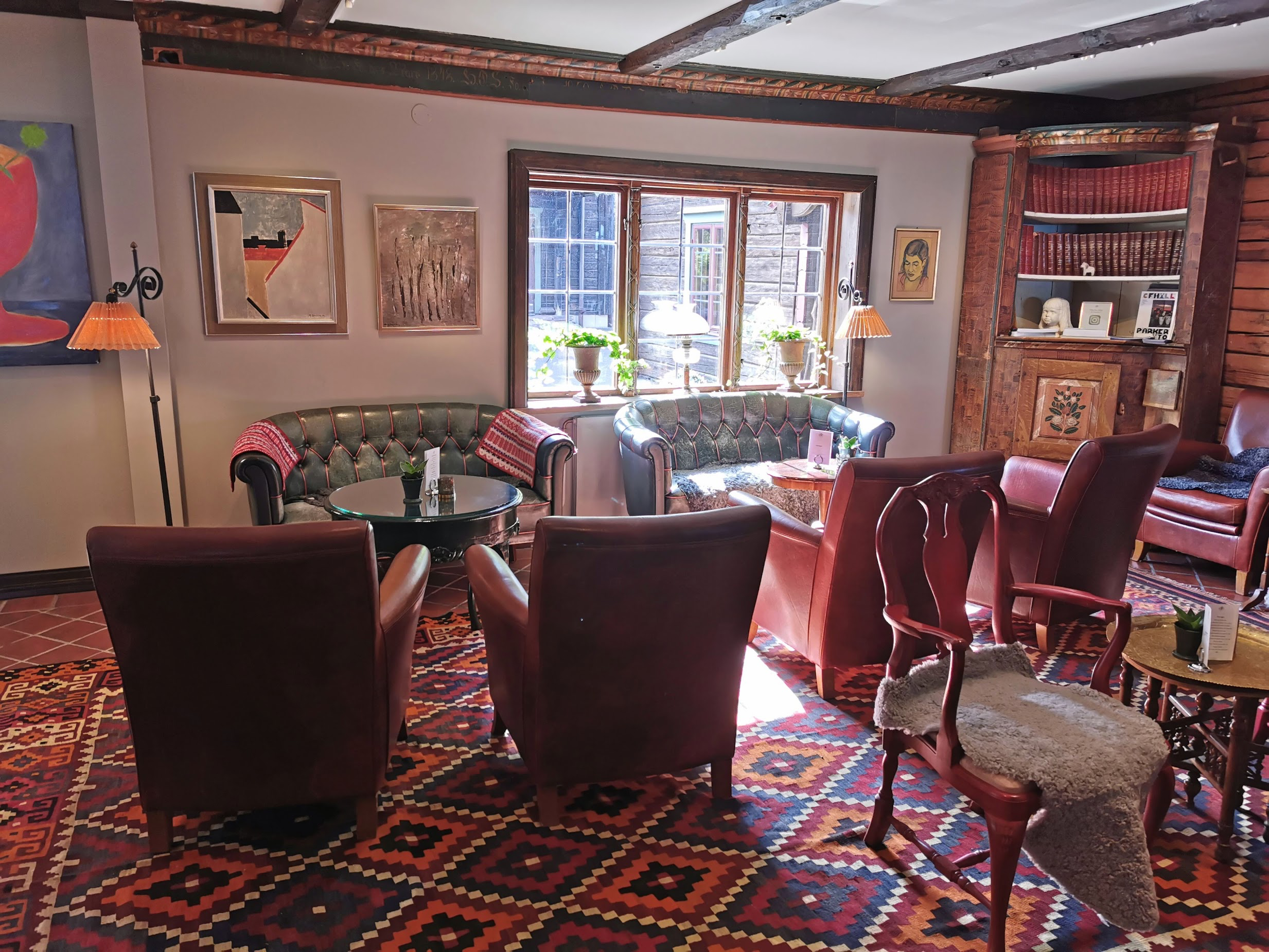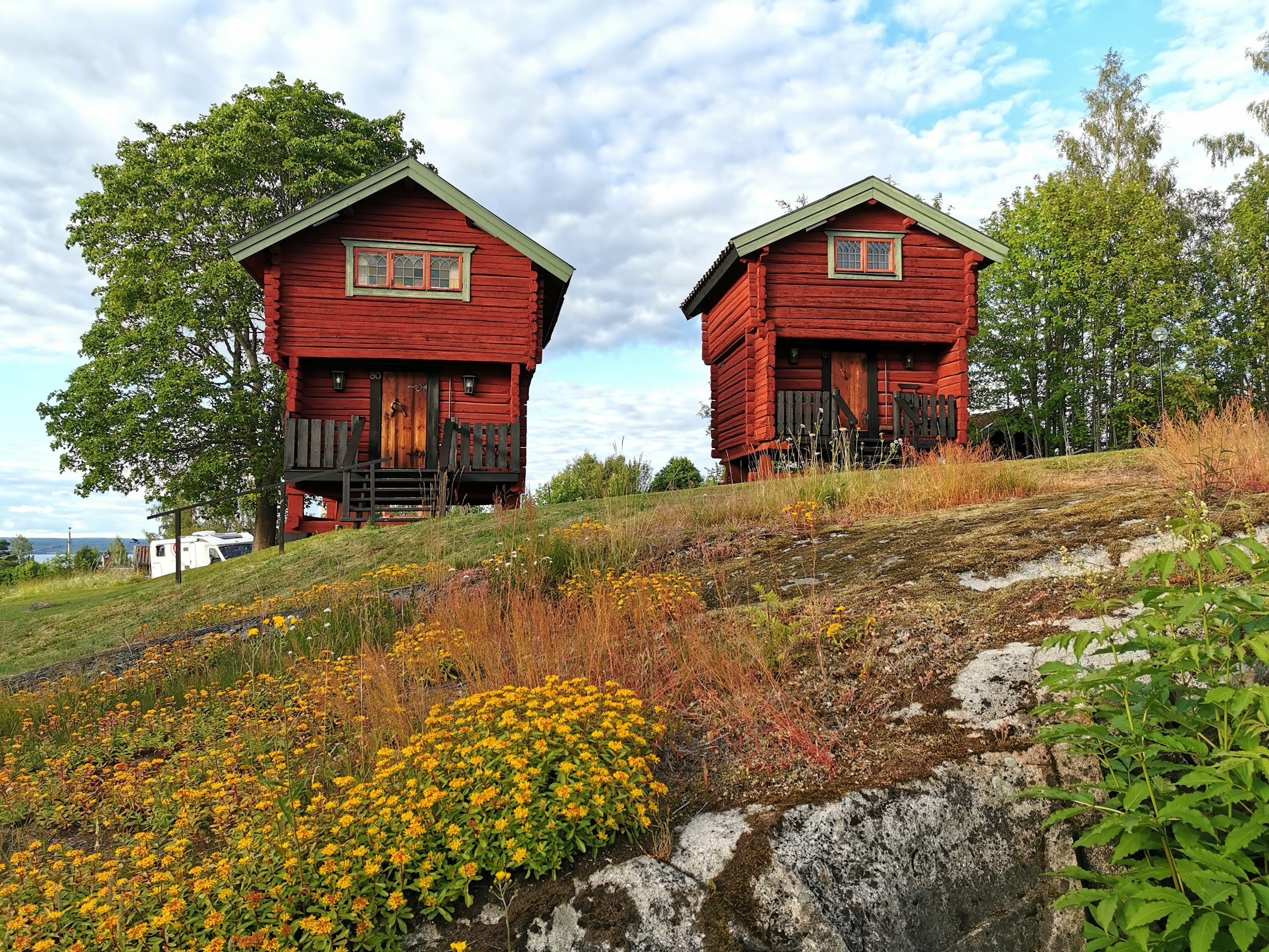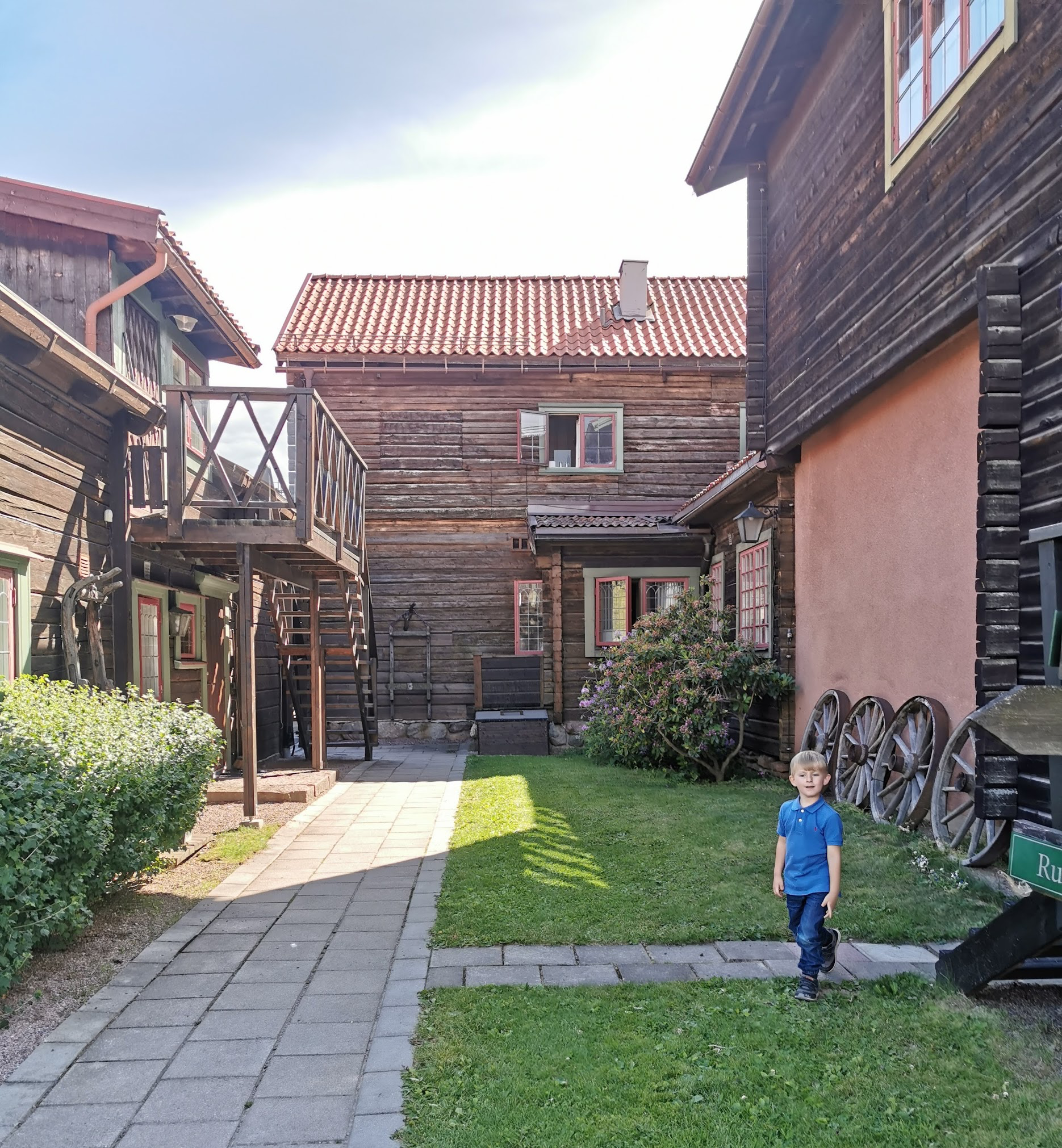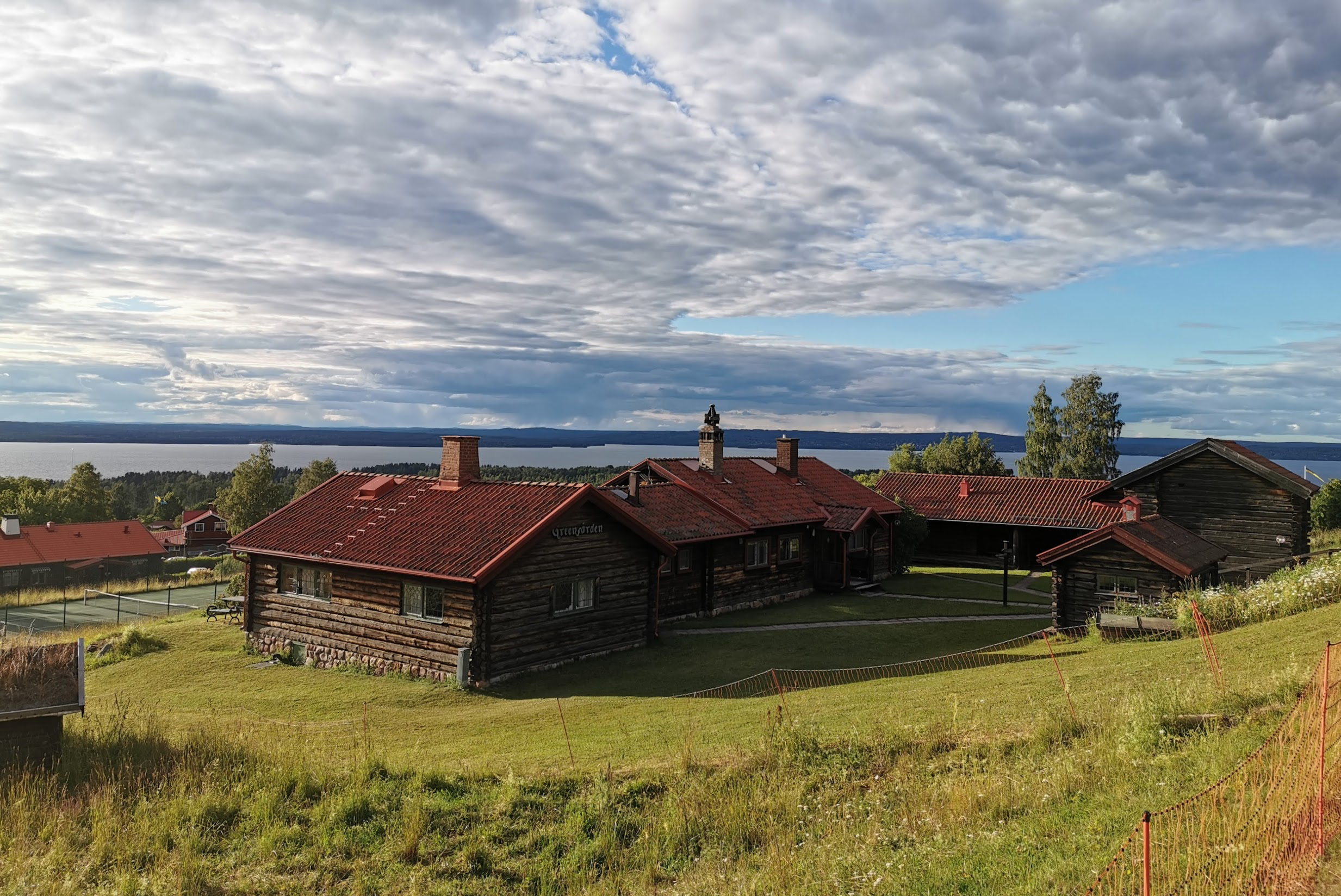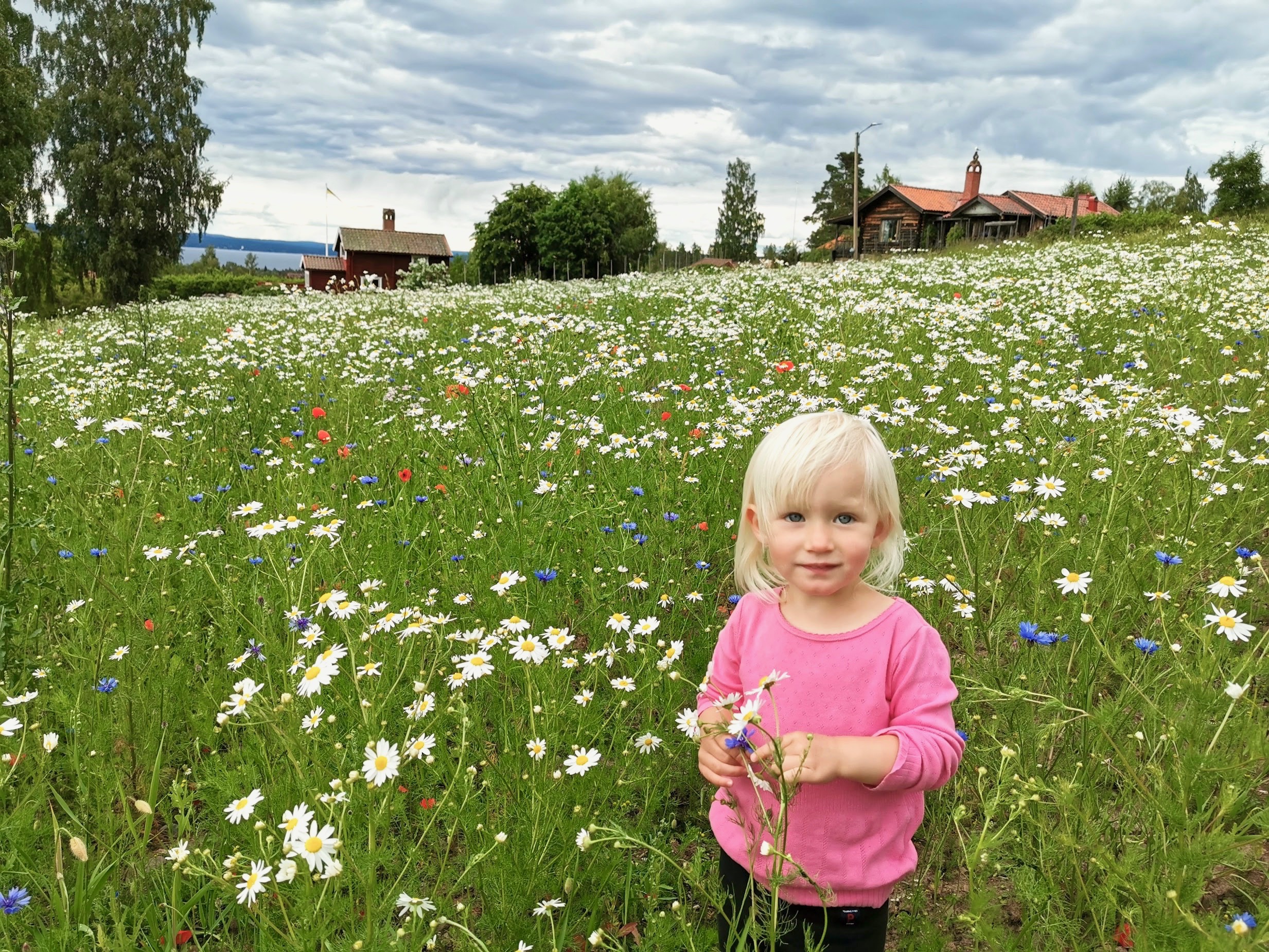 Visit the website of the hotel for more information.
Suggestions for activities in Dalarna, Sweden
Santa World, the Land of Fairytales
Surpassed our expectations! Wonderful amusement park with a lot of different fairytale characters, it's not just Santa that lives there. We had an exciting and fun full day in the park and our children are already talking about going there again.
Leksand Sommarland
In the park there is a large water area, activities for all ages, carousels, motor activities and much more.
Falu Copper Mine
Join a guided tour back in time, through winding paths and mighty halls, down the Falu Mine.  All mine tours are suitable for children from three years upwards.
Nils Olsson Dala Horses
Walk around the factory and see all the steps from the piece of wood to the finished horse. You can also paint your own traditional Swedish Dala-horse.
Carl Larsson Country House
Probably most interesting for adults but interesting to see this beautiful country house which is an icon within Swedish home decor.
Zorn Museum and Zorngården
Zorn Manor, built and decorated by the Swedish artist Anders Zorn and his wife Emma at the time of the last century. Next to the Zorn House is the Zorn museum with a selection of Zorn's watercolour, oil paintings, sculptures and etc.