I just have to tell you about the genuine Spanish little town of Almuñecar. My parents have a house there where they live during the Swedish winter period. Me and my family go there as often as possible to get our dose of sun, beach and Spanish food. Almunecar is located 1 hour east of Malaga by car.
Few tourists have found Almunecar, which is located on the Spanish south coast, Costa Tropical, which is next to the more famous coast, Costa del Sol.
Tropical Almunecar
In Almunecar, the climate is tropical, not like any other place in Spain. With mild winters and long, hot summers, tropical fruits like cherimoya, mango, avocado, papaya and oranges thrive, which you can see grown around the city.
Many different beaches around Almunecar
Almunecar is surrounded by high mountains and the beaches line the whole city. There are many different types of beaches to choose from depending on what you like. Here you find beaches with small round stones, classic sandy beaches and beaches with black sand.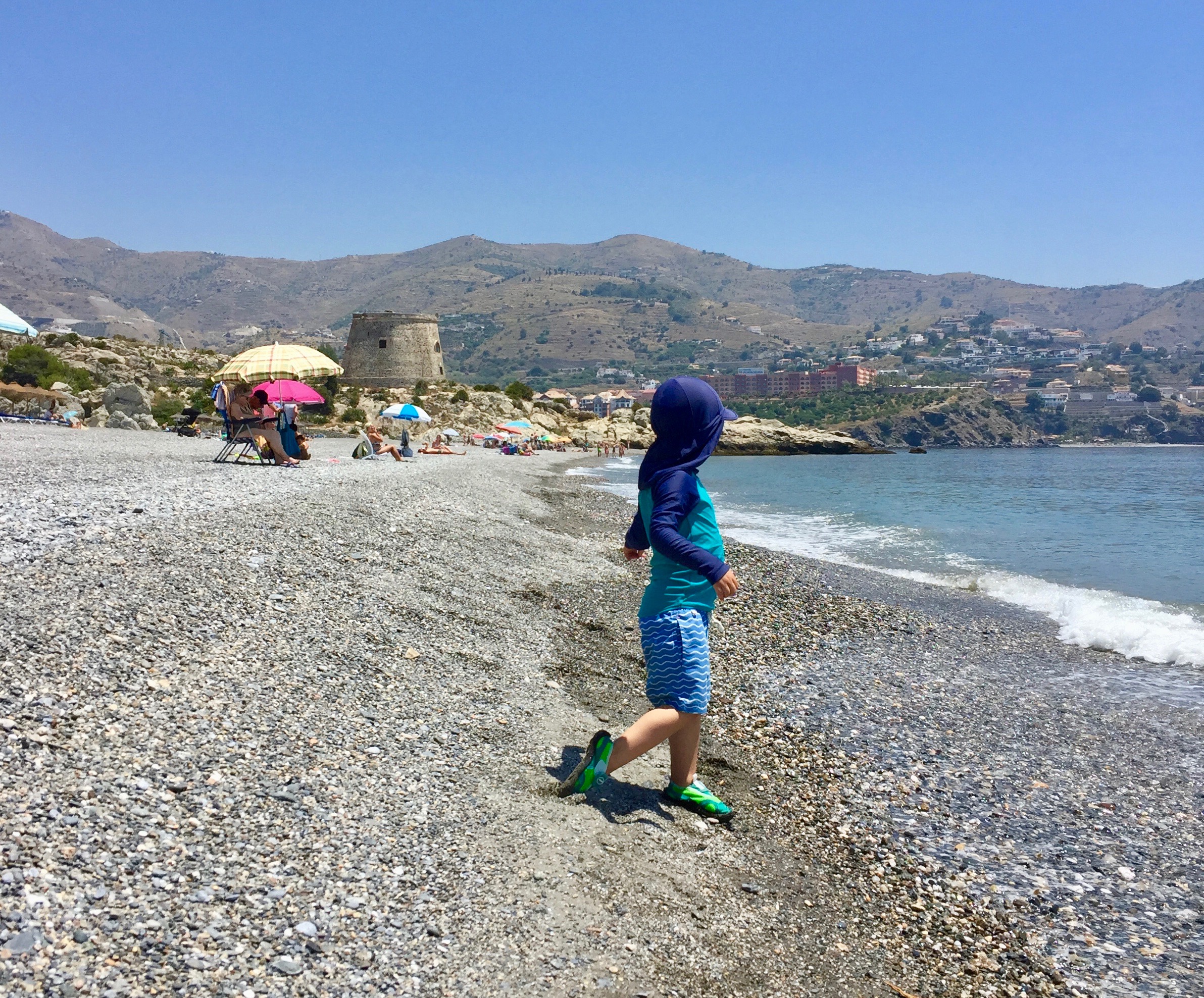 On the lovely beach walk in the city you easily walk with a baby stroller. You find many playgrounds here where the children happily stay at. Then you can rest your legs on one of the cozy ice cream cafes in the city.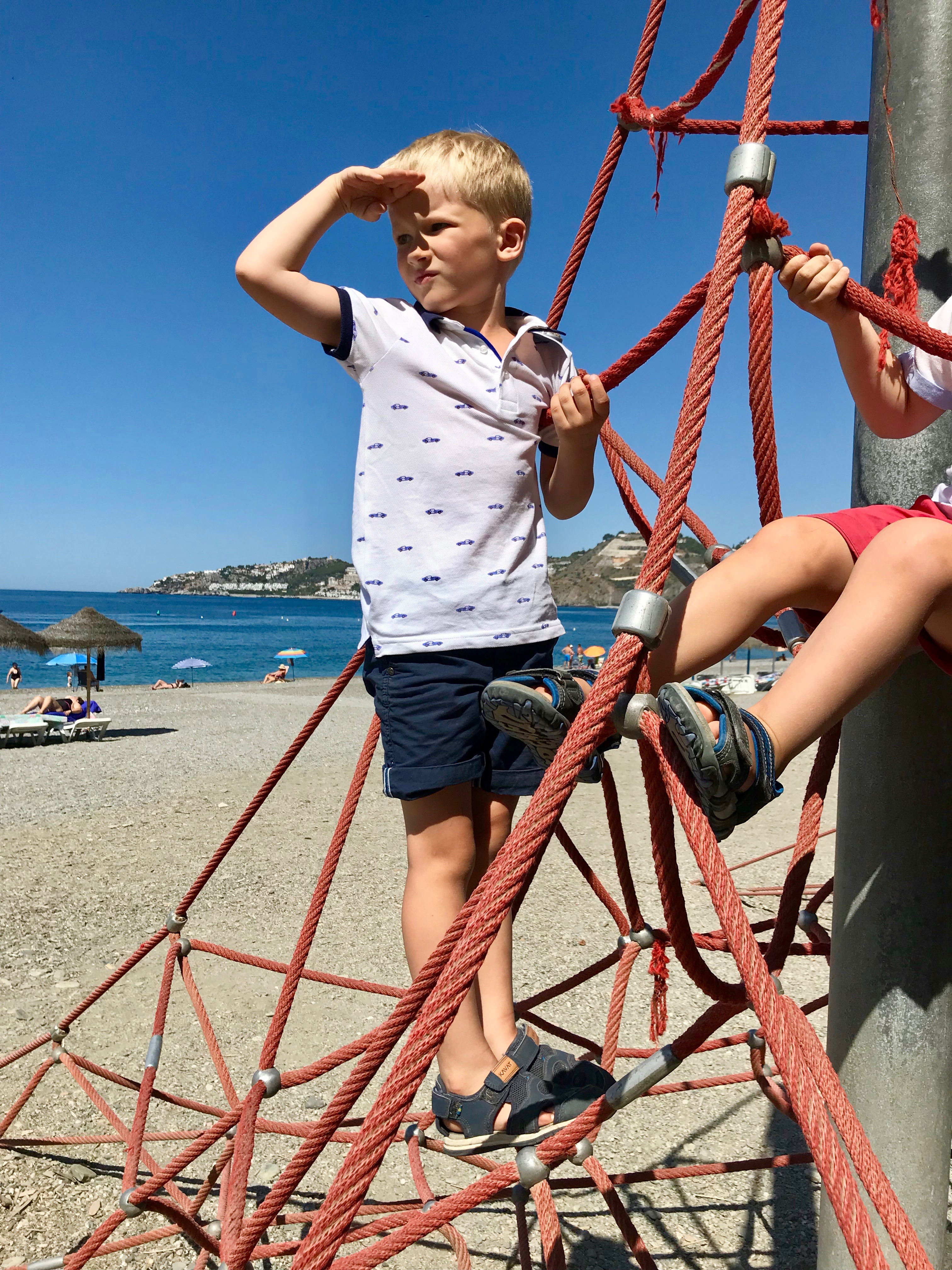 From the beach walk you can visit the small cozy alleys in the city. I must say that Almunecar does not feel like a city, rather like a village. There are lots of small shops selling everything from artwork, clothes, shoes to antiques. The city has many nice children's clothing stores. Email me if you want to know where in the city they are located.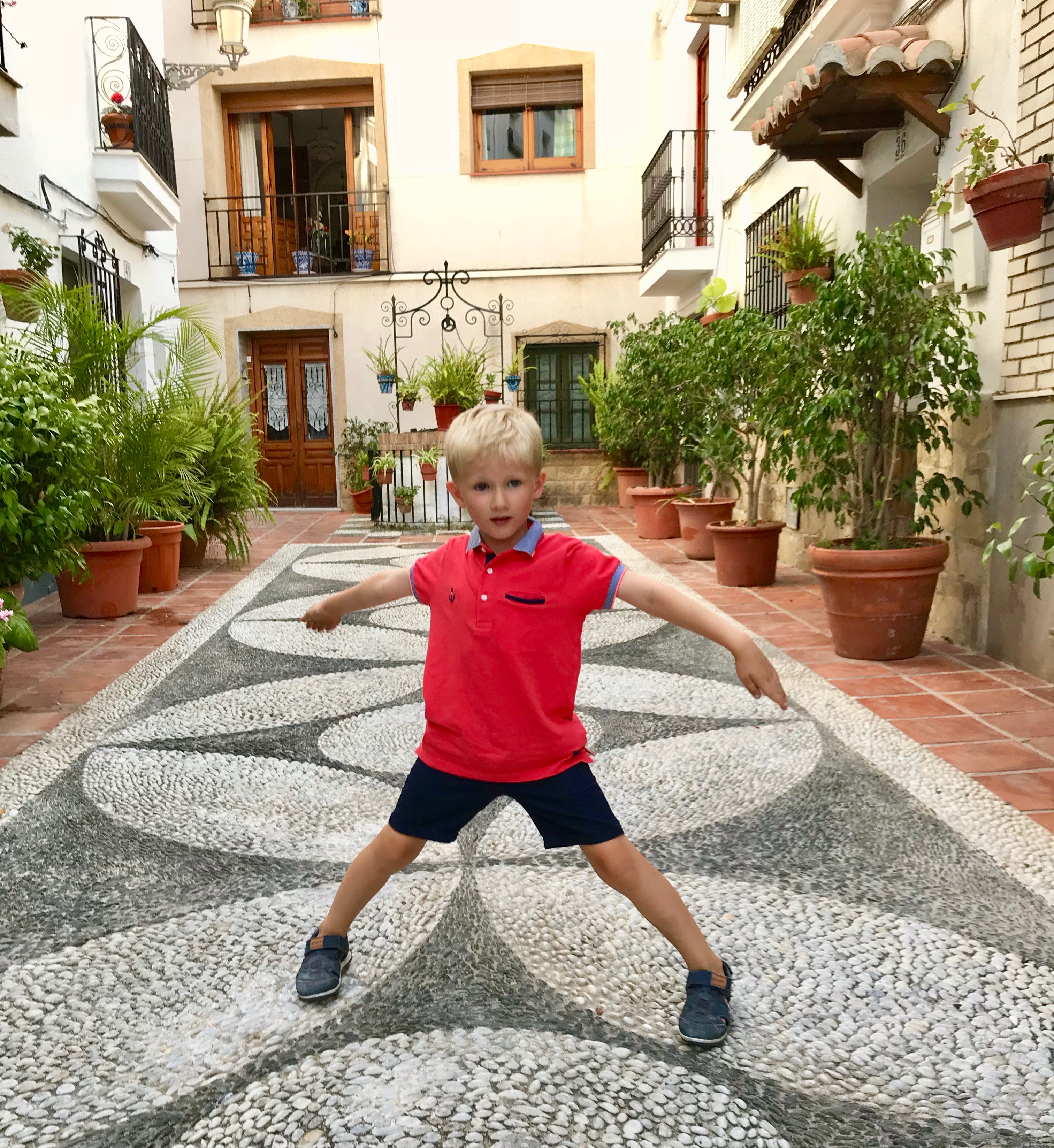 Almunecar – Historical places
Almuñecar is a very old town with a 3000-year history. Visit the beautiful old church from the 17th century. You also have to visit the many hundred-year-old Casco Antiguo, the old district. The paved alleyways and the whitewashed houses are adorable. Here the houses are decorated with beautiful flowers and plants. It can be difficult to get around with a stroller in this old part of town because of the stairs at some places.
At the top of the old town you will find the Old Fortress, Castillo de San Miguel. Here you have a splendid view over the entire bay. Next to the fortress is the archaeological museum Cueva de Siete Palacios. Just below the fortress is the Majuelo park, a lovely little oasis with unique tropical trees. Here you can also see the historic fish salting factory, dates from the period of the 4th Century B.C which once supplied large parts of the Mediterranean countries with garum (fish sauce) and salted fish.
Beside Majuelo Park is the Bird Park, Parque Ornitologico Loro Sexi. Here you can find over 100 different bird species and also a cactus garden.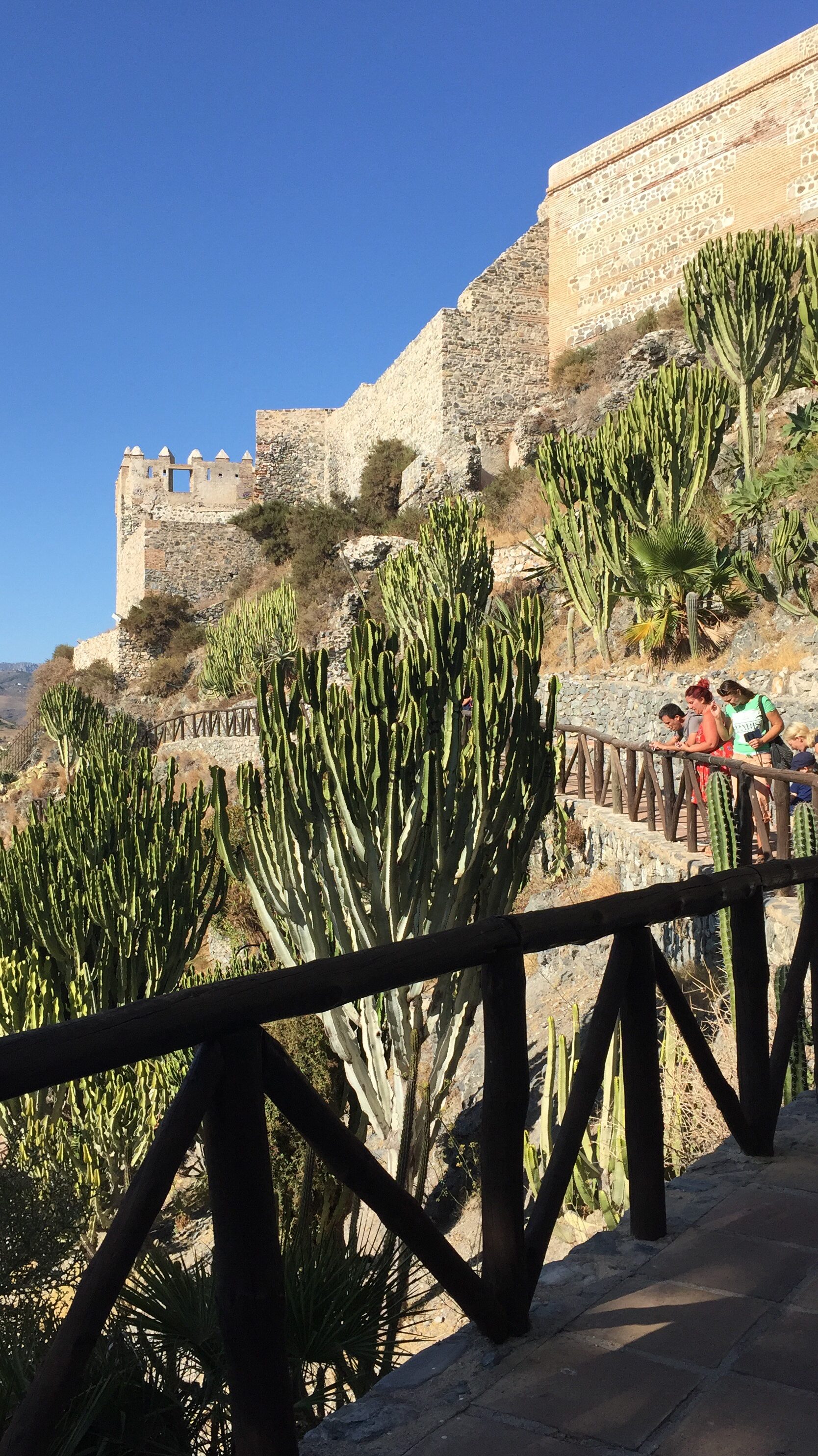 Markets in Almunecar
Also make a visit to the market hall where you will find fresh fish, meat, fruit and vegetables. The quality are great and it is often produced locally.
Every Friday there is a market on the central square in Almuñecar. On Sundays there is a flea market at the same place. It is very exciting for the kids to look at all the different things that are sold.
A lot of great food places in Almunecar
You will find places to eat everywhere.
Good and affordable food on Tesorillo Beach in Almuñecar. Perfect that the children can slide down from the chair and play in the sand when they are finished eating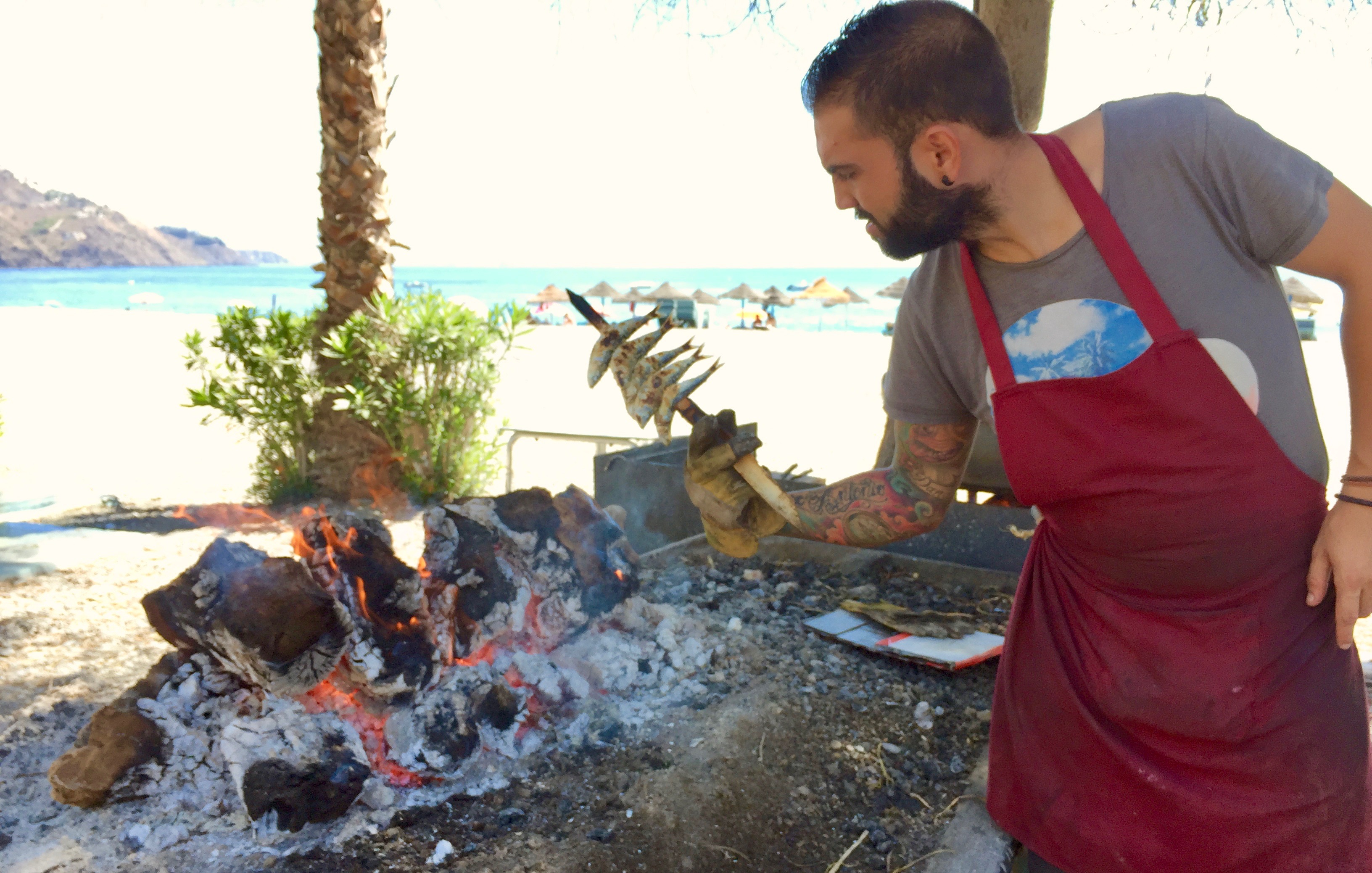 When to go to Almunecar?
You can go to Almunecar all year round.
July, August – Warmest and driest months with temperatures around 30 degrees. These months, the Spanish south coast has high season with a lot of tourists.
September, October – Warm and comfortable with temperatures between 20-26 degrees. Almost no tourists here anymore.
November, December – Still warm with temperatures around 20 degrees. You can still enjoy swimming in the Mediterranean sea. There can be some rain sometimes.
January, February – Coldest months. In the mornings it can be around 10 degrees but in the middle of the day it can get warm and nice. Can be some rain sometimes.
March, April –  The warm temperature starting to return with temperatures around 20-22 degrees.
May, June – Temperatures around 22-26 degrees.
Our favorite month to visit Almunecar
One period that we like a little bit extra is February-March. In Sweden it is very cold at that time of the year and a visit to Almunecar for some sun are appreciated by the whole family. This is the coldest month in Almunecar so you may need a thin jacket in the mornings but in the middle of the day it can be warm and comfortable. Some days you can even enjoy the beach in your bikini. In February-March the beautiful almond trees bloom, and all around Almuñecar delicious citrus fruits grow.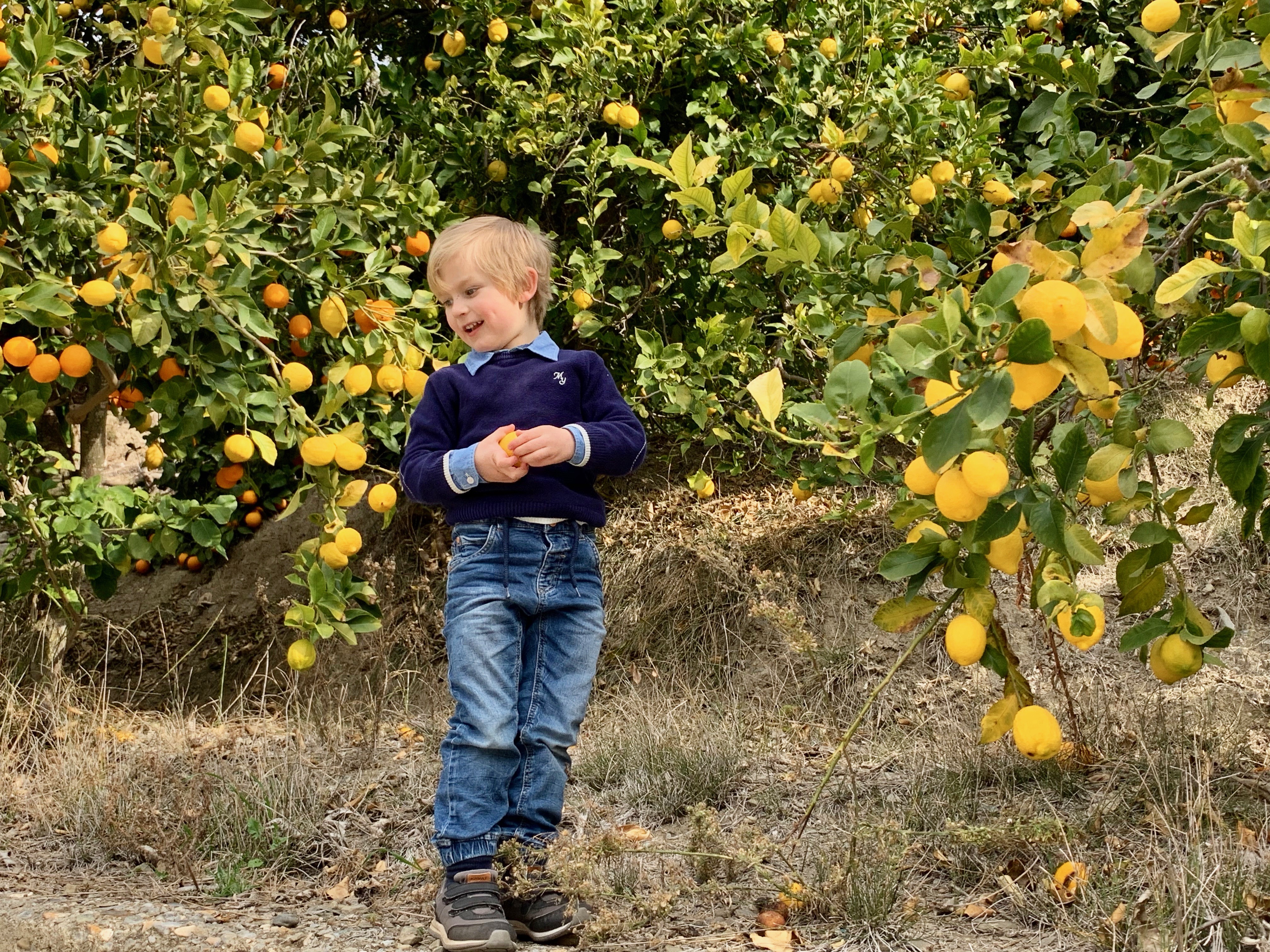 Exciting to see how citrus fruits grow and taste the ripe fruits. Here we are in the Lecrin valley outside of Almunecar in February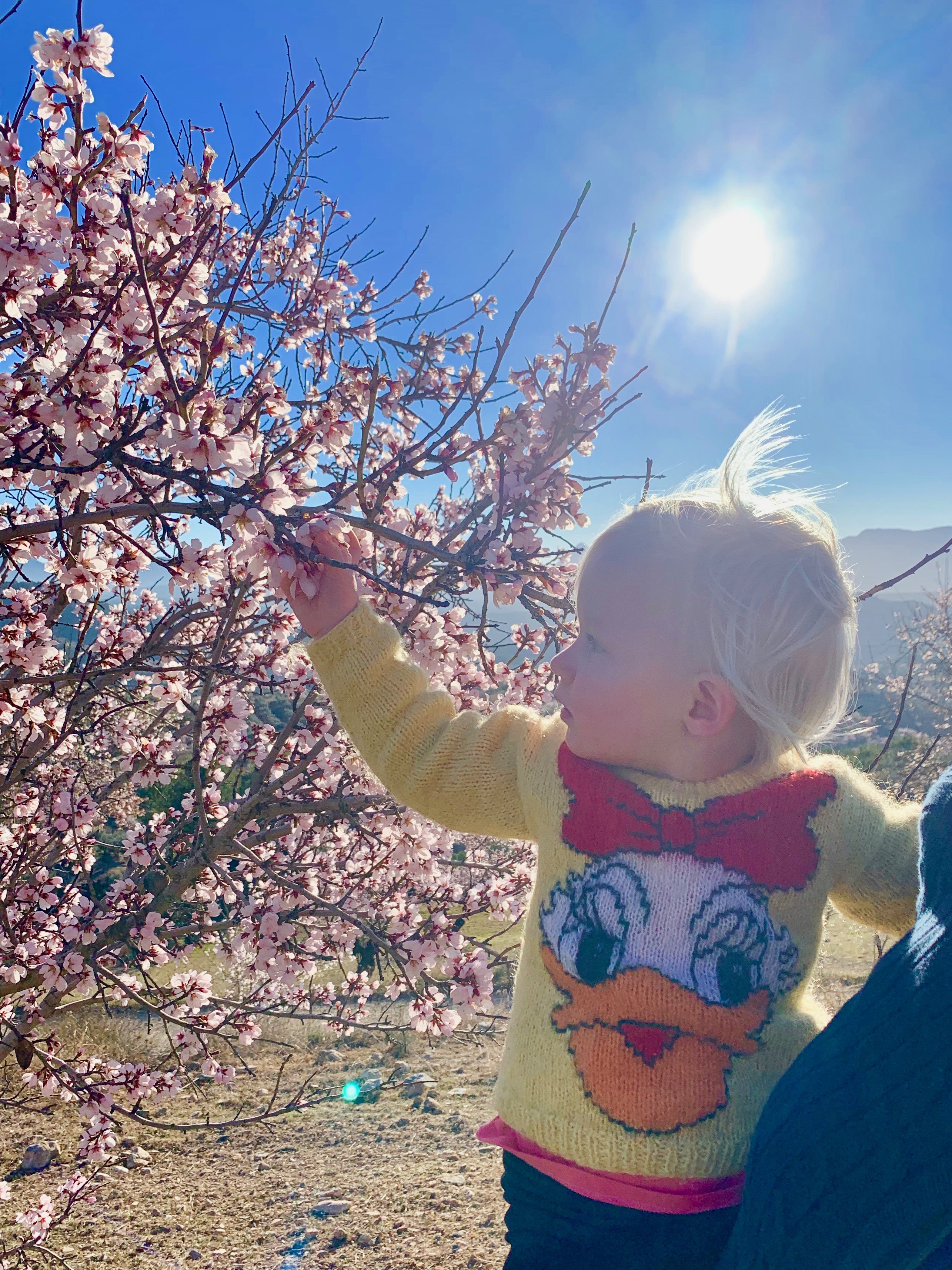 Interesting to explore and smell the almond flowers. Up in the mountains it is a little bit cooler in the air in February.
The children play on the beach in February. Cabria beach in Almunecar.
Accommodation and food
There are several hotels in the city. For example:
Almuñecar Playa is a great hotel with an indoor pool and spa.
Casablanca is a nice small hotel that is slightly cheaper than Almuñecar Playa.
For a family, however, it is more affordable to rent a house which many people do.
Grocery shopping you do easily at Mercadona or Lidl. There are two Mercadona´s in the city.
The store where we usually buy fruit and vegetables is called Mi Huerta = My kitchen garden. Here they sell excellent fruits and vegetables from Almunecar surroundings where a large part is organic.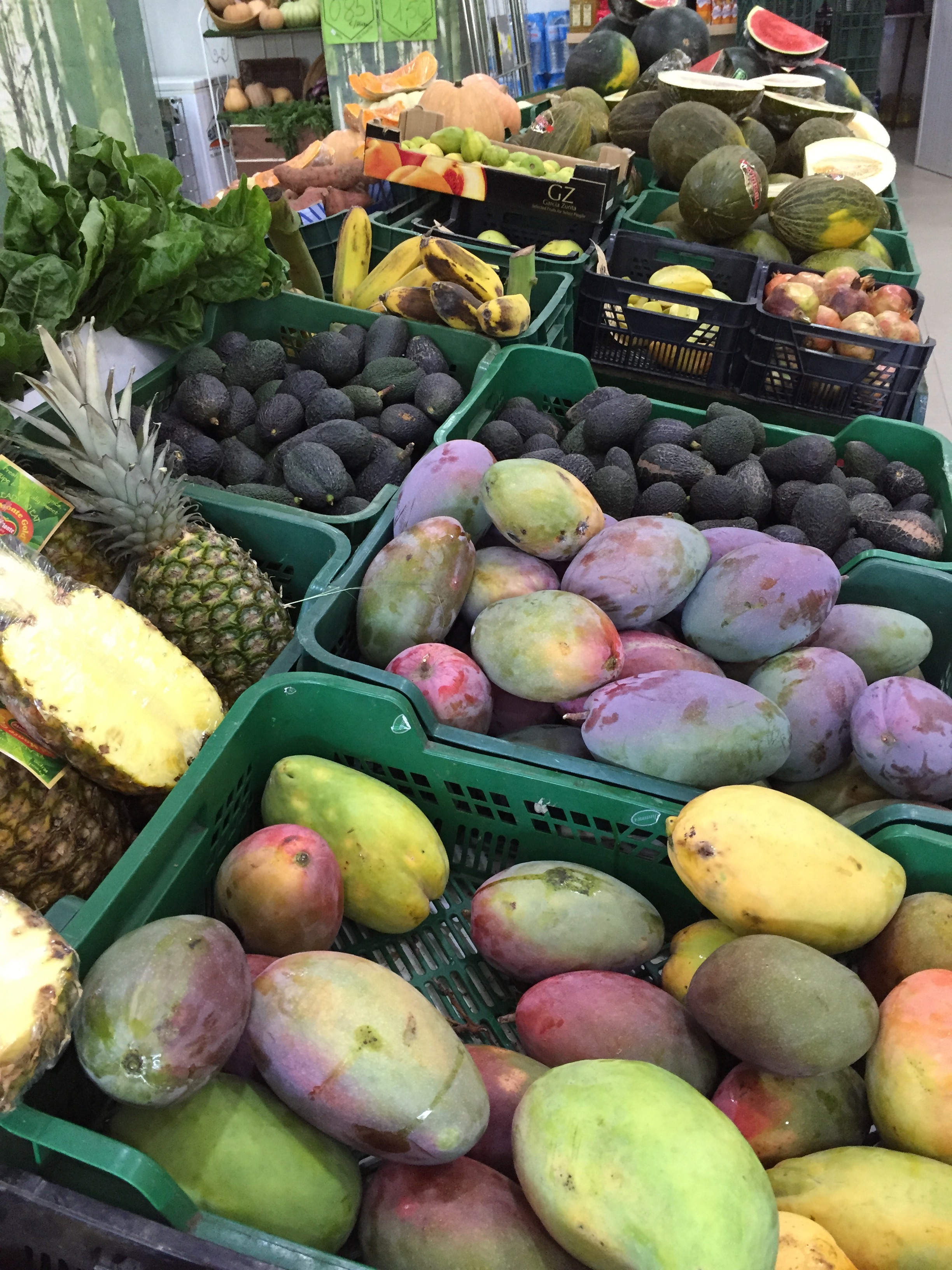 Excursions and adventures around Almunecar
Almunecar is a perfect starting point for excursions in all directions.
Nerja
Is located 30 minutes away by car. Here you can visit Europe's largest cave system, which is an exciting excursion for both children and adults. You can book tickets from home or buy in the entrance. If you buy in the entrance  you have to be aware that it can be a long waiting time, because your entering time can be many hours ahead.
Granada
Located 1 ½ hours drive away from Almunecar. The city is beautiful. You can visit the shopping center Nevada Shopping. Or visit the beautiful Moorish Palace, Alhambra de Granada.
Sierra Nevada
Sierra Nevada has great skiing for both adults and children during Dec-May. Located 1½ hours inland.
Malaga
Beautiful city with several museums, nice shopping and nice restaurants.
Frigiliana
An adorable white village up in the mountains 30 minutes from Almuñecar. Great playground, cozy small shops. Restaurant El Casino is our favorite restaurang (has a wonderful roof terrace with splendid view)
Alhama de Granada
It is a beautiful village with a warm spring. Take a day trip to Alhama de Granada, pass the villages of Jete and Otivar and then over 1800 m high mountains, up to the high plateau, drive around the lake Los Bermejales. Have lunch at the main square of Alhama de Granada. The journey goes through many different types of nature. In February / March, almond trees bloom, stop and feel the amazing scent of the flowers. An exciting day trip!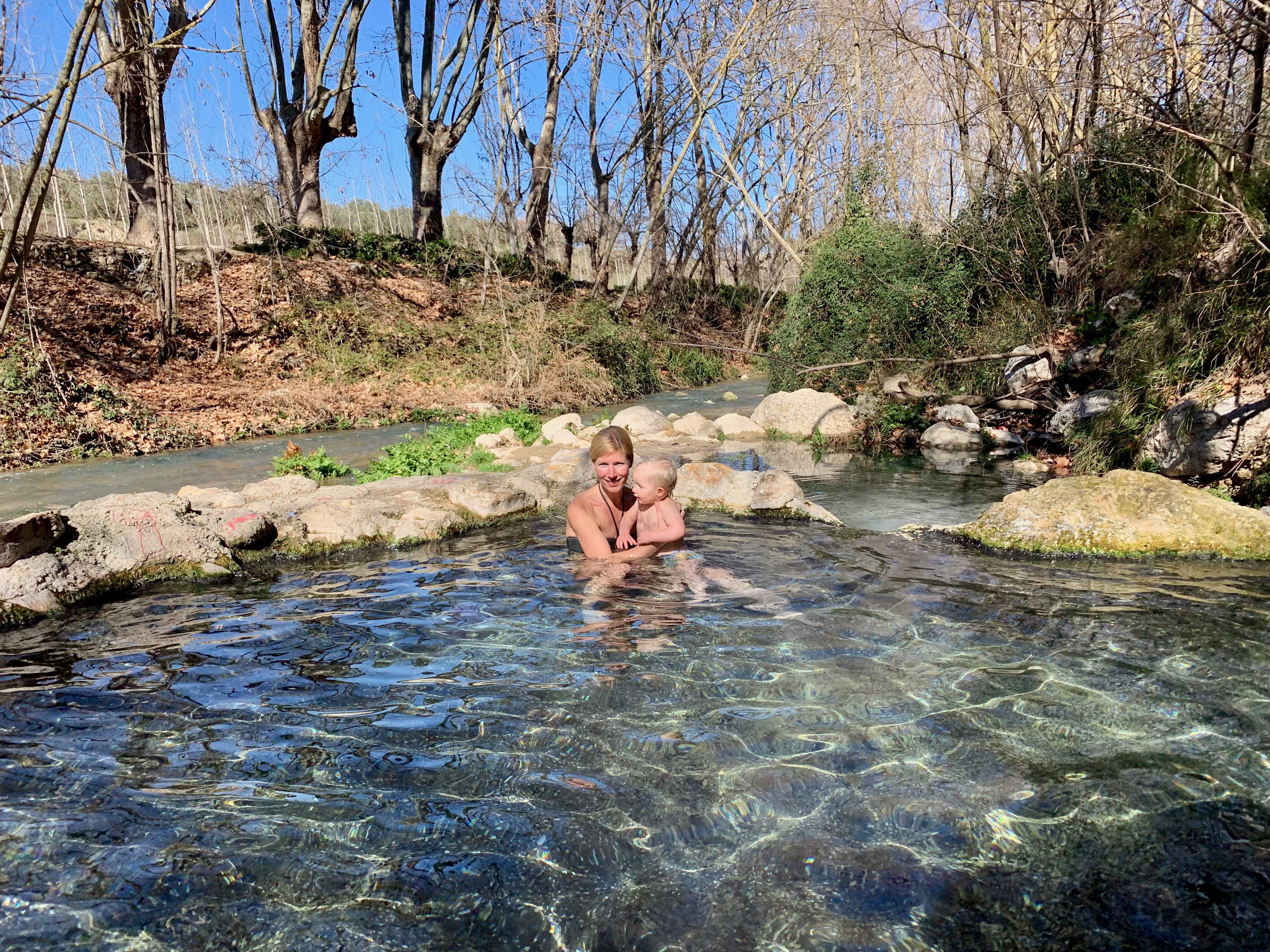 Lovely trip to Alhama de Granada in February to swim in 39-degree hot water directly from the hot spring.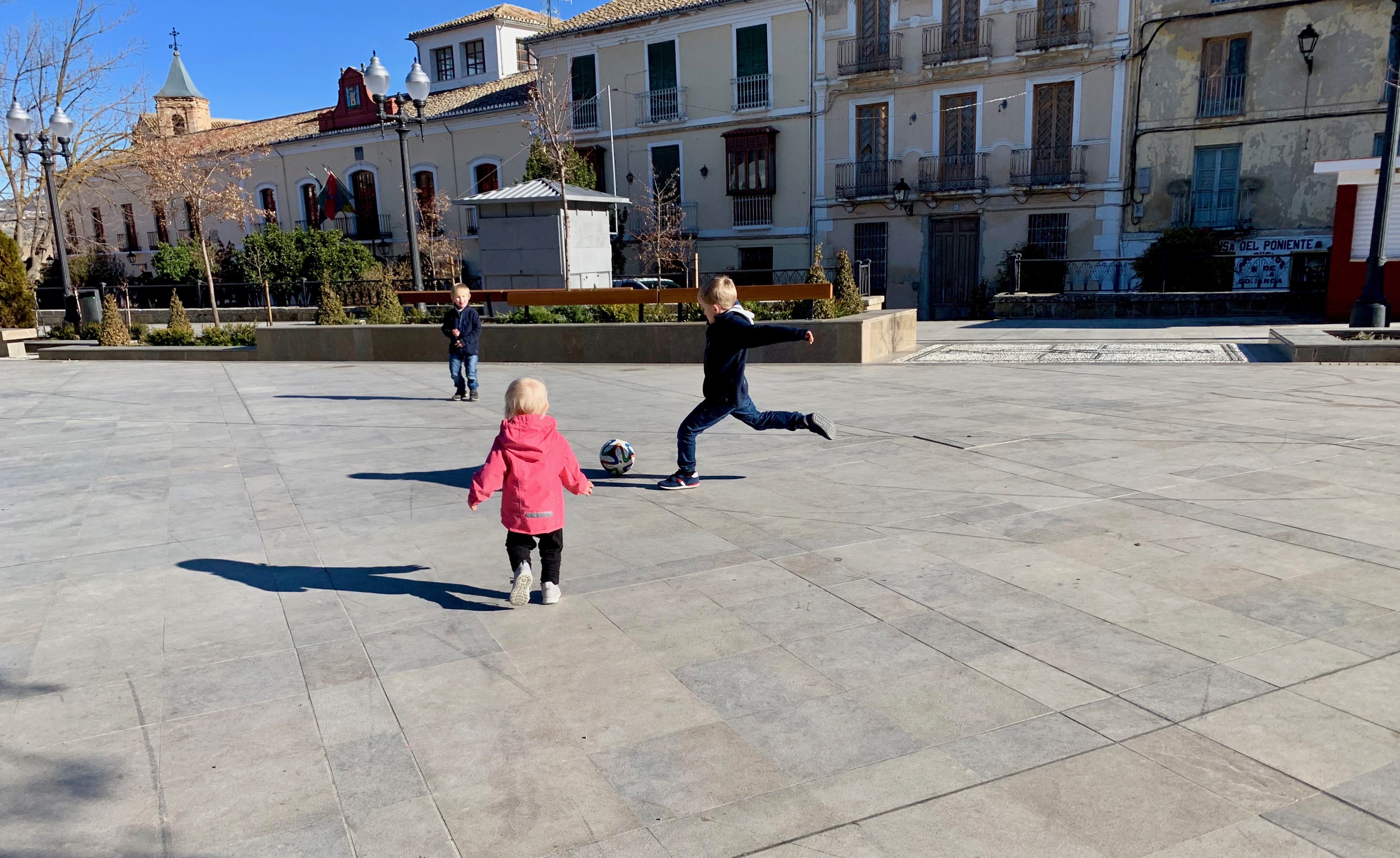 The main square in Alhama de Granada. While waiting for the food, the children play football and play in the playground.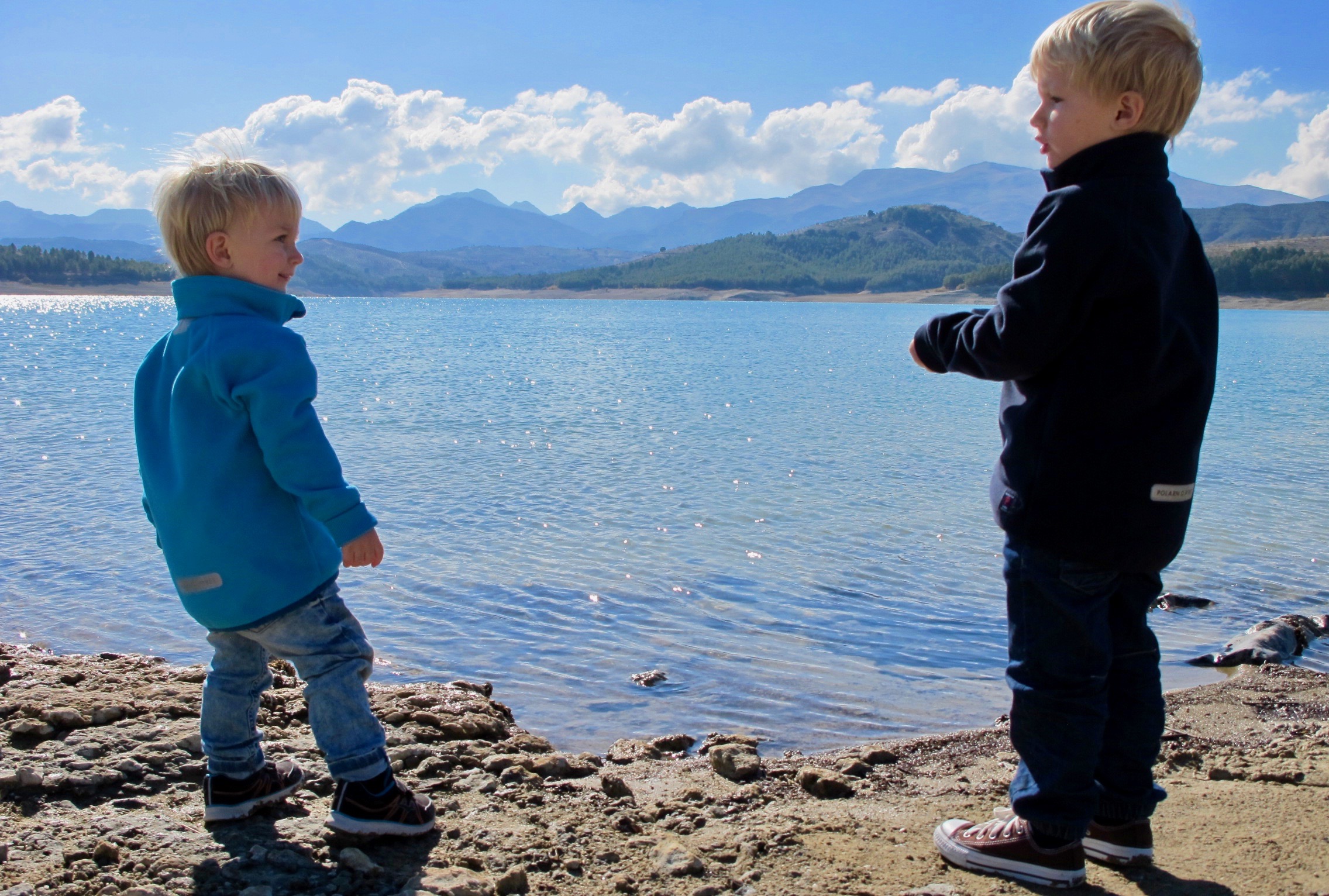 At the beautiful lake Los Bermejales, we stop for a picnic before we continue towards Alhama de Granada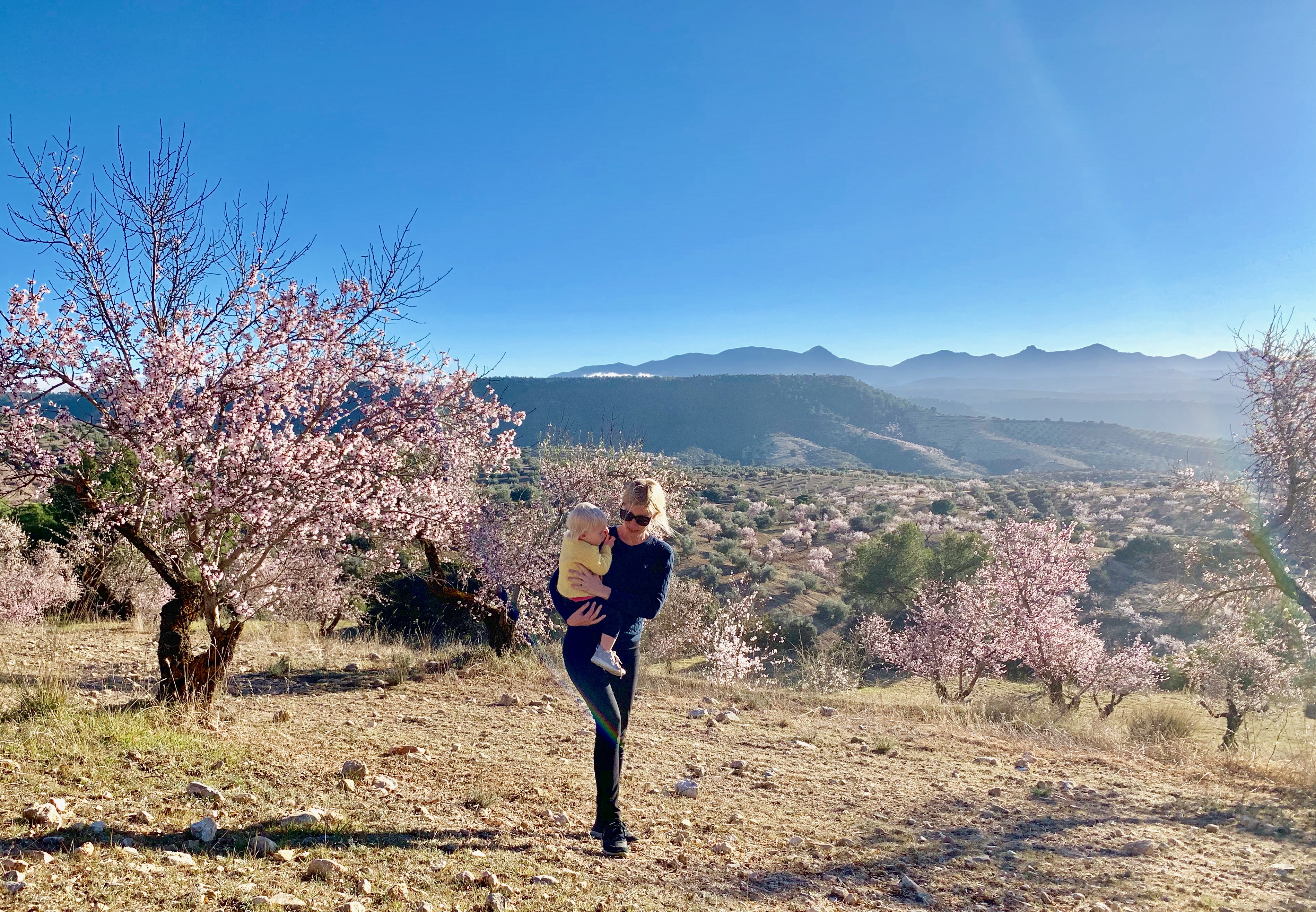 Drive up the mountains in February and experience the incredibly beautiful almond blossom. Here we have stopped on the way to Alhama de Granada to look more closely at the flowers.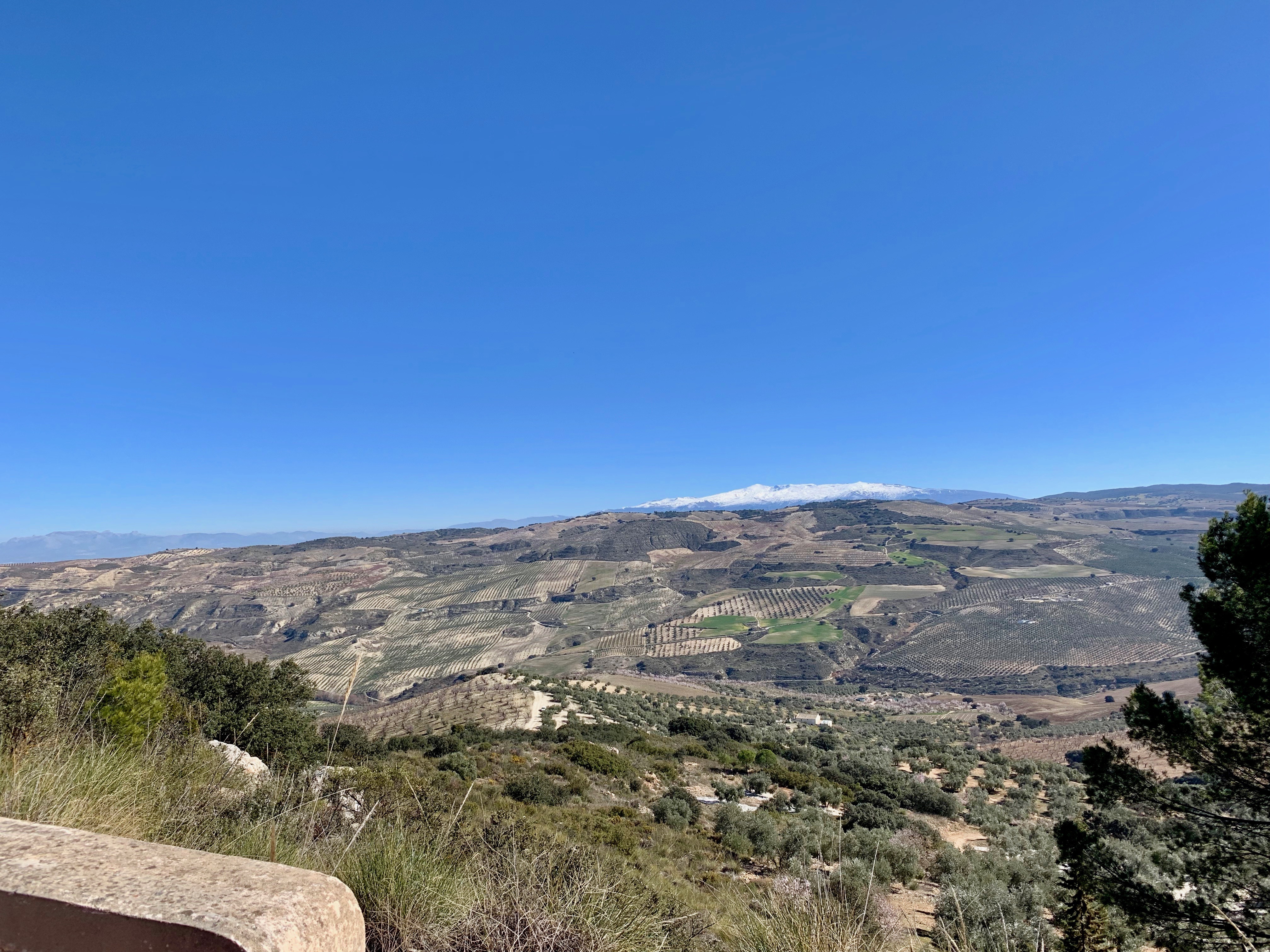 Up in the mountains above Almunecar grows lots of olive trees and almond trees. Here you can see a glimpse of snow of the mountains in the Sierra Nevada.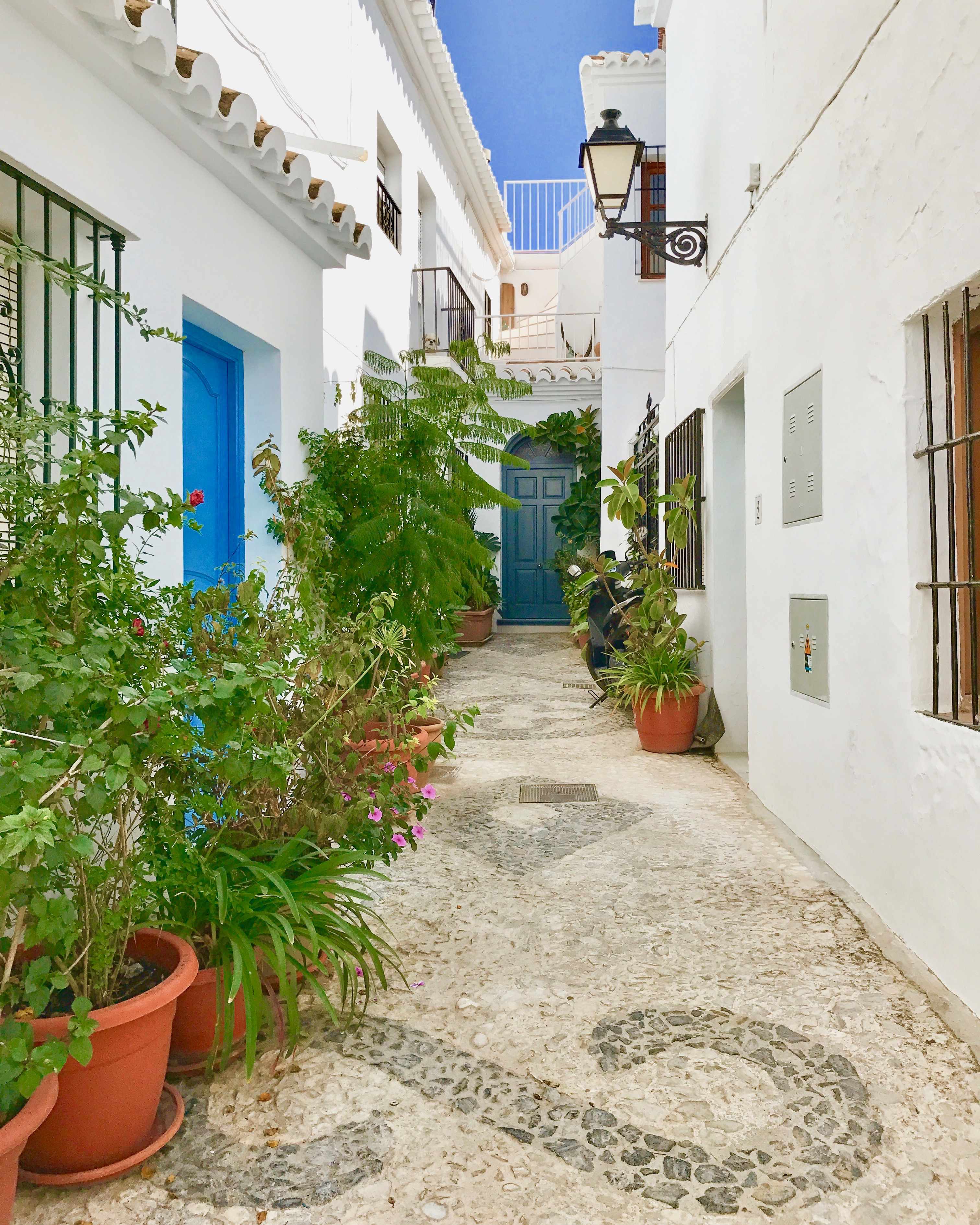 Frigiliana is a place you must not miss when you visit Almunecar.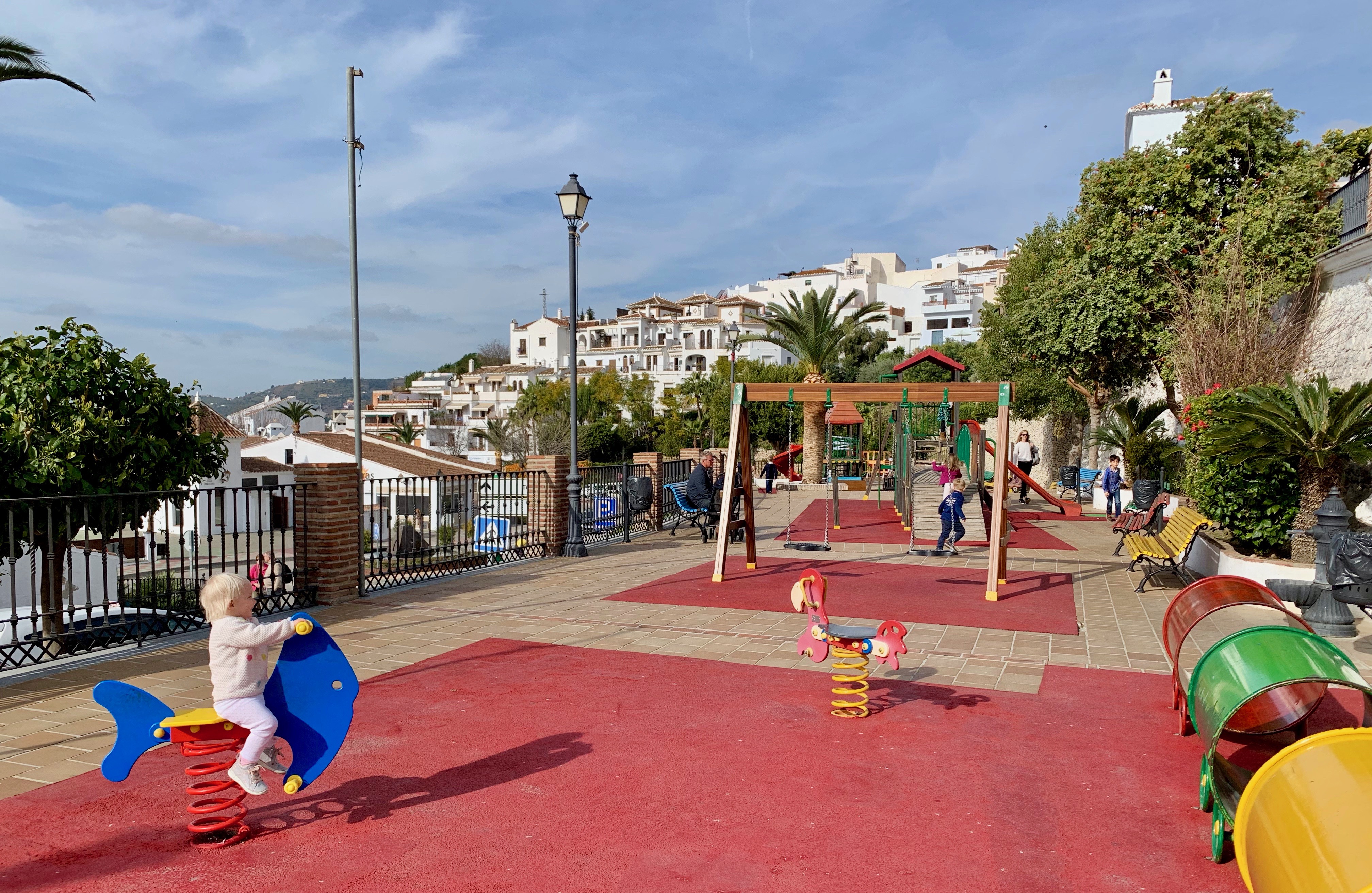 The big, lovely playground in Frigiliana
Cozy alleys in Frigiliana. You can easily walk with a stroller through Frigiliana as well, because you can walk through the village without passing stairs.
Rent a House
My parents rent out their house in Almunecar, between May and September if you are interested. Here you find everything that a family with children needs, such as a crib, potty, baby chair, children gates at the stairs, toys and a lovely pool. It is located close to the beach and the city centre. Contact me or the agency Immoseven if you are interested in renting.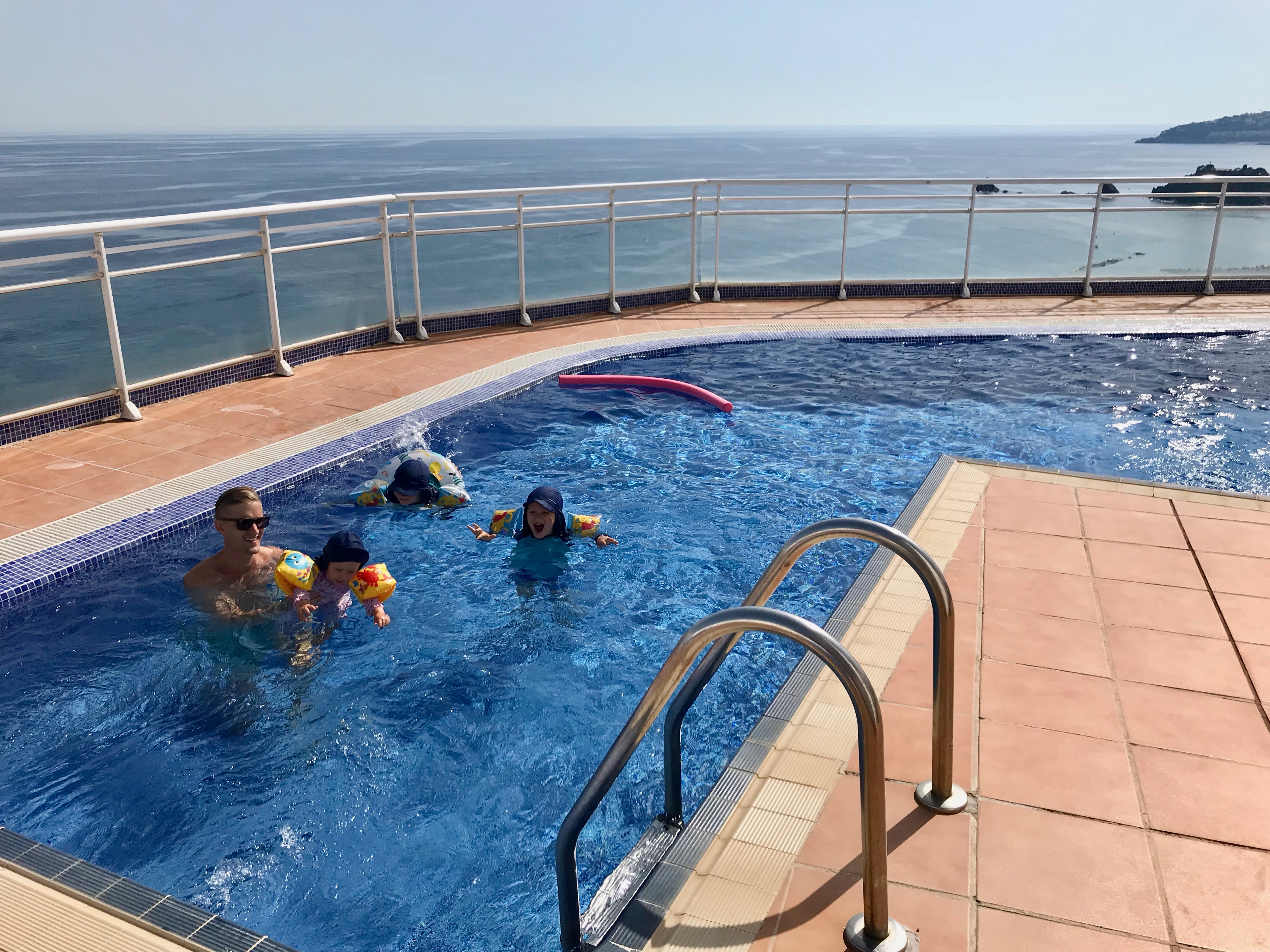 John and our kids are playing in the pool at my parents' house in Almunecar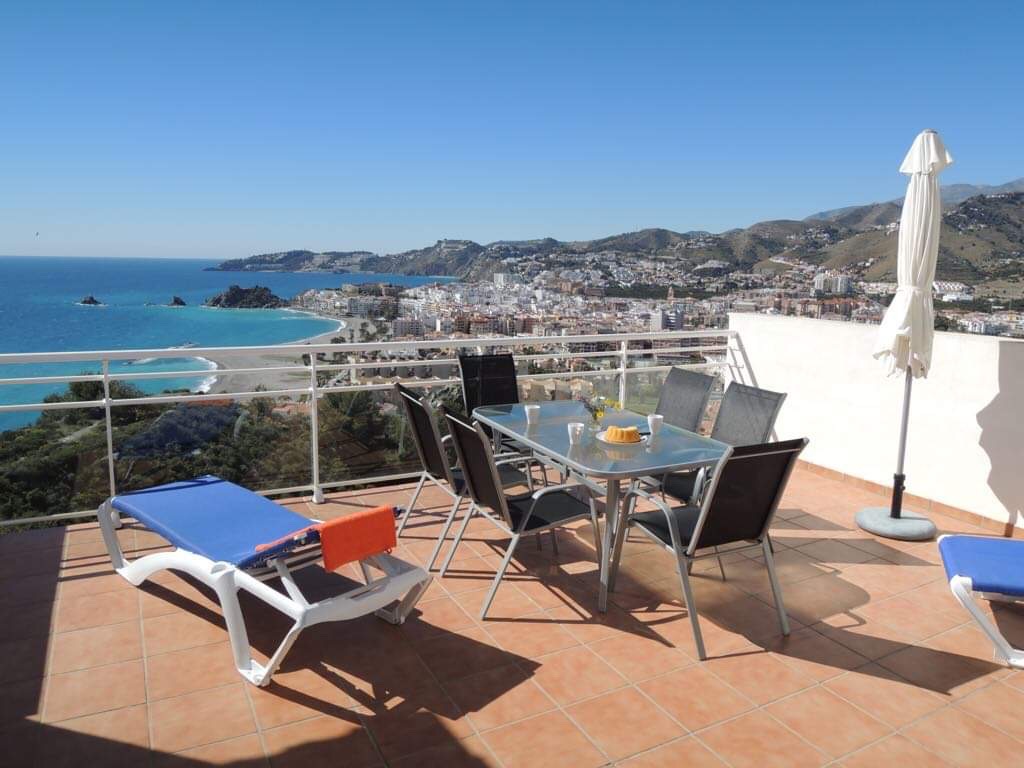 The view from the terrace.
Comment or write directly to me if you have any questions about Almunecar and its surroundings and I will try to help you. 🙂
Do you want to make the flight with your kids as smooth as possible read my travel tips here Flying with Children