After 15 minutes by fast catamaran from Praslin we arrive at La Passe jetty on the island of La Digue. The water is turquoise and our children watch happily the needlefishes swimming around in the clear water in the harbor. It is midday, the sun has reached its zenith and the heat is strong. Now we want to find our accommodation so we can relax a bit.
Transportation in La Digue
We hadn't booked any transportation to our accommodation as we had read before our trip that we easily can take an ox cart from the harbor. However, we did not see the glimpse of ox carts and we did not actually see any ox during our entire stay at La Digue. The island is basically car-free with the exception of small trucks that carry supplies to hotels and restaurants and a few open "electric taxis". On the island, the best way to get around is on a bicycle which we had pre booked and should be at our accommodation.
We simply had to start walking with all our packing towards our accommodation. If you visit La Digue with kids it is a good idea to always bring something edible like bananas and snacks just for unplanned occasions like this, and of course also drinking water. After about 20 minutes we found our accommodation Chalets D'anse Reunion, beautiful villas!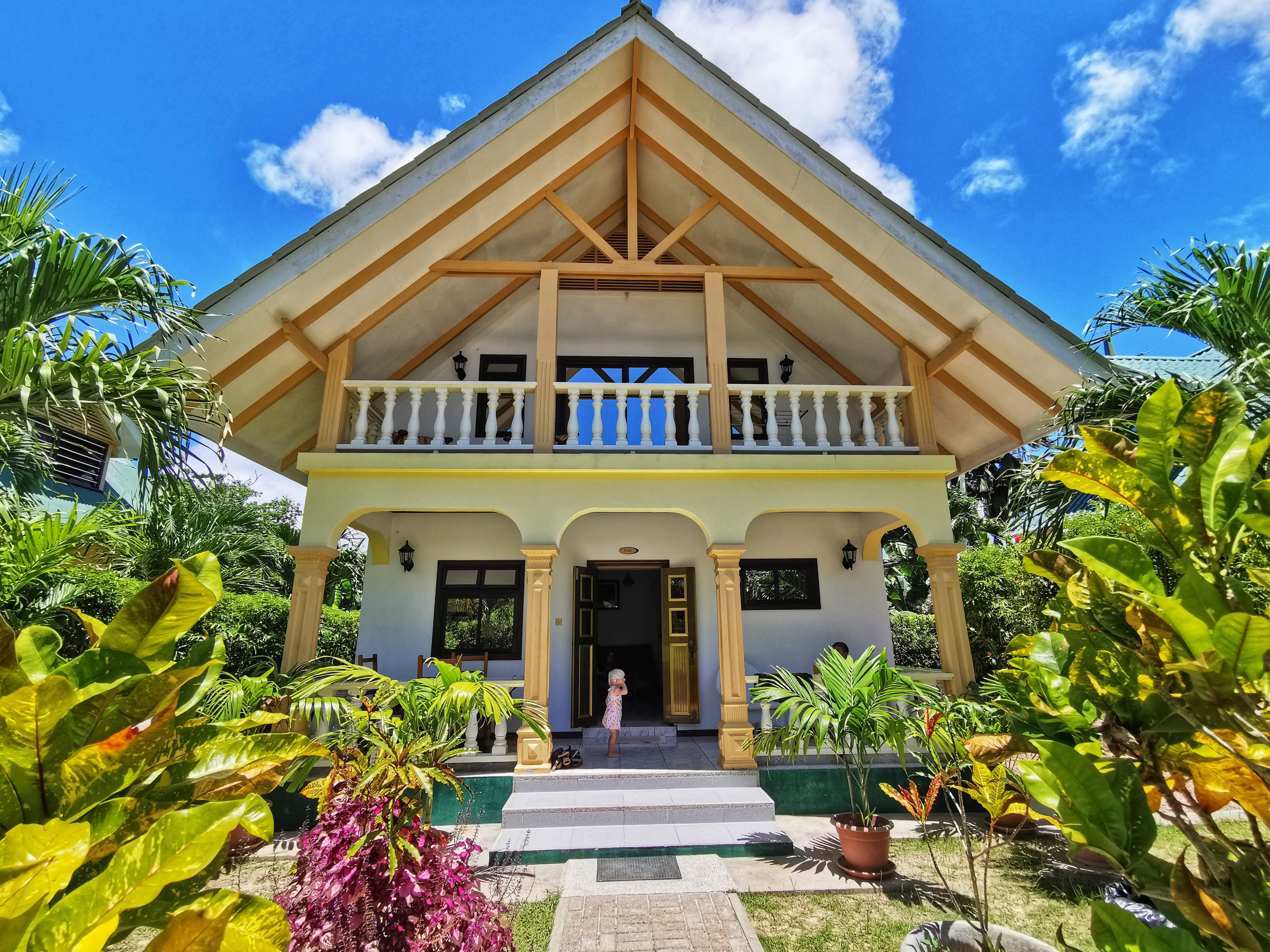 Accommodation in La Digue
In La Digue there are both expensive hotels, bungalows and small bed n 'breakfasts. During our stay on the island we tried two different accommodations, Chalets D'anse Reunion and Le Repaire Boutique Hotel.
Chalets D'anse Reunion
Very beautiful villas, perfect for a family vacation on la Digue. Nice and clean inside with plenty of space for us. There was also a small garden. I can highly recommend this place even though our bikes were not in place as planned as they had missed our bike booking, but which they solved very quick.
Chalets D'anse Reunion has three villas. The villa we lived in was on two floors with two single beds, kitchen, living room and bathroom on the ground floor and a king size bed and bathroom upstairs. They also arranged a crib for Judith. The balcony was spacious and on the lovely terrace on the ground floor was a dining table where we had our breakfasts. However, there is no pool here but it didn't matter since the beaches are so beautiful. Their website Chalets D'anse Reunion
Le Repaire Boutique Hotel
Before our trip we had read a lot of great reviews about this hotel, so we wanted to try this place. The hotel is situated very beautiful right by the beach. There are two small pools and a restaurant that serves delicious pizzas but also other kinds of food. You have to book this hotel early to get a room here, as it is a very popular hotel with only 18 rooms. The hotel has a very nice style and great staff, so I understand why this place is so popular. We booked our accommodation directly with the hotel which was easy with quick replies. Their website Le Repaire Boutique Hotel
I am so glad that we found such nice accommodations at La Digue.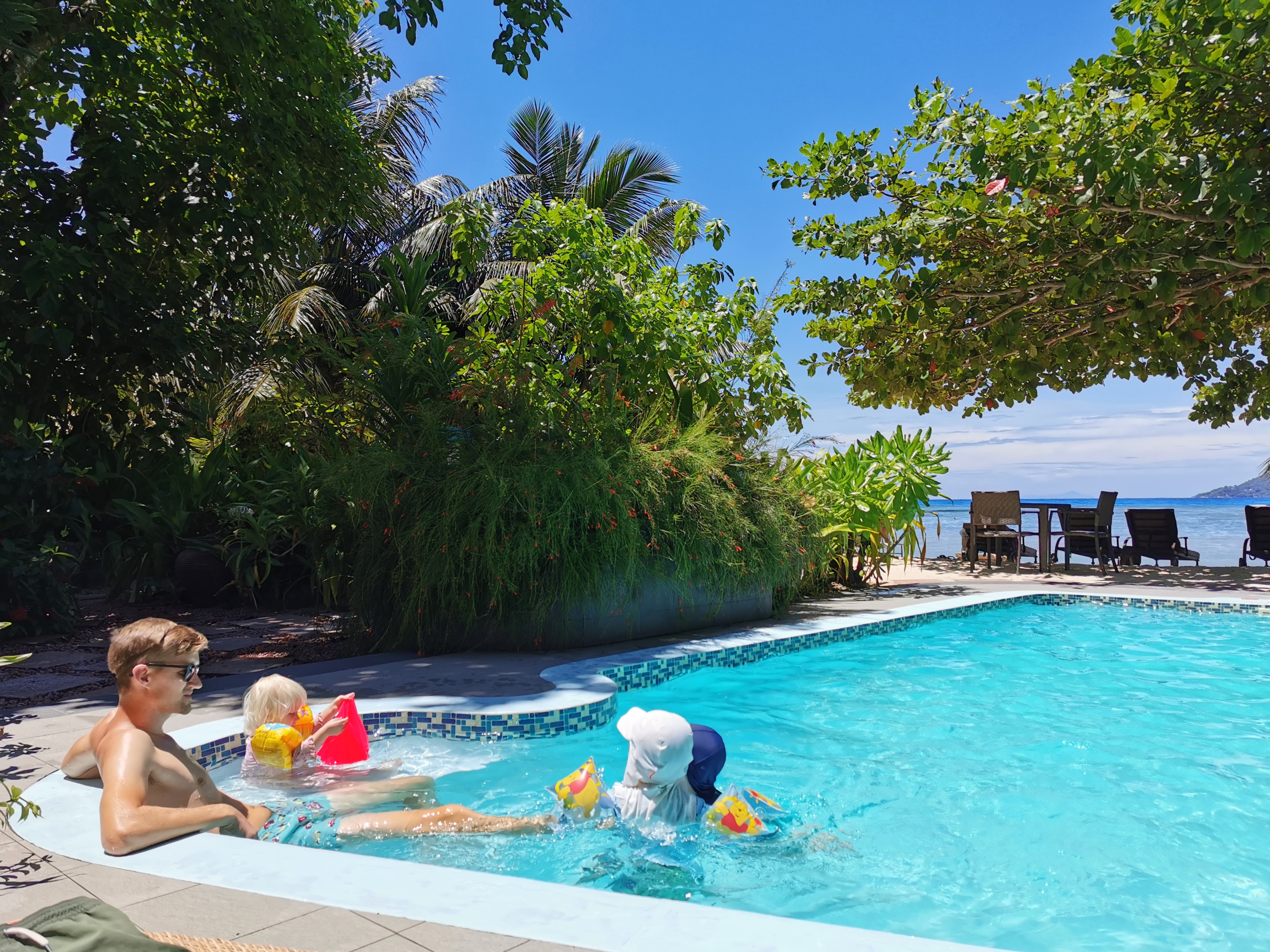 What to visit in La Digue?
I thought that the island was smaller than it actually is. The island is relatively small to the surface but you would need many days if you want to bike around and see most of the island. We, who are a family with three small children, did not take us to the other side, the east side of the island. It is quite far to bike and it is very hilly in some places. For us it was enough to explore the west side of the island from Anse Severe beach in the north to Anse Source d'Argent towards the south. The entire west side of the island consists of beautiful beaches.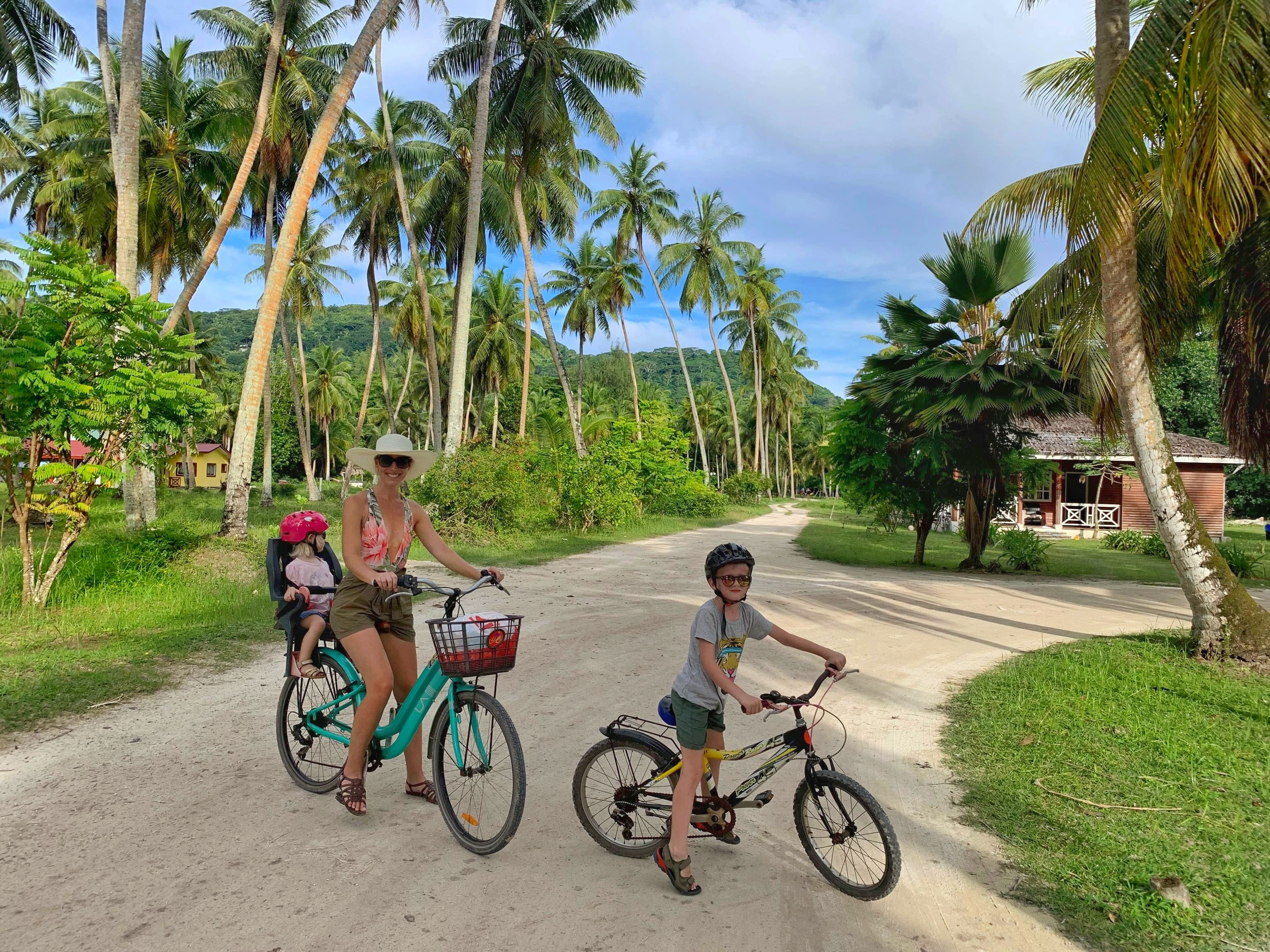 Anse Source D´Argent
This beach is classified as one of the most beautiful beaches in the world and we can absolutely understand why. The fantastic granite formations look almost artificial, amazing how nature can create such beautiful cliffs!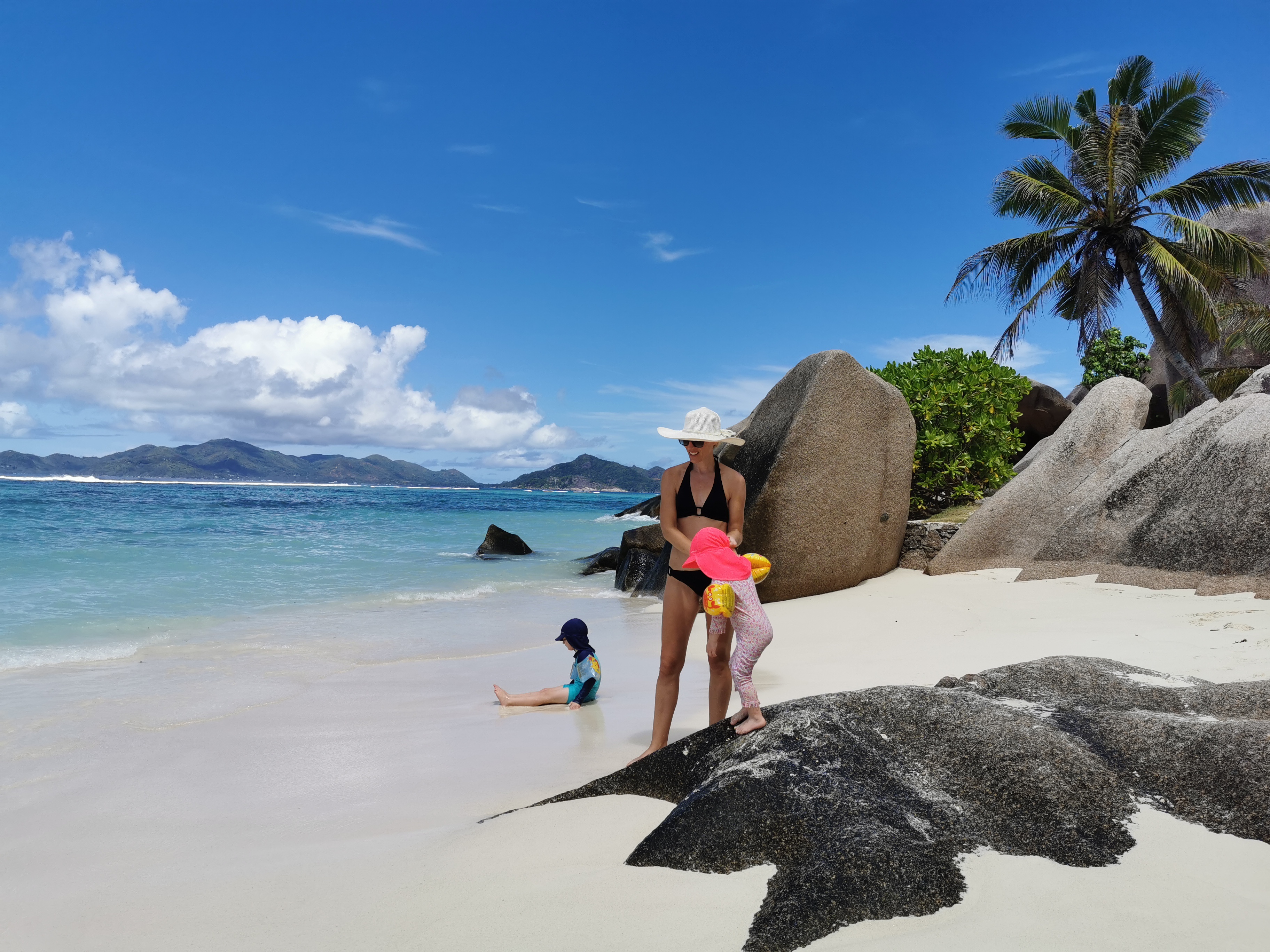 To get to this beach you pass through Union Estate Park which you have to pay entrance fee to enter. You pay at the gate to the area. Then you walk or bike through the park where you also can see the vanilla plantation or the small copra factory. We spent the entire afternoon on the beach and got to experience the most beautiful sunset.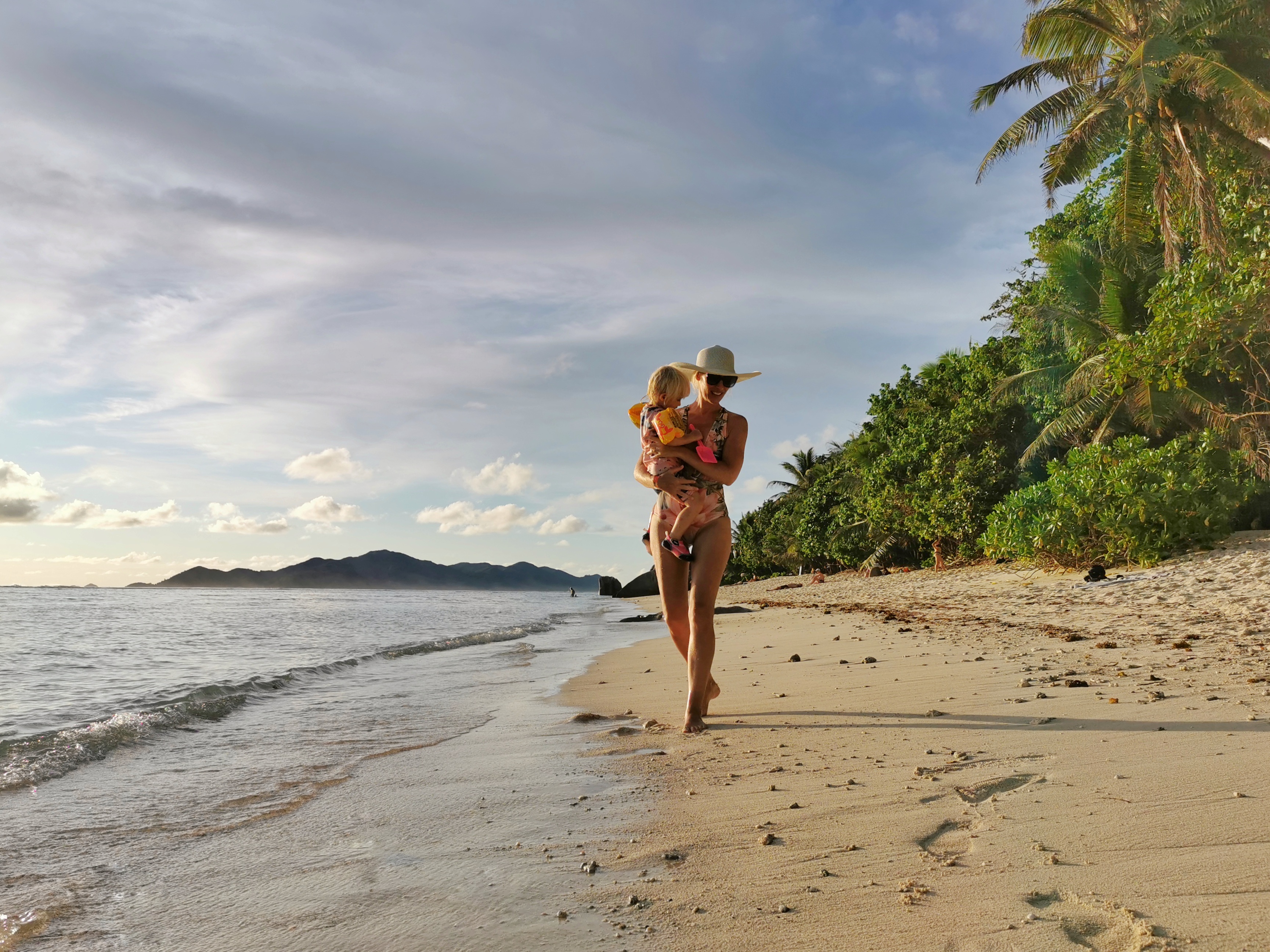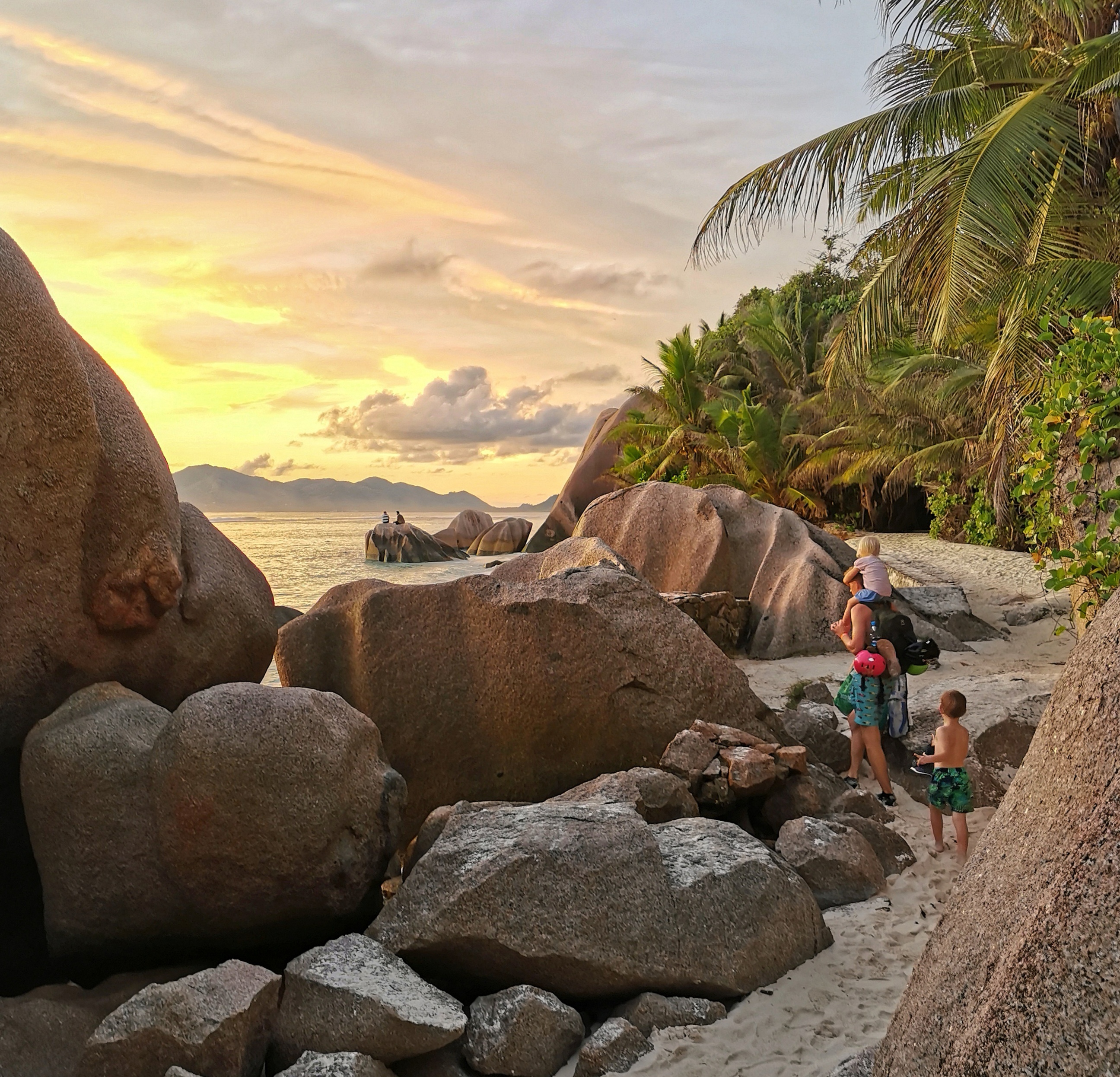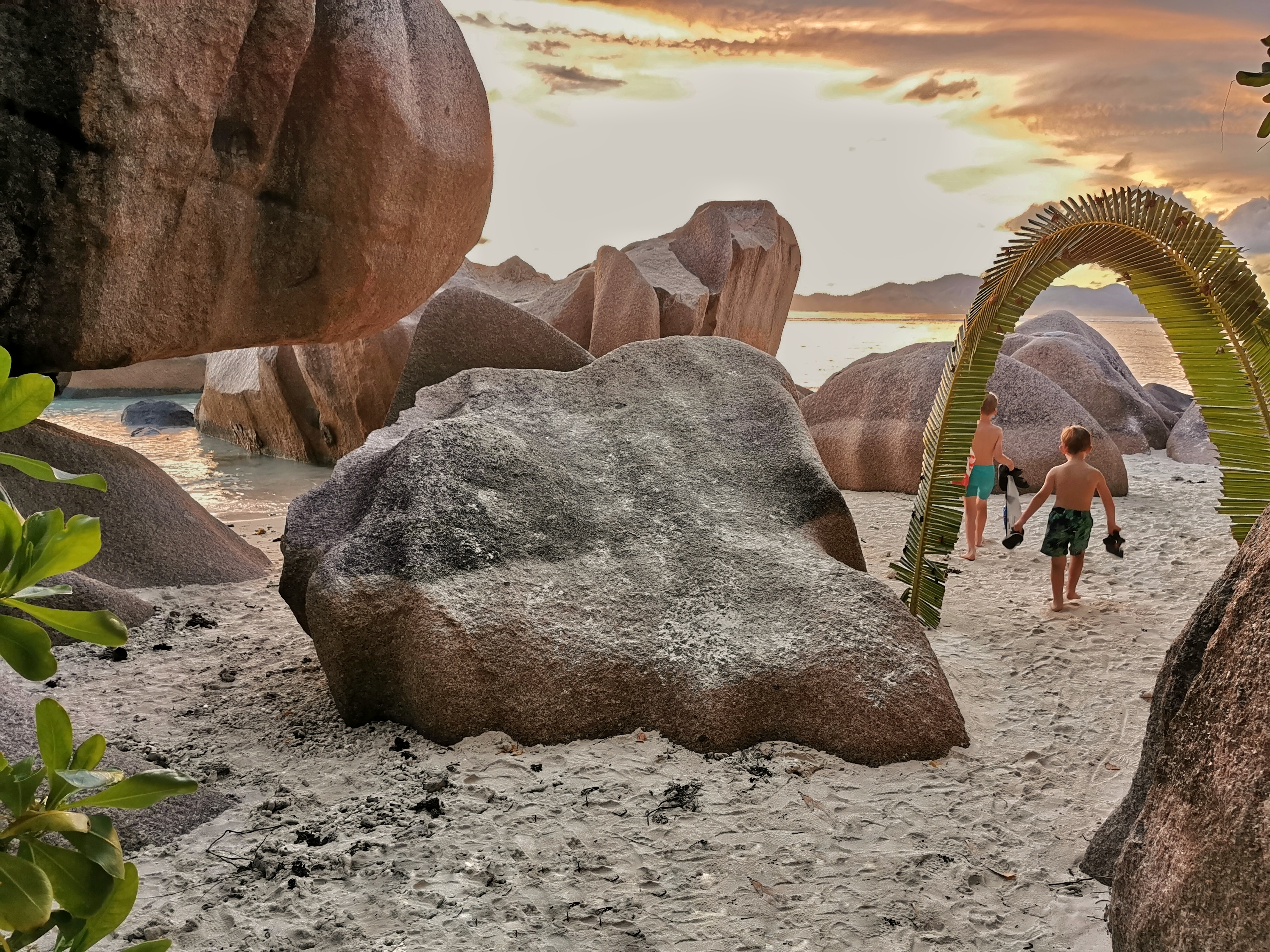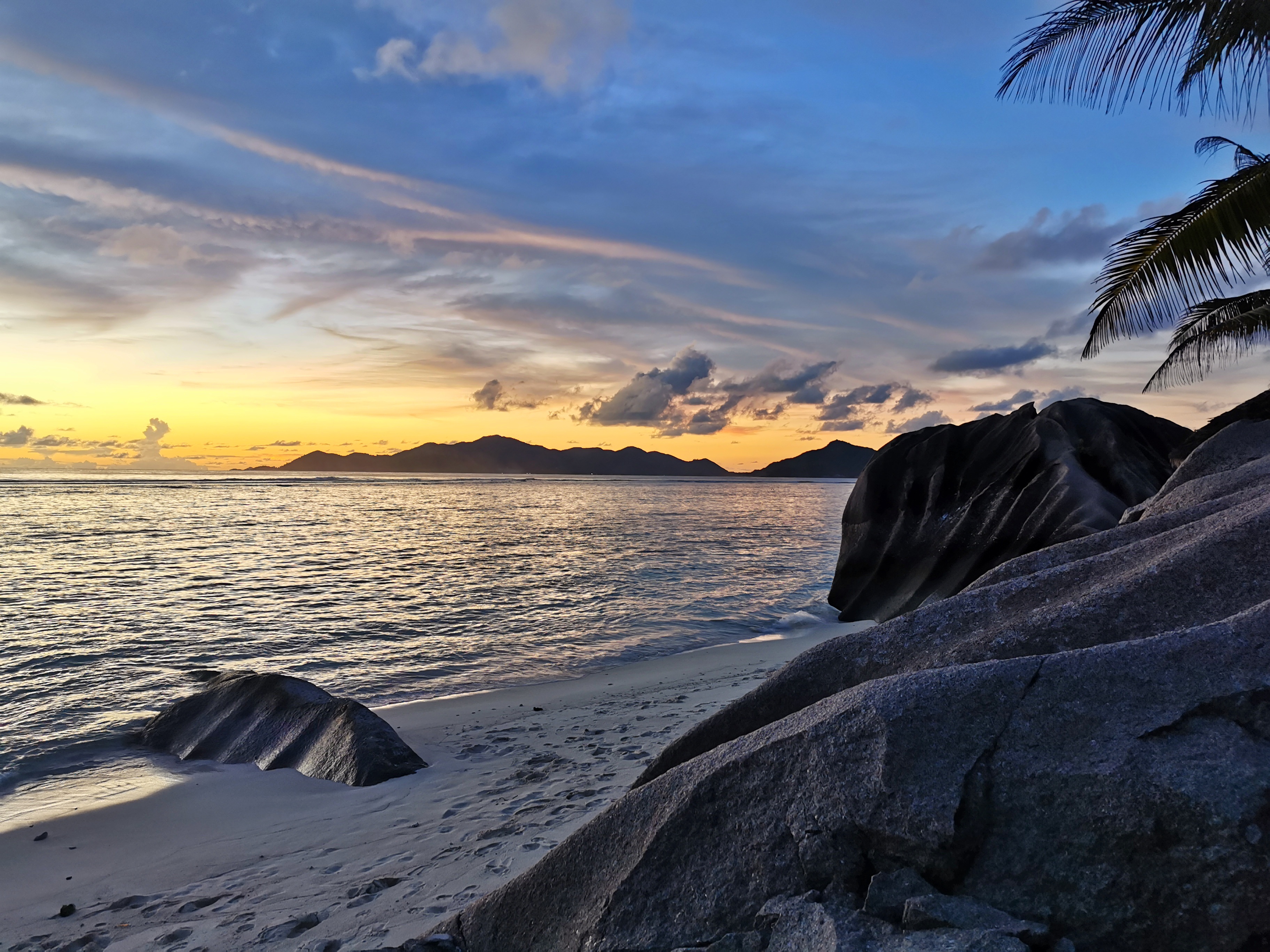 Anse Severe Beach
If you go north on the island you will come to Anse Severe beach. This is also a lovely beach which suited us well as it was quite shallow and calm water. The trees on the beach gave nice shade. Here, too, we got to experience the beautiful evening sunset.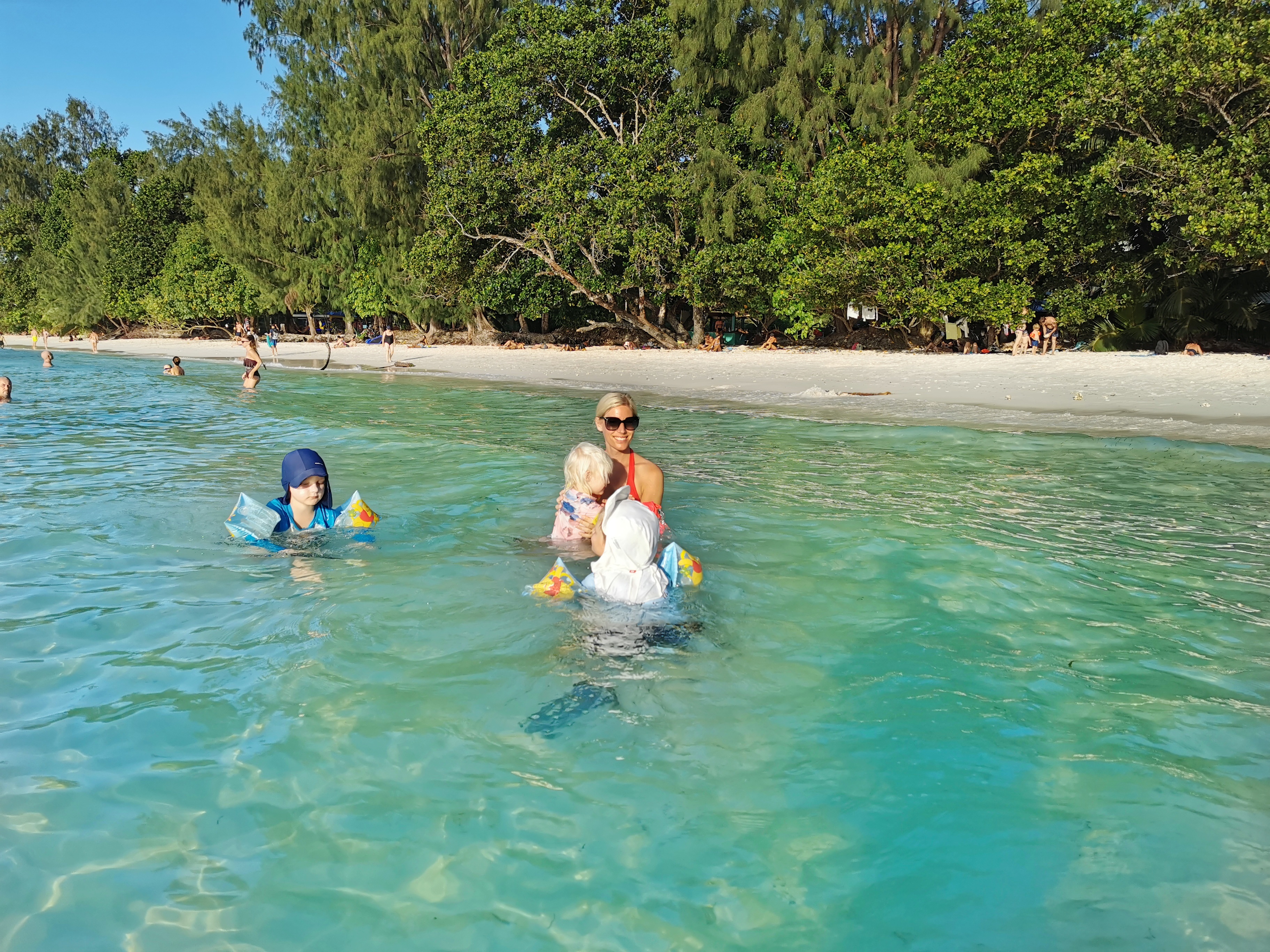 Tips about La Digue
I can highly recommend to do La Digue with kids. We spent 4 nights on the island but we could definitely have stayed longer. Rent a bike! It is by far the best way to experience the island. Electric taxis are expensive and it is quite long distances to walk. Email the accommodation you will be staying at and ask if they can arrange bikes for your arrival.
If it doesn't include breakfast in your accommodation, you can easily buy your own breakfast in supermarkets on the island. Here you will find eggs, cereals, milk, toast, butter, marmalade and fruit.
I can recommend the restaurant at Le Repaire if you want to eat lunch or dinner in cozy surroundings. There are also some take away places on the island for cheaper prices.
Feel free to ask me questions if you are wondering something or want to know more 😀
Do you want to know more about the Seychelles, read my article Family Vacation in Praslin – Seychelles