Flying with kids is not as difficult as you might think. I´ll help you to prepare everything before your flight. Because if you feel prepared and have planned for different eventualities, much of your worry is unleashed. The flight is often something that worries parents. How will the children cope? How to entertain them? Will they be able to sleep on the plane? Here I give you my best tips to make your flight as smooth as possible.
Prepare your child for the flight – Flying with kids
A big child you can prepare by explaining what will happen at the airport, in the aircraft, about stopovers and about the arrival to the destination. You can practice to yawn or chew a chewing gum to avoid getting sore ears during takeoff and landing. You can also explain about the rules on the plane, for example; Do not kick or climb on the seat in front of you, etc.
A young child you can prepare by talking for short moments about the flight and on several occasions.
Day or night flight when flying with kids?
We have flown both day and night flights with our children. I cannot say that any of it is better than the other. At night flights, you sleep during some of the flight hours which can be easier, but it can be a little struggle to get your child to come to rest and often they fall asleep very late on the flight.
During a day flight, children are often lively and want to be entertained. I write about entertainment for children a bit further down.
If your child can't sleep on the plane, try the "toilet-trick."  Go to the lavatory and lock the door only half way..
Seats on the flight
Paying extra?
Paying extra to be able to choose your seat is a well spoken subject. Airline companies seldom divide families during a flight but if you want to be on the safe side you should pre-book seats so you don´t need to  worry about it. 
Paying for extra legroom can be worth the money at a long distance flights. Your child can sit on the floor in front of you and play and sometimes even sleep on the floor.
Window or not?
Sitting by a window is nice if you want some privacy, maybe you want to breast feed. Older children usually think it's exciting to be able to look out. The advantage of sitting by the aisle  is that you smoothly can go to the toilet and to stretch your legs in the aisle.
Children under 2 years old
Children under 2 years of age usually travel without an own seat. They should sit in the adult's lap with a child belt strapped to your seat belt. However, it is often possible to book an additional seat for your child for a small fee, which can ease the trip for both you and your child. If you book a seat, you usually need to bring a baby car seat for your child. Check with your airline company what rules they have.
Sometimes you can pre-book a baby bassinett. However, these are not available on all aircrafts and there are only a few on each plane, so the principle of first come, first served, applies here.
Passport for children?
Everyone needs a passport including babies. Check the validity period of your passports in good time before your trip. Children's passports usually have a shorter validity period than adults passport. Many countries also require that the passport must be valid for up to six months after your return date. Also check if your destination require a visa.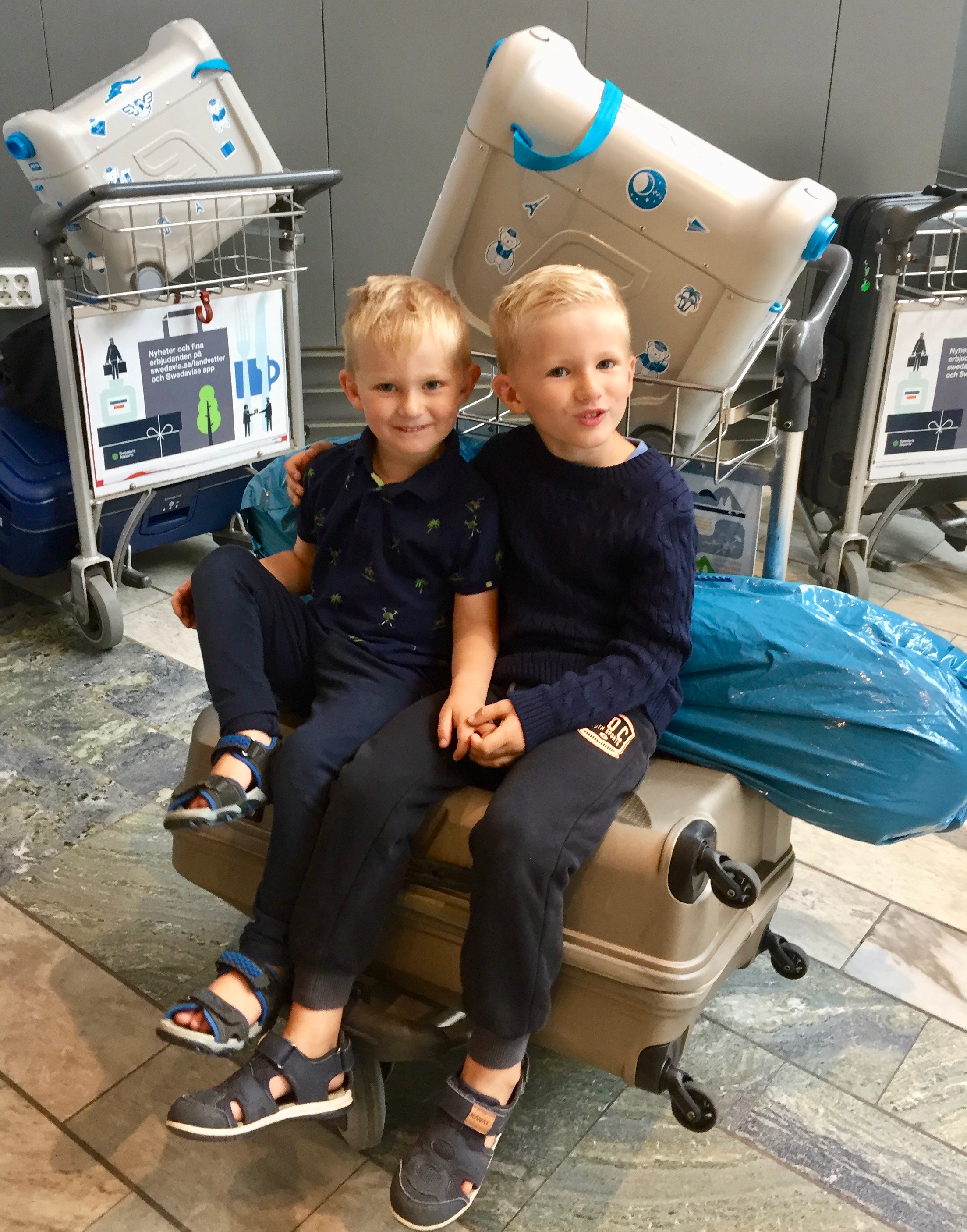 Luggage
Weigh your luggage at home before departure. There are special luggage scales to buy.
Weight limits for hand luggage and checked luggage are different between airlines. Note that there are special luggage rules for children under the age of 2 who do not have their own seat. Check luggage rules with your airline company.
A Stopover
A stopover during the day can be nice for your child. They can move and stretch legs while waiting for the next plane. Find out in advance if there is a playground at the airport and where it is located. Write your phone number on your child's arm in case you get apart. A stopover during the night is not really to recommend with a child although it's possible of course.
Dressed for the flight
Dress your child in comfortable, soft clothes that are not tight or itchy. On the aircraft, the temperature can often vary so dress your child in layers so you can remove or put on more clothes. The temperature at the final destination may also differ from home. If your destination are a warm and humid country, you must quickly change to airy clothes. On the contrary, if you land in Sweden during the winter period it can be very cold if you need to go outside from the plane into the gate. Then it is good with a sweater or blanket and cap.
At the airport
Have plenty of time when flying with kids!
Make sure to arrive in good time before your flight departure. Everything often takes a little bit longer with children. Maybe you have to eat something at the airport, go to the toilet, etc.
The check in process when flying with kids
If you are two adults traveling with children, one of you can queue in the check-in while the other one entertains the children. Remember, however, to be nearby so you all can come to the check-in desk for verification of identity when it is your turn.
Remember to have passports and tickets easily accessible, they should often be presented both in the check-in-desk, at the security checkpoint and at the gate.
At the security check it is good to be prepared by already have the baby food in transparent plastic bags. Sometimes the security staff wants to check the baby food. Some airports allow water in a baby bottle for your baby. Usually, you have to remove your child from the baby carrier  when you go through the security check. Also prepare yourself before security by unpacking your mobile phone, wallet, belt, keys from your pockets. 
After the security check, you can fill your water bottles to have on your flight. Water is also available for purchase on the flight.
Let your child lose some energy
Let your child play and move at the airport. Find a playground where your child can lose some energy before the flight. Also take the opportunity to visit the toilet before boarding. We often board the aircraft as one of the last families just to minimize the time that our children need to sit still in the plane.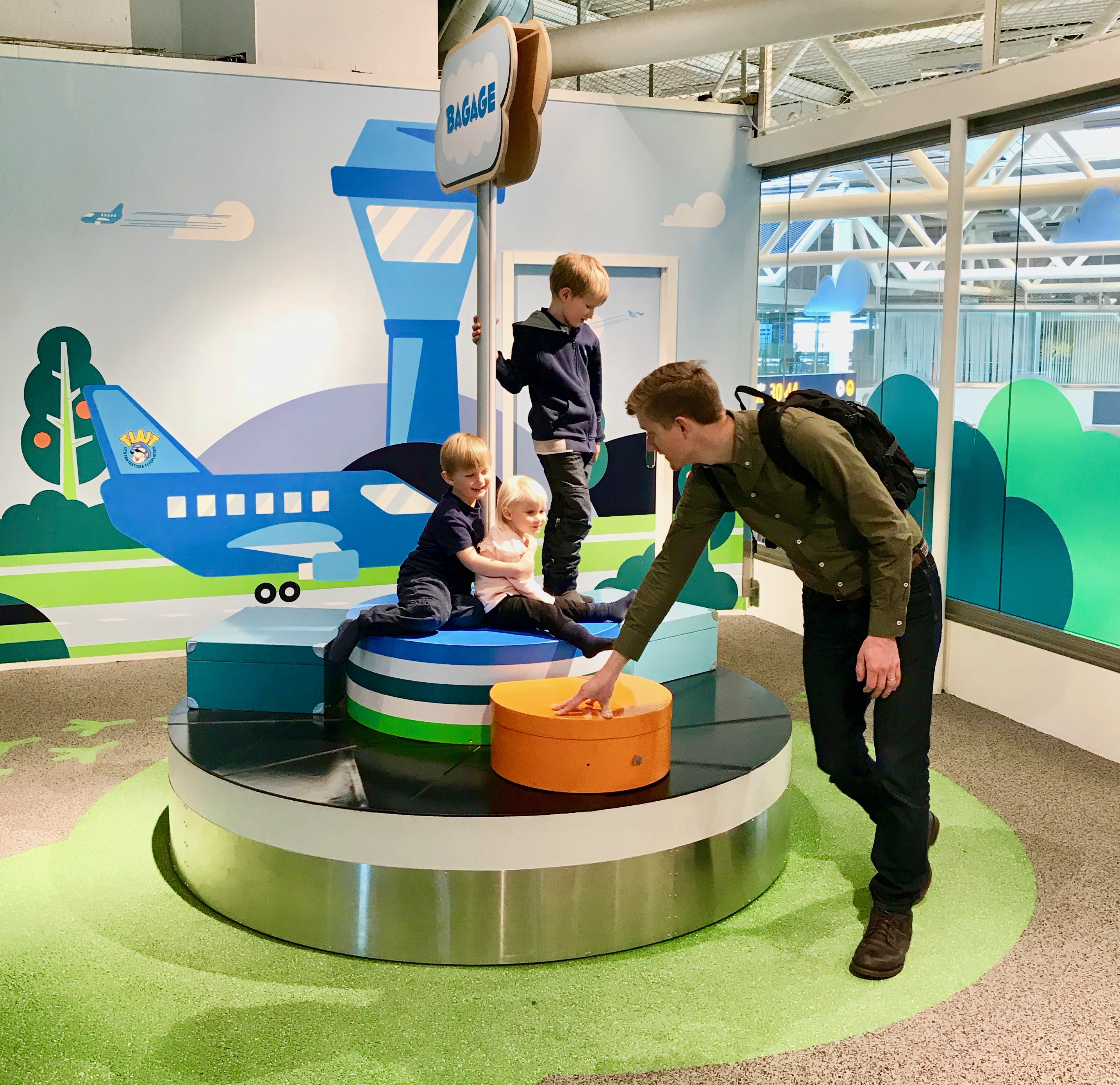 Entertainment for children on the plane
Pre-download new games and movies on iPad
To occupy children over 3 years old is often not so difficult if you have an iPad. Your child can play games and watch movies. One tip is to pre-download new exciting games and movies that your child has not seen before. Download content that can be accessed in airplane mode. Headphones are good for not disturbing other passengers.
On some flights there are screens in your from seat with games and movies. However, you sometimes have to pay extra to get access to the full range of movies and games.
Wrap gifts
Another tip is to bring wrapped gifts from home with activity books, color pens and other toys that your child gets to open during the flight. If you have several gifts, surprise your child with a new gift after a while. This will be a fun surprise for your child.
Young children and babies
Young children do not need so advanced things to be entertained. Surprise with new small toys, boxes which they can open and close, small books, snacks and other finger foods that can occupy the baby.
A Russian wooden doll, a divisible doll made of wood  with even smaller dolls inside, can occupy our 2 year old for a long time. To read (eat) the magazines in the flight seat can also be a fun game. Don't forget that singing and finger songs excellent activities.
A touchpad can of course also work for smaller children. Remember not to have toys with loud sounds that can disturb other passengers.
Move around
Children often like to move around.  Going back and forth in the aisle and say hi to other passengers is usually very exciting for toddlers.
Get bored!
Most important, don´t be afraid to let your child become bored. If you don´t maintain them all the time, they will find ways to entertain themselves with the help of their imagination.
Great Travel games when flying with kids: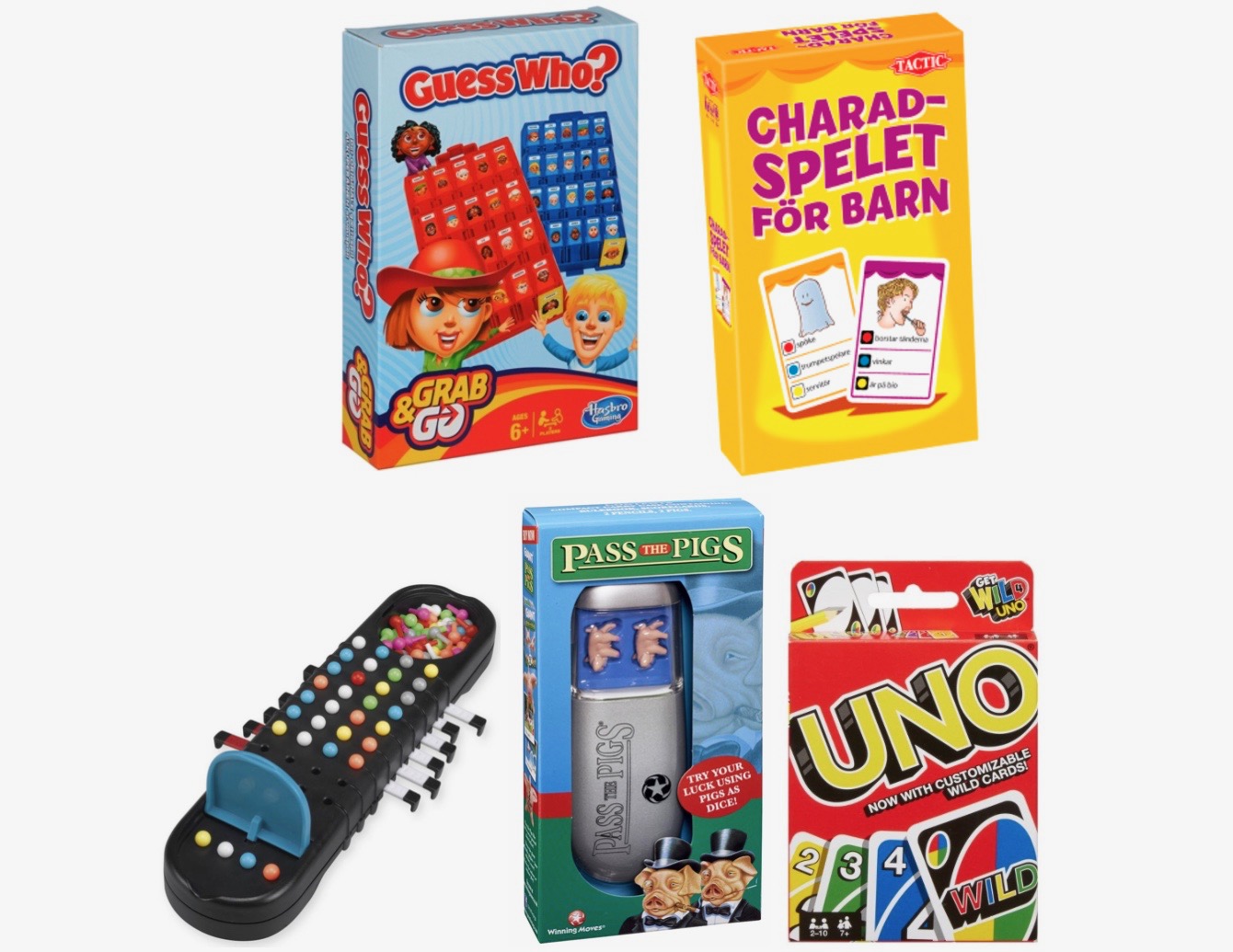 Get your child to sleep on the plane
Make a hut
A thin blanket and a pillow can facilitate sleep on the plane. On night flights you often get a blanket from the staff. If you hang the blanket from the child's seat to the front seat you create a small hut, which can make it easier for your child to get to rest. Try to put on the seat belt on your child when he/she is sleeping. During the flight, you are sometimes asked to put your belt on due to turbulence, then it is good if your child already have it on.
Bedbox from Jetkids
Another tip is to bring a Bedbox when flying with kids during night time. We like the bedbox from Jetkids (No sponsored post!)
Jetkids bedbox is a small children's suitcase on wheels with accompanying mattress that can be placed in the flight seat. The suitcase is placed at the leg compartment and becomes a support for the mattress. The child can then stretch out his/her legs or lie down and sleep on it. In addition to the mattress, you also have a small space for Ipad, headphones and an activity book.
Usually a bedbox from Jetkids is ok to bring on the plane. But you should anyway contact your airline company in advance to check if it is okay to use them on board.
Baby Carrier
A  baby carrier is a great help when flying with kids. It can be difficult for a baby or a toddler to come to rest when there is a lot of noise and movements in the plane. Rocking your child in a quieter part of the plane can make him/her relax. A string to the pacifier is great as pacifiers easily disappear.
When your baby are crying 
If your child cry and scream on the flight he or she is probably tired, hungry, cold, warm or has a dirty diaper. If nothing that you do helps you should just relax. No one will die if your child screams during the flight. I know from experience that you'll  get extremely stressed and think that everyone are looking. Actually, most people feel sorry for you who are struggling with a crying and screaming child, and they are happy not to be you.
The worst thing that can happen is that your child screams throughout the whole journey. It is not dangerous! it is just a noise. If you are worried that this will happen, bring extra earplugs to the passengers around you.
"Toilet Trick" – This master trick will probably get your baby to sleep
When our little Judith is tired, unhappy and are crying, we try the "toilet trick". You bring your child to the aircraft lavatory and lock the door just half way. The door are locked but the lamp in the toilet doesn't turn on. Gentle rock your child. The darkness and the calmness in the lavatory makes our little girl to stop cry and fall asleep pretty quick.
Make sure to have the pacifier in a string so you don't drop it on the toilet floor.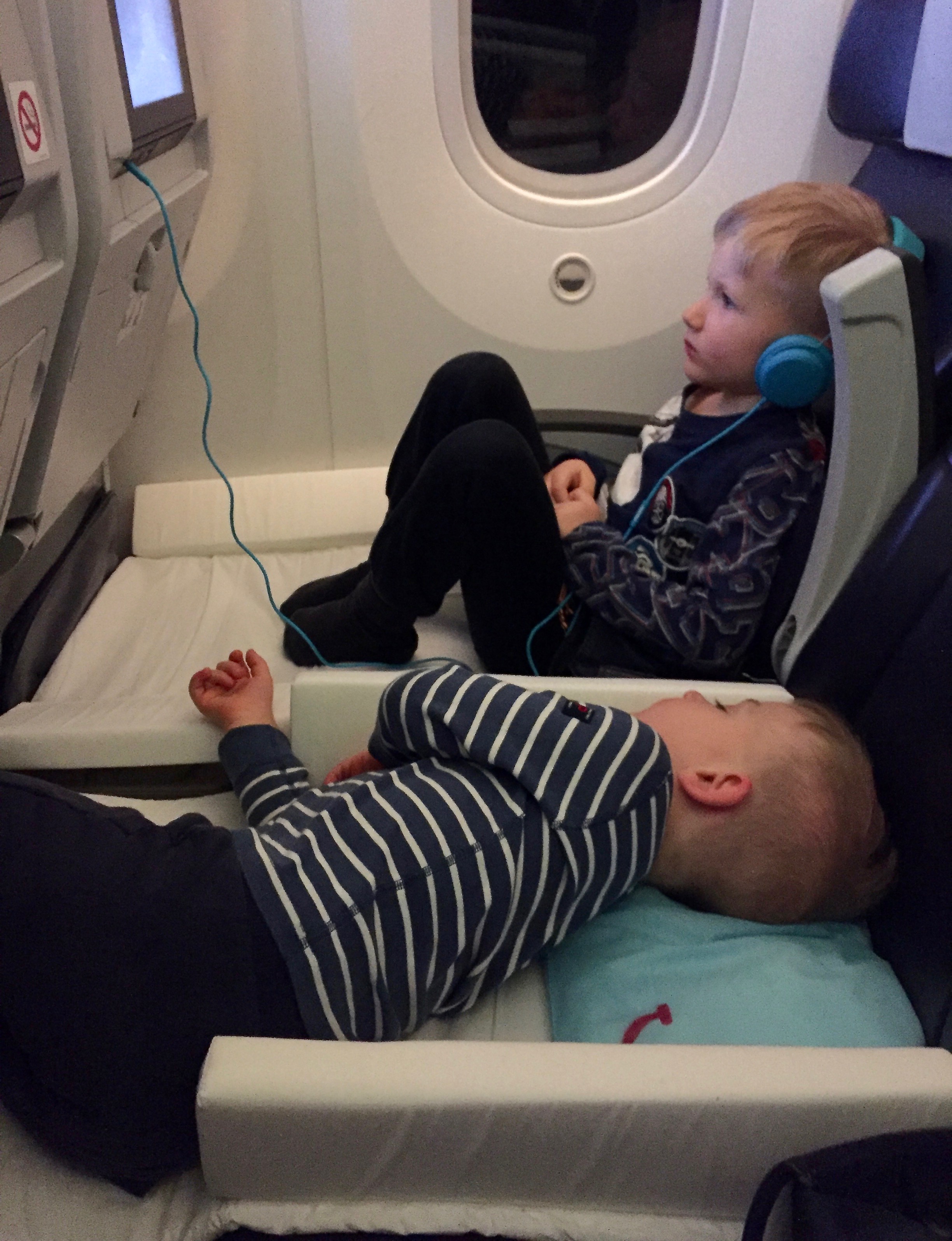 Food on the plane
Children under 2 years old usually do not get baby food on the plane, so bring your own. On most flights you can get the baby food warmed. Ask the staff when you board the plane when they think its suitable, because in the middle of the serving it can get quite stressful for the staff.
Bring extra baby food cans incase of a flight delay. You should also bring baby food that can be eaten cold if there is no possibility to heat the food.
It may also be good to bring fruits, sandwiches and snacks. Keep in mind, however, to not only bring nuts. Sometimes the flight staff tells in the speaker system that there are people with nut allergy on board and therefore you can not open your bag with nuts. Try to avoid candy and sweets on the plane that can make your child more active.
Sometimes you can pre-order food when you book your trip. Some flight companies serve the food to the children first so you peacefully can help them with their food before you get your own food. We think this is great!
Diapers and lavatory experience
Bring extra diapers! Good to have in case of any delays, lost luggage, missed connecting flights or sickness. Extra plastic bags to put used diapers in and trash or to have in case of nausea. Hand disinfection or antiseptic napkins are good to have at hand.
Children can find the airplane toilets a bit scary, especially the loud noise when flushing. Let the child step out from the toilet before you flush if he/she thinks it is scary.
Take care of yourself!
You have to take care of yourself in order to be able to take care of your child. Keep in mind that you are comfortably dressed and have snacks at hand. Do not be afraid to ask for help if you travel alone with your child. Ask a flight attendant or a fellow traveller to keep your baby while you go to the toilet. Try to release your concerns and think about what a great opportunity you have to show your child the world.
Upon arrival
After landing everyone wants to leave the plane at the same time and it gets crowded and messy in the aisle. Sit down in your seat and wait until people have left the plane. You do not need to rush because you still have to wait for your luggage. Look through your seats, seat pockets and the floor to be sure that you haven´t forgotten anything. Also check the hand luggage storage an extra time so you don't forget anything.
Carry-on packaging list for families flying with kids
Pack your hand luggage in a bag were you easily can find the things. For several hand luggage, you can divide the content into themes. Food and drink in one bag, diapers and extra clothes in one, etc.
Touchpad – Prepare with new games and movies that your child hasn't seen before.
Headphones
Secret gifts – wrap gifts for your child in advance with Activity Book with stickers, pens, etc. and give the child during the flight.
Travel games
Snacks– Sandwich, biscuits, fruit, nuts.
Baby food – preferably fruit purée or yoghurt if microwave isn´t available.
Bib – in fabric which you can stove away.
Baby carrier – so young children can come to rest and you get your hands free.
Pacifiers and string to the pacifier – pacifiers disappear easily.
Thin blanket
Baby wipes
Diapers – Bring some extra incase of delays or if your luggage get lost.
Plastic bags – for trash and diapers.
Toothbrush – Put some toothpaste in the brush in advance and put in the case so you don't need the whole toothpaste on the plane.
Small Travel Pharmacy – Paracetamol, nasal spray.
Changing clothes both for you and your child – accidents happen easily.
Ink Pen – Sometimes you have to fill in an entry document already on the plane.
It would be great to know more travel hacks and tips when flying with kids. Do you have any?
Do you need advice what to pack for a winter vacation. Read my article Packaging list for your Family  Winter holiday /Ski holiday
Or packaging list for your Beach holiday