Mauritius, which is in size slightly smaller than Gotland, has always been a dream destination for us. With only 3 hours time difference from Sweden, this is an optimal destination for children. We made this trip with our three children who, at the time of the trip, were 5, 3 and 1 year old. There are no dangerous animals here, and dangerous diseases are very rare. The people of Mauritius are incredibly child-friendly and happy to welcome children when they get a chance.
Please note that this Travel report is NOT a sponsored post. Here you can read about our own thoughts and opinions about the trip.
Flight-12 Hour direct flight
We booked our two-week trip with TUI, which has direct flights to Mauritius from Stockholm. We started from Stockholm Arlanda a raining and cold afternoon in early March.
The flight was something that worried us with its 12 h flight time, how would our little children cope with it? Could we employ them? Would we get any sleep?
To occupy Wilhelm, then 5 years, and Hjalmar, then 3 years, was not so difficult. They had their own Ipad where we had pre-loaded many new, exciting games and movies that they hadn't seen before. This was a big surprise for those whom they could occupy for a long time. On our flight there were also screens in the airport with games and movies, but sometimes you have to pay extra to get access to the full range of movies and games.
In advance we had also struck crafts books and color pens in packages which they appreciated a lot. Have you made several packages so is a tip not to give everyone at the same time without surprise with a new package after a while.
To Judith, 1 year, we had bought some new little toys, boxes that she could open and close, pixi-books, corn hooks and other finger food.
To facilitate sleep on the planet, we purchased two Bedboxar from Jetkids to our boys. Bedbox is a small children's suitcase on wheels with accompanying mattress that can be laid out in the airplane seat. In addition to the mattress, they also got space with Ipad, headphones and crafts book. We ordered our Bedbox from the children's Travel Shop (NOTE no sponsored post). Before you buy a Bedbox check with the airline you go with that it is okay to use these on board.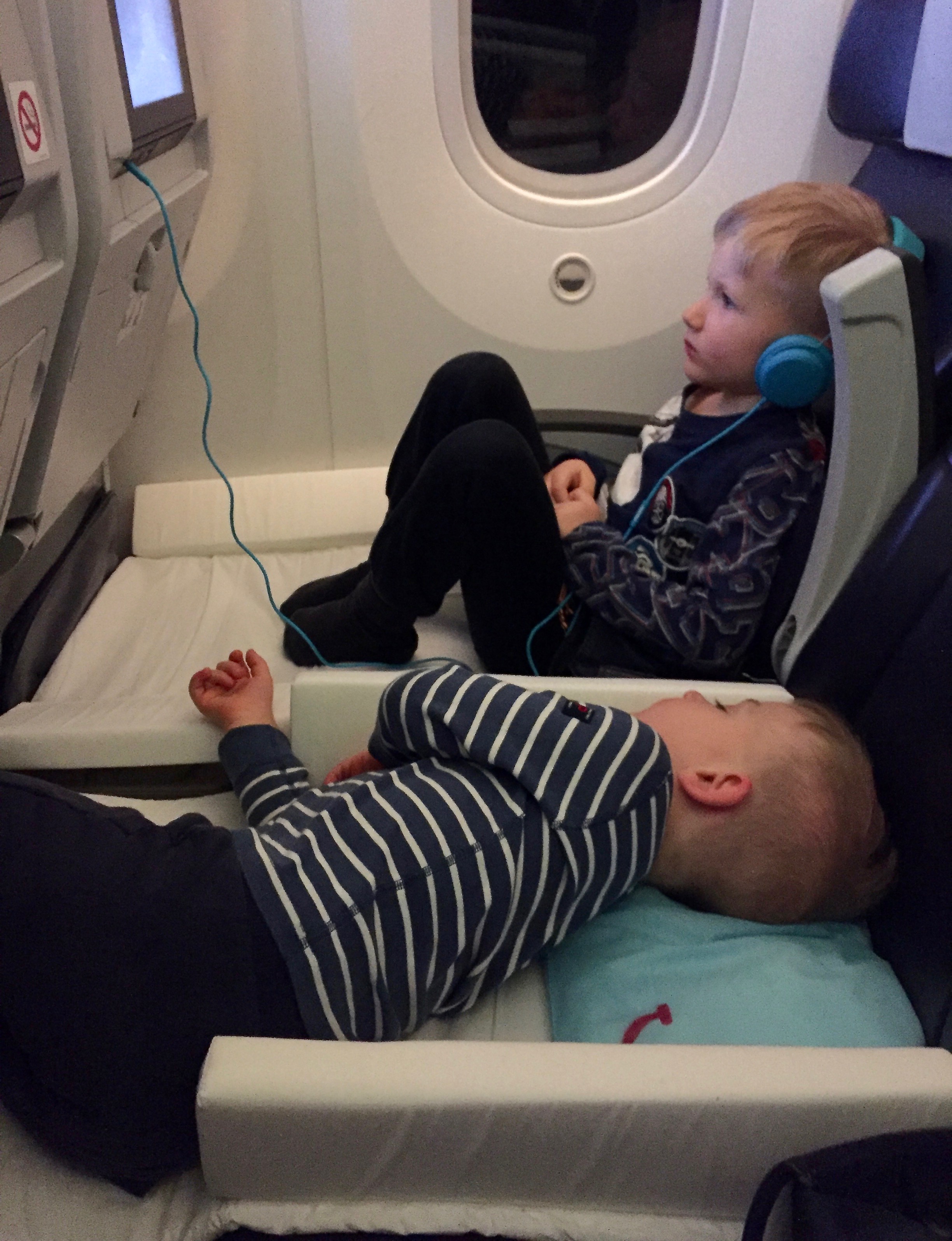 Since Judith was only 1 year old, she did not have her own seat. There was also no bassin or baby crib to book on the flight. We took a carry cot as hand luggage. Our thought was to lay her down in it when she had fallen asleep and put her at our feet. In practice it was not so smooth. Our moving little girl woke up quickly and started crawling around under the seat, which ended up sleeping in my arms throughout the flight, and the soft lift was most just in the way.
Harness was also very helpful during the flight. Judith had a hard time relaxing and getting to rest when there was a lot of noise and movement on the plane. To cradle her in a quieter part of the plane made her relax.
Even when we booked the trip we were able to pre-book food on the plane which we did to all of us. It cost a penny but was absolutely worth it. Even Judith, our 1 year old, got food in the form of baby food jar from Semper and fruit purée. The best thing was that the children had their food before us adults so we in peace and quiet could help the children with their food before we adults got into our food.
Tips on employment During the flight I have written about here: Flying with kids-Tips for the flight
Transportation from the airport
Early in the morning we landed in Mauritius. The glorious warmth and high humidity struck us immediately when we landed, and while we were waiting for our luggage, we switched to airy summer clothes that we had with us in the hand luggage.
Taxi we had pre-booked ourselves by email contact with the local taxi company in Mauritius, Taxis Mauritius, which was very smooth.  Link We could have pre-booked TUI ´ 's own taxi or buses but chose to arrange this themselves which became much cheaper. Taxis also felt smoother than riding a bus with three children and all our luggage. However, be careful to point out if you have a lot of luggage so the taxi company chooses a car where the baggage will fit. We booked a minibus to us five, with two belt pads and a car seat. The taxi driver was waiting for us in the arrival hall when we arrived, with a sign with our name in hand.
We have noticed that our children are a bit sensitive to motion sickness when driving abroad. In Mauritius, and in many other countries, they do not run as in Sweden. After a long flight, some jerky braking and swinging roads so vomited both Wilhelm and Hjalmar in the taxi. So be sure to have bags close at hand when you go car abroad.  
Accommodation in Mauritius
In Mauritius you can find everything from Superluxury all-inclusive resorts to small budget hotels. Renting private individuals is also very common if you want your own household. Many recommend the host pair Joakim and Veronique who have "The Palms Apartments" at Le Morne Cliff. Joakim is Swedish and Veronique is from Mauritius. Link The accommodation and the host couple are fantastic I have heard. Here, however, you need a rental car when there is no supermarket just nearby. Keep in mind that there are left-hand traffic on the island.
Our accommodation-The Ravenala Attitude Hotel
We chose to book a trip where flights and hotels with all inclusive were included.
We stayed at The Ravenala Attitude which is a Blue Star hotel. The hotel is great with its nice pool area, good, varied food and fresh rooms. The staff is very friendly and helpful.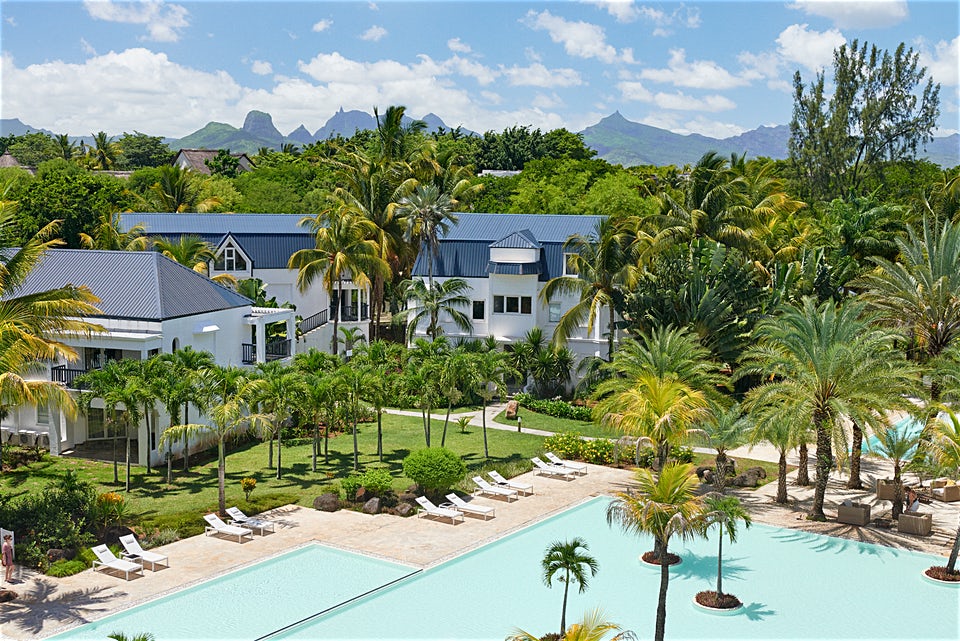 I have written in more detail about the hotel in The article The Ravenala Attitude Hotel
Excursions in Mauritius
Most families with children we met at the hotel wanted to enjoy the wonderful hotel and not flänga around the whole island with their children, which is understandable. However, we wanted to explore the island and experience the "real" Mauritius. A day trip by taxi went smoothly to arrange when there were always several taxis parked at the hotel, it was not so dreadful expensive either. If you say to the hotel staff the day before, they can ask the taxi driver to arrange car seats for children. The Times that there was only one highchair in the car, our boys got to sit on each bag to get up enough to not get the belt on the face, while Judith had to sit in the child seat.
TUI also organized various excursions from the hotel that you could book by talking to TUI ´ 's staff at the hotel but also cost something more, but is of course more upsteered. As I mentioned before, be sure to have plastic bags close at hand as children can easily become motion sickness by the roads of Mauritius.
Excursions that we liked in Mauritius were among other things:
Ebony Forest Reserve-Fantastic nature reserve where you go on footbridges in the jungle, go Jeep Safaris offered and experience an adorable view of Mauritius. Our most memorable excursion.
Pamplemousses Garden-A lovely botanical garden, filled with incredibly rich flora. Most famous are the gigantic water lily leaves in the park.
Beautiful beaches-Mauritius is well known for its beautiful beaches. Some favorites are Le Morne Beach, Flic en Flac, Belle Mare.
Northern Mauritius-Beautiful landscape, picturesque church and warm water when we were there in March. In the north there is also the shopping centre Grand Baie La Croisette If you get shopping abstinence.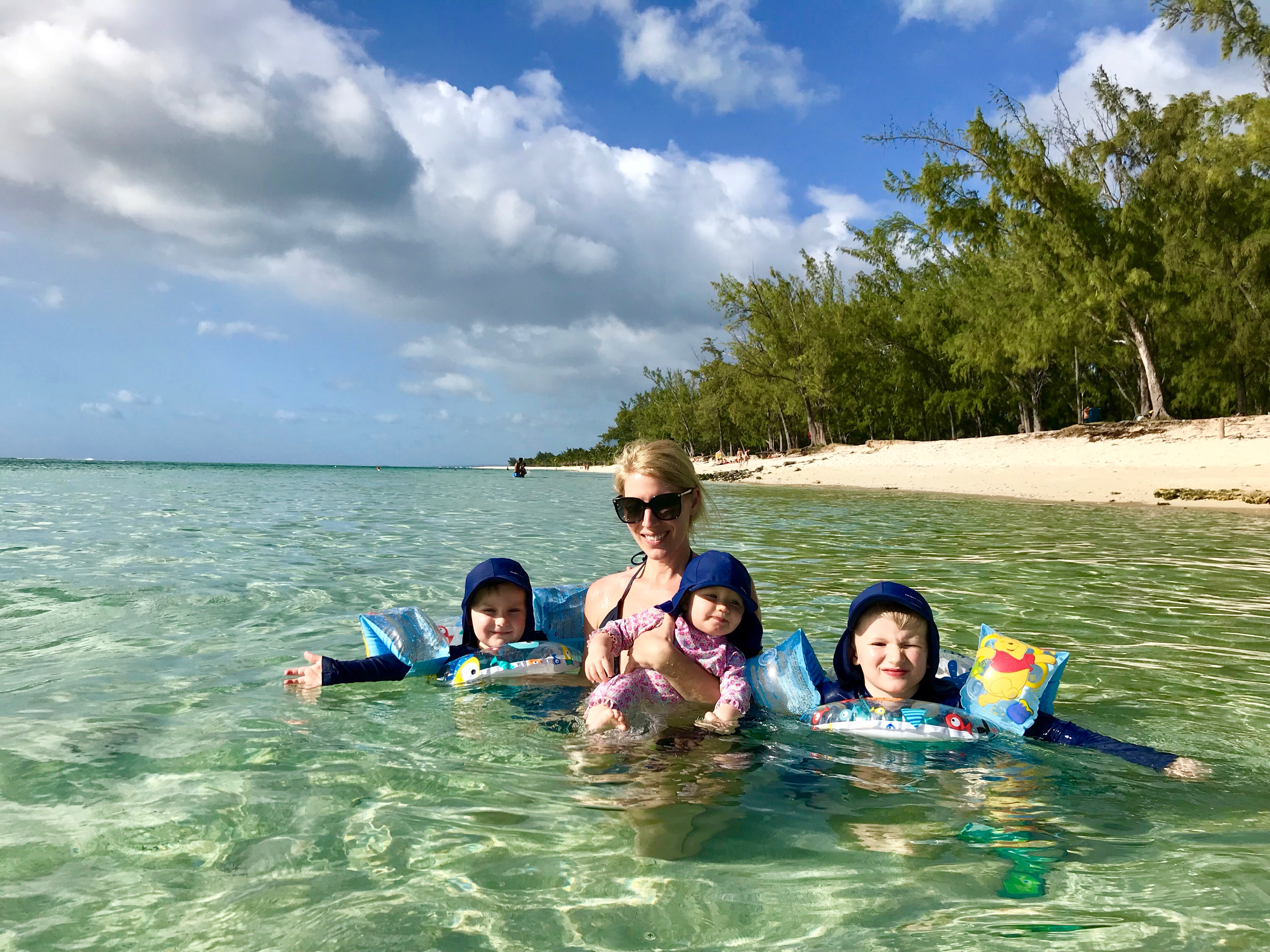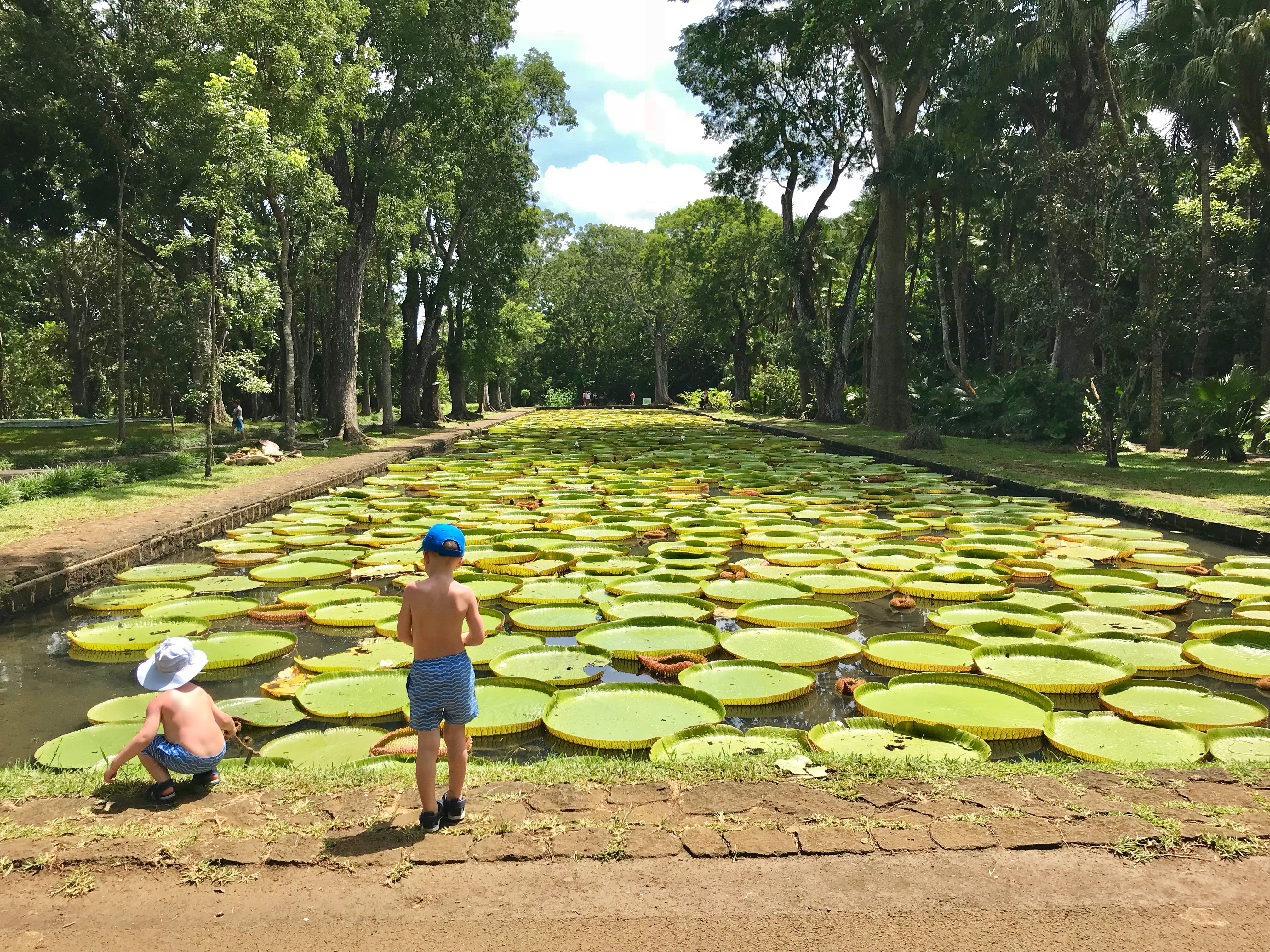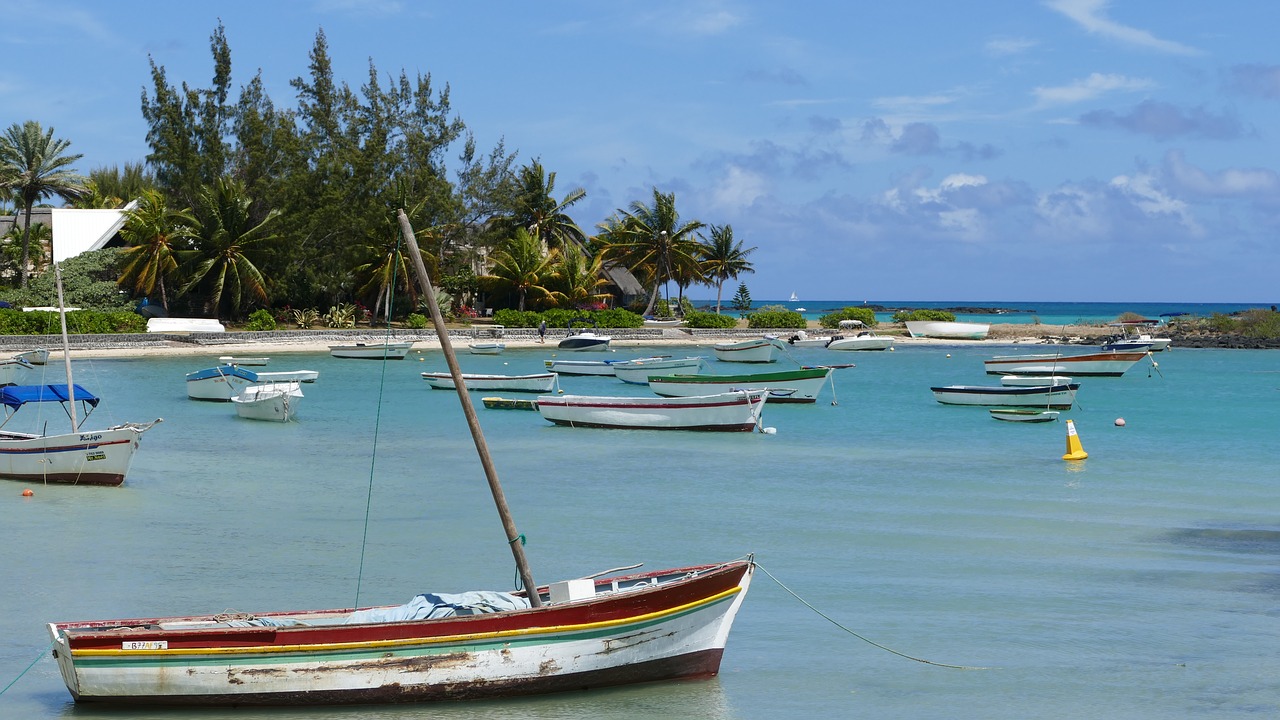 There are many exciting excursions for children in Mauritius that we did not have time to do. Among other things, we would like to visit the island of Ile Aux Cerf which is a real island paradise, with white sand and turquoise, shallow water. The plan was that we would go there but the sea was a bit too high, when we were there, to go there with three small children so we chose to surrender this time. Other places of interest for children should be Casela Nature Park and La Vanille Nature Park. We certainly go back to Mauritius soon for more adventures on the island.
I have written in more detail about various excursions in the article excursions in Mauritius with children
Weather and climate in Mauritius
We were in Mauritius in March and thought it was completely optimal. Of course it was warm with a day's temperature around 30 degrees and with high humidity, but we dressed then and had always with us water wherever we went. The sea had a lovely 29 degrees, which allowed the children to lie in and splash for as long as possible.
A month before we visited Mauritius passed a large Cyclone island. The damage to the island was not as extensive as was first feared and when we were there we did not see a trace of it. Mauritius has a very well functioning warning system for cyclone so you shouldn't be afraid to go there during the cyklonperioden of January-March. A few times during our stay we had short rain showers that quickly switched to sunshine.
In short, it can be said that Mauritius has two seasons, summer and winter. Their summer lasts from November to April with the warmest temperatures and high humidity in the year. Winter lasts between May and October with the coolest months of the year and lower humidity.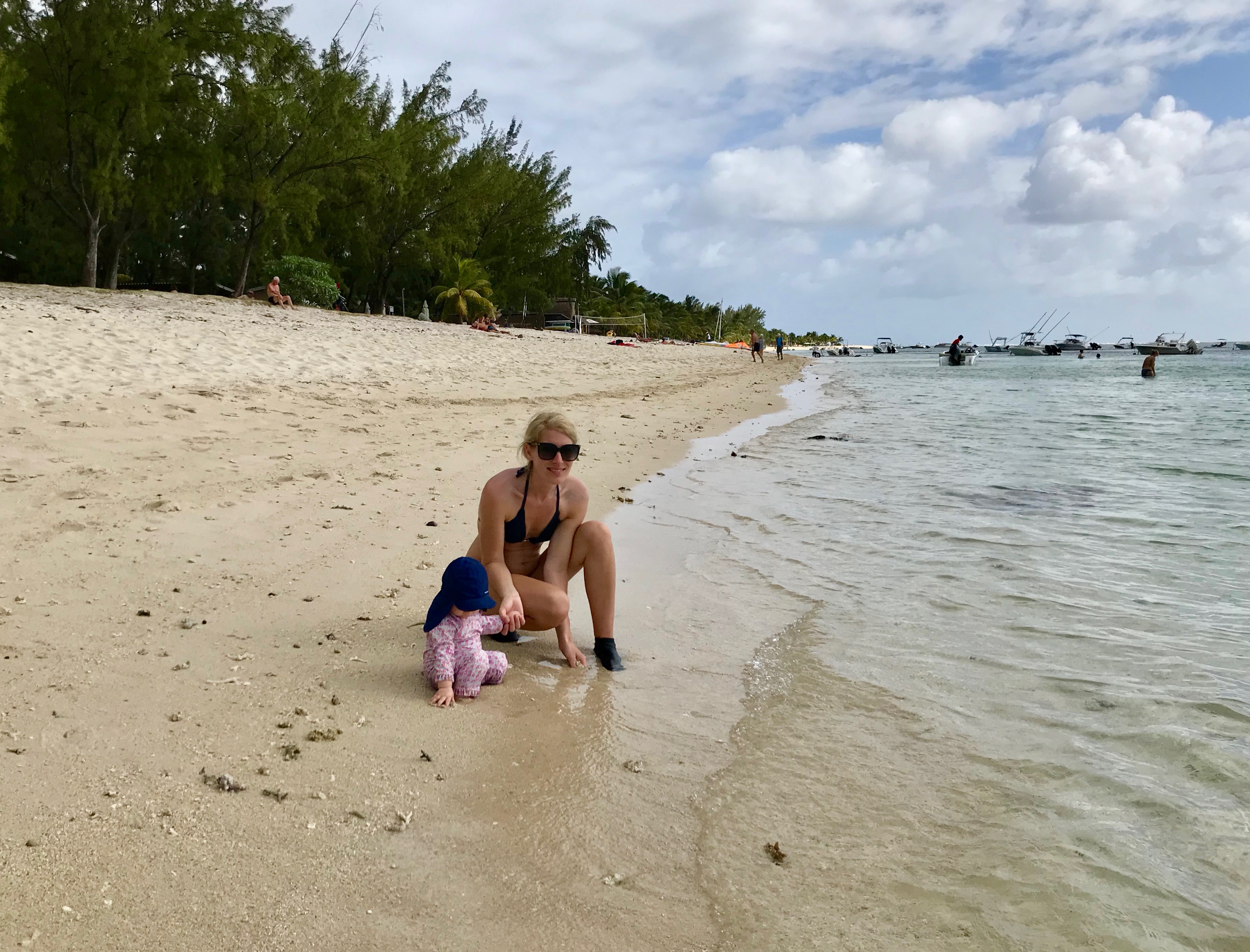 I have written in more detail about weather and climate here: when to go to Mauritius? -Weather and climate
Children and Sun in Mauritius
The sun is incredibly strong in Mauritius. Protect the children from the sun using clothes, hats, sunglasses and sunscreen. Covering UV-clothes at the bath is a must.
To avoid lubricating sunscreen on large areas of skin, Wilhelm and Hjalmar sleeved had UV-shirts, bath shorts and sun hats with fabric that also protected the neck from the sun. It was then enough to lubricate the visible skin areas such as the face, legs and feet. Judith had a UV suit that covered both arms and legs and a UV hat with fabric hanging down. Polarn and the AP usually have good, covering UV-clothing, which keeps being inherited to the next child in the crowd. Don't forget to protect yourself too.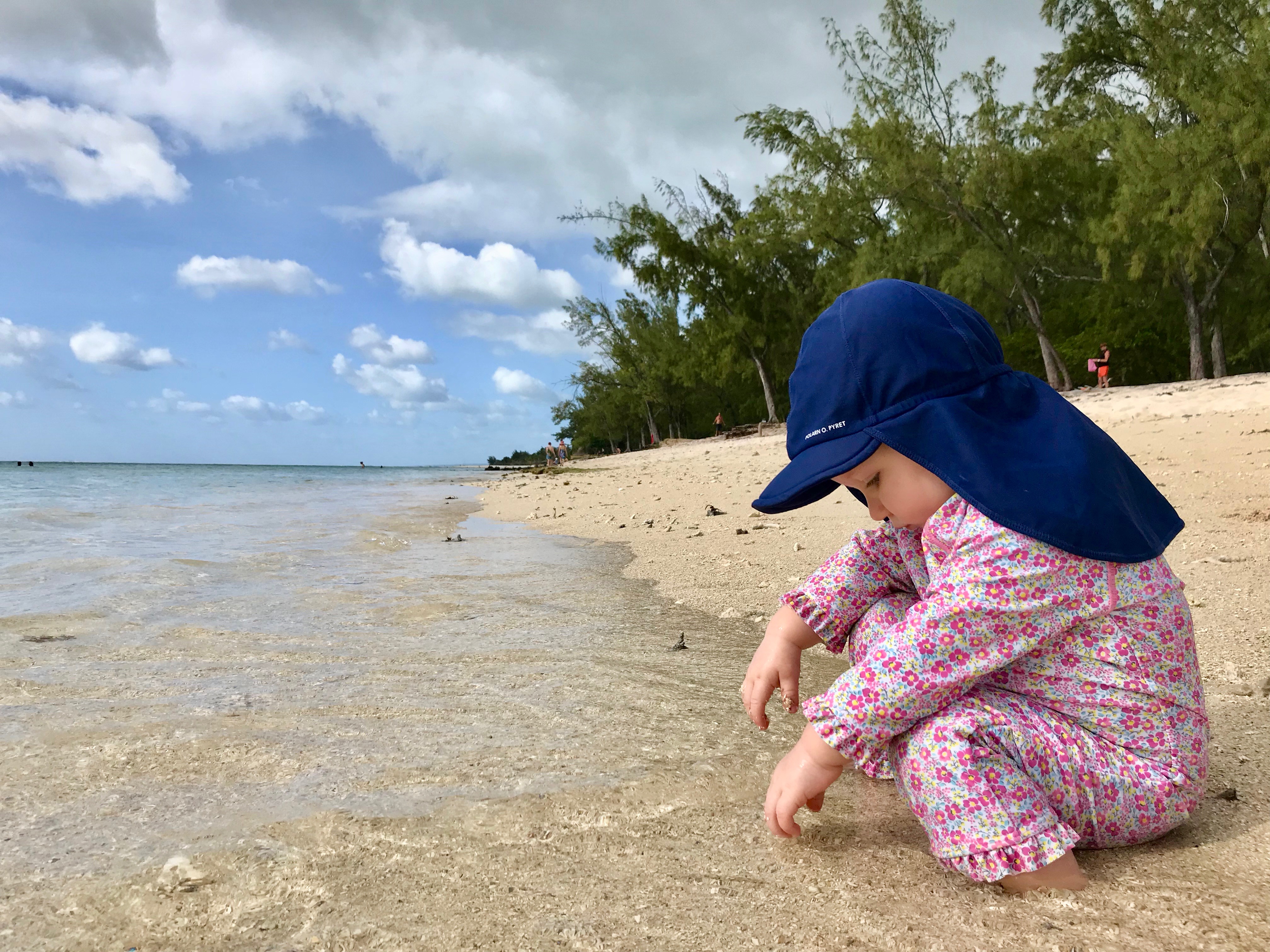 Vaccination for children before departure
Wilhelm and Hjalmar took the vaccination hepatitis A before departure. We chose not to vaccinate Judith with hepatitis A when young children rarely become seriously ill by hepatitis A. Since Judith was 1 year old on our trip, she had not received the MPR vaccination (measles, mumps, rubella). To be protected against these diseases, Judith therefore received this vaccination. However, she was still taking the planned MPR vaccination at 18 months of age.
How we experienced our Mauritius trip
Getting from the cold north to Mauritius in March was of course wonderful. Both we and the children adapted ourselves directly to the heat. Mauritius is surprisingly clean and hygienic. We were never sick even though Judith crawled on the ground and safely ate one and the other that lay there. As usual when you are abroad, it is good to be careful with hand washing and be happy with a small bottle of hand sanitiser.
Dare to take you outside the hotel area and experience the "real" Mauritius, it will provide great memories for life, both for you and the children. Mauritius feels very safe and safe for children, with friendly population and harmless animals, you don't have to worry. Plan your trip well before, both what you should have with you and what excursions you want to do on the spot. If you choose to travel to Mauritius you will have a fantastic experience on this fabulous island.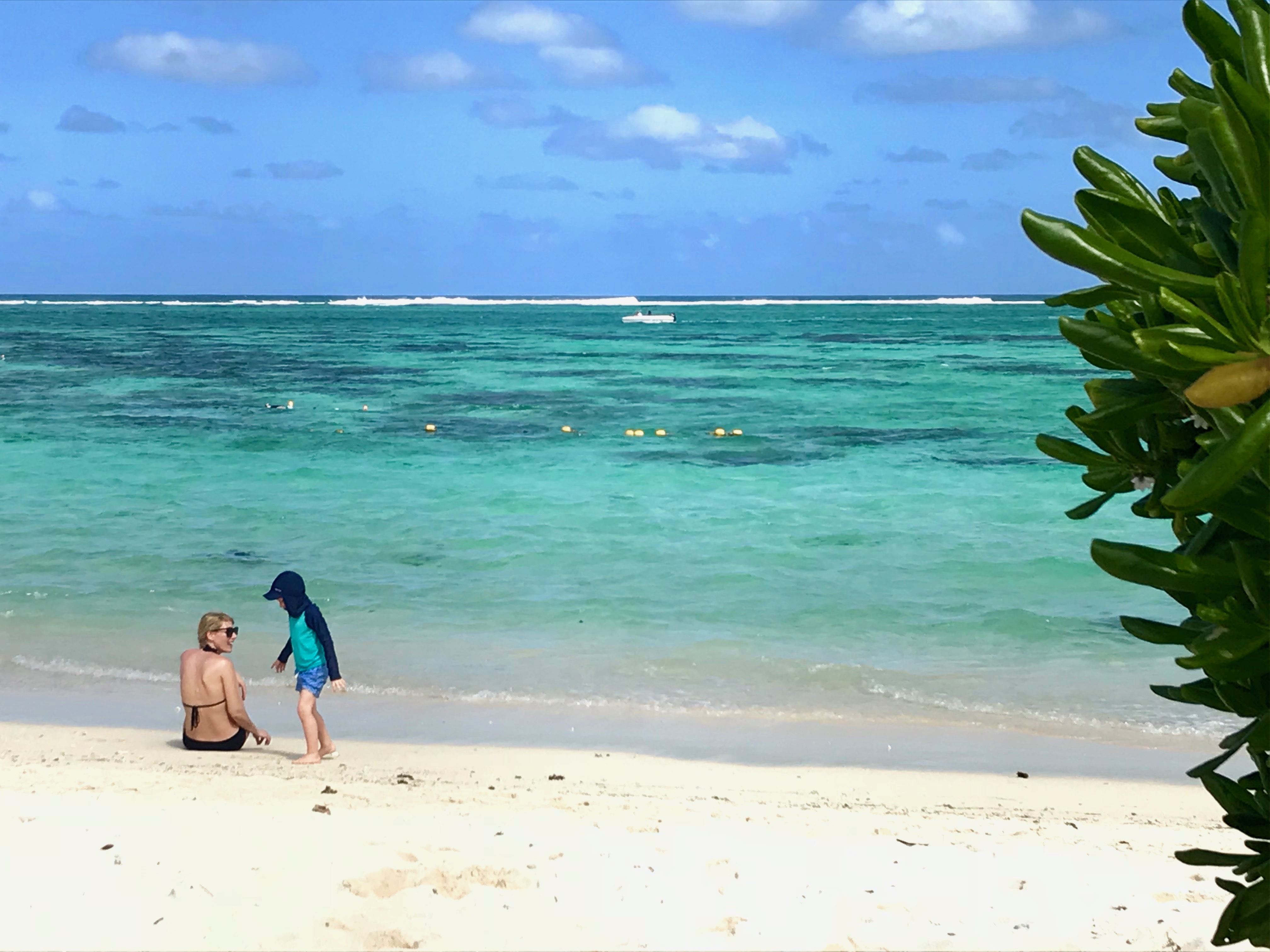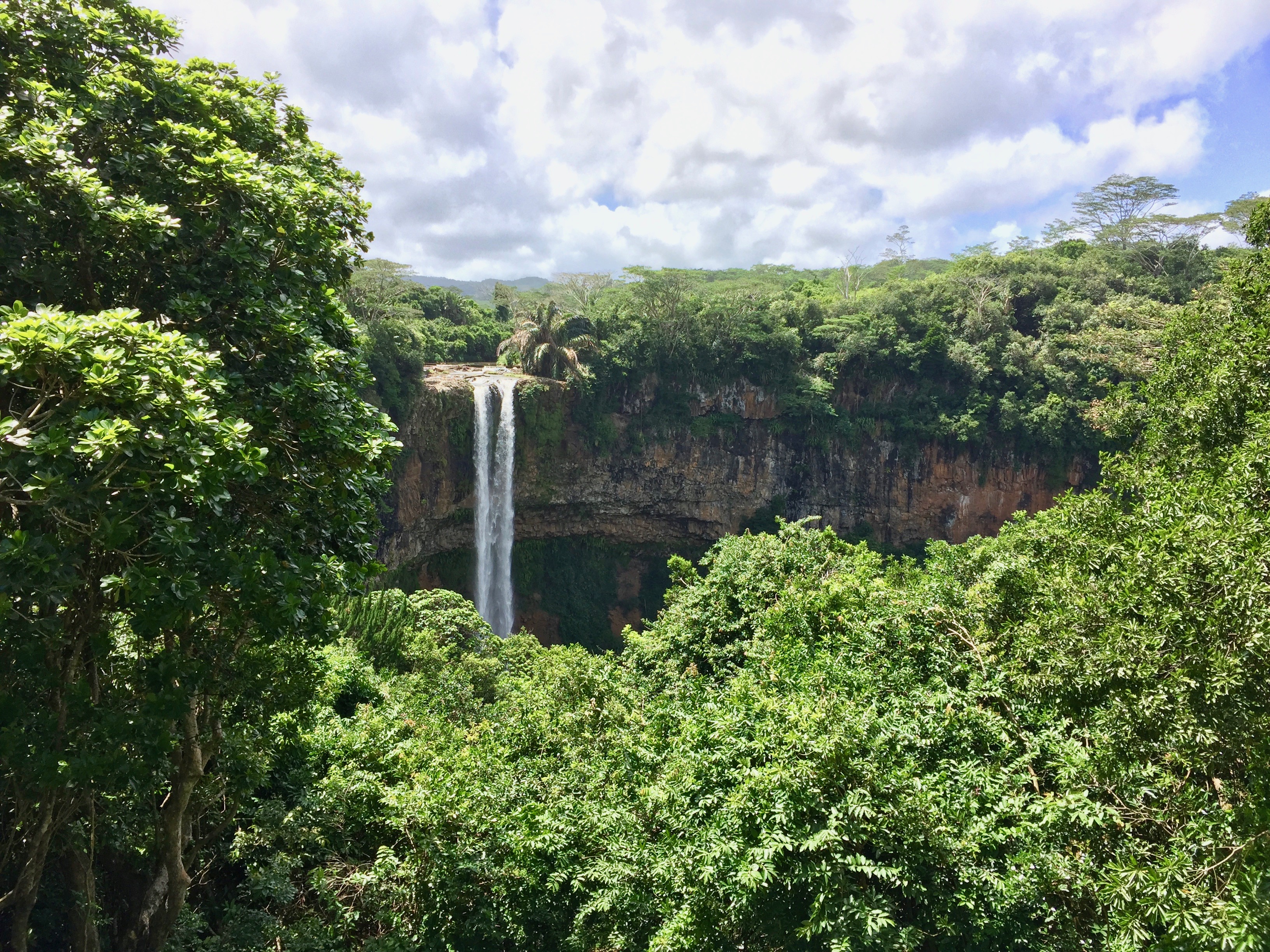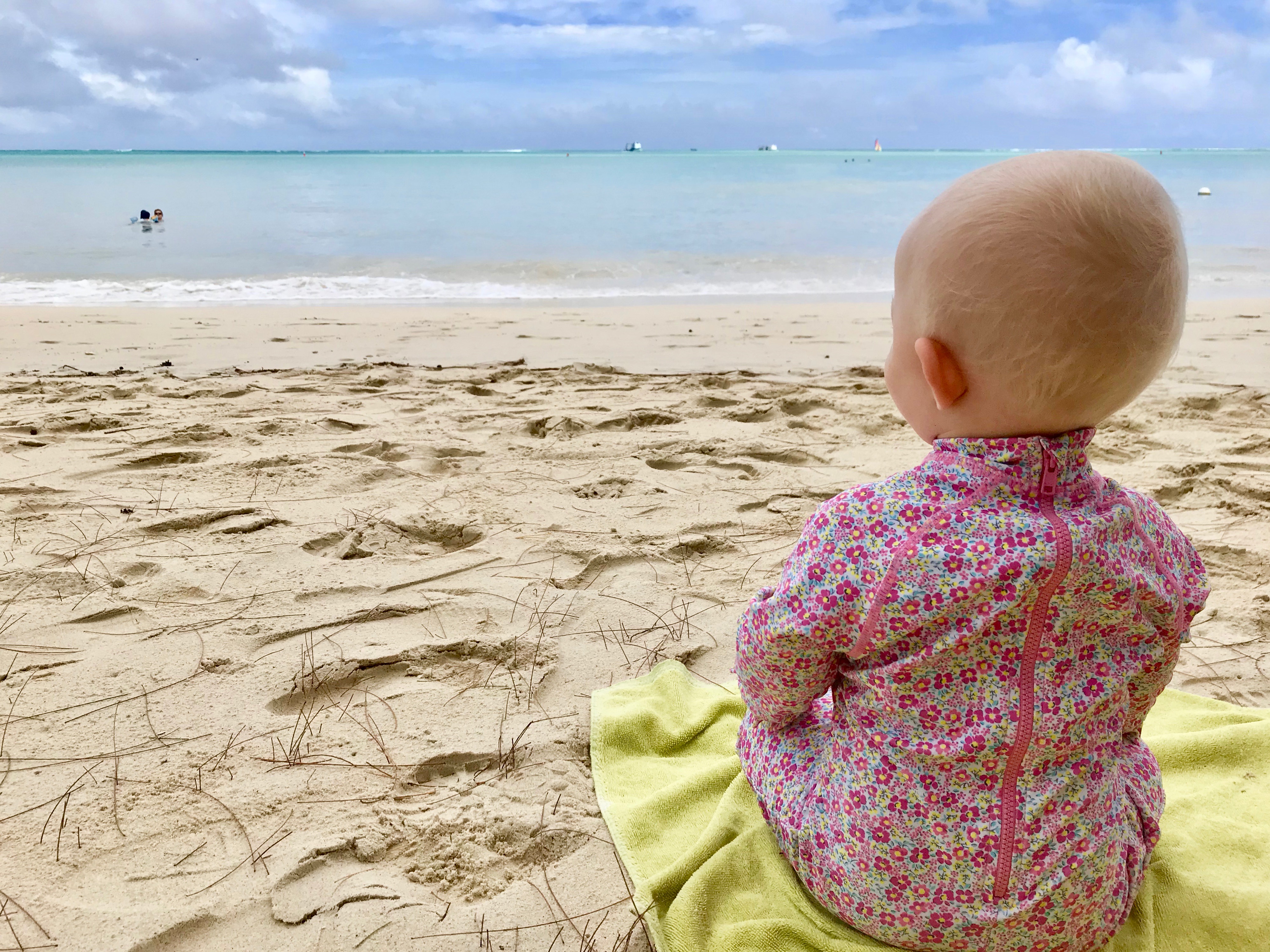 Please comment if you have any questions or concerns about Mauritius:)